---

MSMEs can now register delayed payment grievances online

---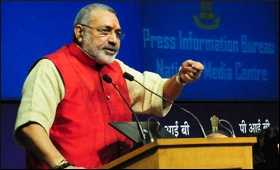 | | |
| --- | --- |
| Top Stories | |
Rituparna Kakati | 31 Oct, 2017
Union MSME Minister Giriraj Singh on Monday launched an online portal called 'MSME Delayed Payment Portal – MSME Samadhaan' to enable micro, small and medium enterprises directly register their cases relating to delayed payments by government and its departments.

MSMEs will be able to registered their grievances related to delayed payments by individual CPSEs, Central Ministries, State Governments, etc. on this portal. They will also be able to monitor the status of their cases.
The information about the defaulters will be available in public domain, thus exerting moral pressure on the defaulting organisations.

The CEO of PSEs and the Secretary of the Ministries concerned will also be able to monitor the cases of delayed payment under their jurisdiction and issue necessary instructions to resolve the issues.

Launching the portal, Giriraj Singh said that the Micro, Small and Medium Enterprise Development (MSMED) Act, 2006 contains provisions to deal with cases of delayed payment to Micro and Small Enterprises (MSEs).

"As per the provisions, the buyer is liable to pay compound interest with monthly rests to the supplier on the amount at three times of the bank rate notified by Reserve Bank in case he does not make payment to the supplier for the supplies of goods or services within 45 days of the day of acceptance of the goods/service or the deemed day of acceptance," he explained.

Arun Kumar Panda, Secretary, Ministry of MSME along with other dignitaries and senior officials from the Ministry were also present at the event.
Please comment on this story:
Subject :
Message:

(Maximum 1500 characters) Characters left 1500
Your name:

payment delay


pr sharma | Fri May 31 14:13:09 2019


our payment 5-6month delay



Not useful


Shivkant Dalmia | Tue Apr 17 04:03:00 2018


we filed a complaint. even after 3 months it was not converted in to case



It's again a simple headline by government


Bhagawath Prasad | Sun Nov 5 05:47:11 2017


Sir, it's a good to bring in rule of this sort , we had it earlier as well similar laws , in practical it's impossible to implement the same, it may help to some extent to register cases aginst government owned units , but if we complaint against private sector BIG's it will be a disaster for his future business , they may simply pay it to avoid further queries on them but they will remove permanently complained vendor for their future activities , SMEs need to decide between future business and delayed payment , this kind of laws will lead to litigations and court cases , it's better that ministry arrives at some methodology to discount bills against delayed payments by all sectors.SIDBI has this facility but they insist that they require confirmed commitment letter from SME customers , that's impractical to ask for , looks like governments are creating laws for head-lines than to resolve issues for improved business systems.Why dont they refund excess collected tax from SMEs, 1000s of crores of rupees are held by tax authorities and waiting for refund , look at the way the GST transB claims , government wants all pending dues to be paid before November 30th to claim GST credit , that too it will be paid after verification by officers , don't you think it's new variety of GST corruption, whay can't they adjust receivables and payables at one go and start a fresh ,No they want SMEs to spend time with officers and go bankrupt ,anyway, we have insolvency law now.



Complaint on delayed payment


J V Prasad, # 9848833428 | Wed Nov 1 03:59:52 2017


This is regarding delayed payment from Railways, wether we can register our case in this portal . Our mail ID is pranathielectronics @gmail.com


Re: Complaint on delayed payment


ANIL KUMAR JHA | Mon Jun 17 10:29:11 2019


JAMIA MILLIA ISLAMIA,DELHI PO NO-3837,DT-9.4.2019 P.O UDER MSME SIR, WE HAVE SUPPLIED ALL ITEMS AS PER PURCHASE ORDER ON DT-30.4.2019. BUT STILL NOT FIND PAYMENT. BEST REGARDS ANIL KUMAR JHA JAI INFO SYSTEMS 9810584092 jaiinfosystems@yahoo.in

Customs Exchange Rates
Currency
Import
Export
US Dollar

66.20

64.50
UK Pound

87.50

84.65
Euro

78.25

75.65
Japanese Yen
58.85
56.85
As on 25 Oct, 2020
Daily Poll
COVID-19 has directly affected your business
| | |
| --- | --- |
| Commented Stories | |