---

Economic growth not possible without manufacturing: NITI Aayog CEO

---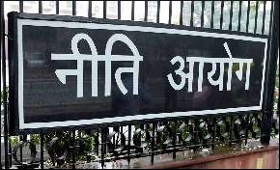 | | |
| --- | --- |
| Top Stories | |
SME Times News Bureau | 08 Nov, 2017


The country has to grow at a much higher rate than the current growth rate of 7.5 per cent and it will not be possible without manufacturing which has to become a key driver of growth, NITI Aayog CEO Amitabh Kant said here on Wednesday.

"The challenge is that we need to grow at a higher rate over a long period of time, over three decades or more, and it's not possible to grow without manufacturing. It's not possible to do it without appliances and consumer electronics industry," Kant said at the 38th annual function of the Consumer Electronics and Appliances Manufacturers Association (CEAMA).

"That has to become a key driver of growth," Kant added.

Kant pointed out that in order for further growth to take place, manufacturing in the appliances and consumer electronics industry has to be done in the right ecosystem.

"The right ecosystem is that we are in a globalised world and have to be a part of the global supply chain... Penetrating export market is the key and you can never do this without size and scale. Therefore, this industry should think of size and scale," Kant said in his address.

Expressing his views on the ease of doing business, he said the government is focussed on making doing business in the country very easy and simple by dismantling "many rules, regulations and procedures and paperwork over the years".

"There is a lot of work in progress. If you look at ease of doing business, or GST, digital payments, all these are a huge amount of work in progress. Many of these structural reforms take a little time, but they are all in the right direction," he added.

"They are all in the direction of making India more efficient, more performing and a more modern economy."

In the annual function, CEAMA, in association with PricewaterhouseCoopers (PwC), unveiled a detailed report on "Championing Change in the Indian Appliance & Consumer Electronics (ACE) Industry" which revealed that an anticipated compounded annual growth rate of only nine per cent, manufacturing disabilities and a limited component ecosystem are root causes of low cumulative value addition.

"The large population and steep GDP growth over the next five years will be the key driver for Indian economic pyramid shift towards the top," the report said.

The report also illustrated the government's push to promote electronics manufacturing in order to achieve net zero imports, and placing the ACE industry at the forefront of the Digital India programme.

"This push has resulted in an increase in domestic manufacturing from Rs 55,765 crore during 2015-16 to Rs 64,752 crore during 2016-17," it added.

Manish Sharma, President of CEAMA said: "The aim behind releasing this report was to bring to the fore challenges faced by the industry in the current environment, and the policy framework needed to support the continuously evolving business ecosystem especially local manufacturing."

"The consumer durable industry creates three indirect jobs for every direct job, thus it needs to work closely with the government on further improving the local manufacturing framework to generate more employable labour," Sharma added.
Please comment on this story:
Subject :
Message:

(Maximum 1500 characters) Characters left 1500
Your name:

Entrepreneur ship to create jobs


Pravinchandra B.Makwana | Fri Nov 17 04:50:57 2017


Sir, there is need to make industrial estates,on the side of highways nearby the town make builders to compulsory to construct such Gala of 500-600 sq feet of three floors, with basic needs and move out all the small work shops,and fix 4500-6000 INR per month rentAL basis. It should be under observation of the Govt to control MRP of the goods. No goods will be despatched without proper legal papers. to control GST.



100% Growth.


k.murali | Wed Nov 8 14:41:08 2017


Dear Friends, So far all Leaders and business people talk about cities and corporate level & Revenue and Taxes. so far nobody talk about villagers growth and developments. India is agriculture Country. 60% of the people doing agriculture in INDIA. if No food no Body can live in the world. If no agriculture no country & No people. First we should develop agriculture industries to reduce our Food products rate & it should reach every one. Food is main & first products to every one. if agriculture and village developed in INDIA, ALL other products will sell in INDIA without any problem. All villages should be 100% Development like good infrastructure facilities, very good Hospitals, electricity, solar power for streets,land, house, Good drinking water, 100% Education, Subsidiary and loan for agriculture, Cottage industries developments, SSI industries developments, Bank loans with lower interests, All new products knowledge and proper training, Innovations, 100% removable of poverty and below poverty. etc.. if our Govt cover above area , then INDIA IS NO.1 DEVELOPED COUNTRY IN THE WORLD. all foreigners will come to INDIA for JOB AND SHOPPING.


Customs Exchange Rates
Currency
Import
Export
US Dollar

66.20

64.50
UK Pound

87.50

84.65
Euro

78.25

75.65
Japanese Yen
58.85
56.85
As on 21 Oct, 2018
Daily Poll
Is counterfeiting a major threat to SMEs?
| | |
| --- | --- |
| Commented Stories | |