---

Despite note ban, third quarter GDP growth at 7 pc

---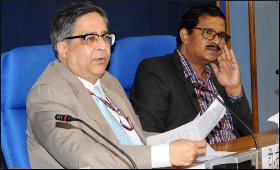 | | |
| --- | --- |
| Top Stories | |
SME Times News Bureau | 01 Mar, 2017


Despite note ban, India's GDP for the third quarter ended December, estimated at Rs 30.28 lakh crore, recorded a growth of 7 percent, the lowest in over nine months, but still higher than expected.

The country had registered a Gross Domestic Product of Rs 28.31 lakh crore in the corresponding quarter of 2015-16.

The estimates of GDP growth for the full fiscal 2016-17 at 7.1 percent, marked a sharper fall from the 7.9 percent recorded for the fiscal 2015-16.

In terms of gross value added (GVA) -- considered a better measure of economic performance, as it excludes product taxes and subsidies -- of Rs 28.02 lakh crore for the quarter, the growth at 6.6 percent was slower compared with 7 percent in the previous year, mainly due to a contraction in the financial and real estate sectors.

Within the GVA, the manufacturing activity showed a sharp fall in the December quarter at 8.3 percent, against 12.8 percent in the same quarter of the previous year.

While construction growth fell to 2.7 percent, from 3.5 percent the year before, financial, real estate and professional services GVA during the quarter in consideration saw a massive fall to 3.1 percent, from 10.4 percent growth seen in the third quarter of 2015-16.

However, government services, including defence, logged a robust growth of 11.9 percent, against 7.5 percent in the previous year.

The primary sector, including agriculture and fisheries, bounced back impressively during the quarter in question with growth of 6 percent, against a decline of 2.2 percent in the same quarter of the previous year.

Mining and quarrying output also recorded a major fall at 7.5 percent, as compared to the 13.3 percent growth a year ago.

Chief Statistician T.C.A. Anant told reporters after releasing the data that the impact of demonetisation is difficult to assess in the absence of sufficient data.

"Policies such as demonetisation are difficult to assess without a lot of data, a lot of which is still to come in. As of now we have factored in the third quarter figures on industrial production and only the advance filings corporates," Anant said.

"The immediate data bears out the conclusion that it (demonetisation) has not had such an impact," he added.

"Earlier estimates were projecting GDP at much lower level. We have to see the full play of demonetisation effect. Earlier reports were anecdotal," Economic Affairs Secretary Shaktikanta Das told reporters here.

Industry body Assocham said that estimates of GDP are "very much in line with the expectations."

"Estimates put forth by different institutions like the Reserve Bank of India, World Bank and others thereby showing downward movements in the economic activity of India mainly due to withdrawal of specified bank notes," the chamber said.

"Policymakers should take doable steps to revive fixed investments and production of capital goods which are falling continuously since the growth which is being supported by consumption demand does not have sustainable impact," said Assocham President Sandeep Jajodia.

"It is extremely critical to push the domestic capex cycle which has been persistently weak. We are hopeful that going ahead the planned increase in public expenditure, will crowd in private investments," industry body Ficci Secretary General A. Didar Singh said in a statement here.

"We also look forward to a further reduction in lending rates by the banks. This will help boost consumption and prop-up investments through low-cost finance," he added.
Please comment on this story:
Subject :
Message:

(Maximum 1500 characters) Characters left 1500
Your name:
Customs Exchange Rates
Currency
Import
Export
US Dollar

66.20

64.50
UK Pound

87.50

84.65
Euro

78.25

75.65
Japanese Yen
58.85
56.85
As on 20 Apr, 2019
Daily Poll
Is counterfeiting a major threat to SMEs?
| | |
| --- | --- |
| Commented Stories | |