---

'SMEs, startups unaware of benefits given for ease of doing business'

---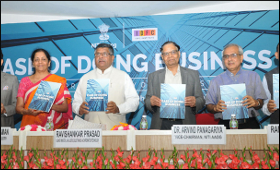 | | |
| --- | --- |
| Top Stories | |
SME Times News Bureau | 29 Aug, 2017


NITI Aayog in its "Ease of Doing Business" survey report, released by Law Minister Ravi Shankar Prasad and Industry and Commerce Minister Nirmala Sitharaman on Monday, found that enterprises are often unaware of initiatives given by the government for 'Ease of Doing Business'.

"For instance on single-window clearance: are enterprises even aware of this facility? We got surprising results," said NITI Aayog Vice Chairman Arvind Panagariya.

He said that even among start-ups -- which are set up in the last three years, only 20 percent of them said that they were aware of the existence of single-window facility.

According to the report, even among the experts, only 41 percent reported having knowledge of the existence of the facility.

"There is clearly a huge gap between what has been done and what enterprises know," Panagariya said.

"To actually take full advantage of ease of doing business that has been created, there is a need to disseminate information about what is there to be known for enterprises which are the ones doing business."

While releasing the report which covers more than 3,000 enterprises across India, Sitharaman said it may be the last but the "most important" contribution from Panagariya, who leaves the NITI Aayog on August 31 to return to his academic career in the US.

She said the report would give a complete and true picture of the business environment of the country.

The minister added that the ease of doing business was the priority of the government and is getting full attention.

Prasad said that the nation was making huge strides in the field of digital infrastructure and called for a separate index for measuring digital ecosystem of states.

The survey, which covers over 3,000 enterprises across India, makes an effort to assess ease of doing business from their perspective as opposed to the perspective of policy makers.

Panagriya said that while this report takes the entire country into account and tries to bring forward national trends on different issues, there will be a second report based on the survey which will focus on individual states.

NITI Aayog Monday launched the Ease of Doing Business report based on an Enterprise Survey of 3,500 manufacturing firms across Indian states and union territories. The survey has been conducted, along with the IDFC Institute, to assess the business regulations and enabling environment across India from firms' perspective.

The Ease of Doing Business report was based on an Enterprise Survey of 3,500 manufacturing firms Survey comes in the backdrop of the fact that India needs to create an environment that fosters globally competitive firms, capable of driving and sustaining economic growth.
Please comment on this story:
Subject :
Message:

(Maximum 1500 characters) Characters left 1500
Your name:

Lack of clarity on policies frustrating SMEs


Bhagawath Prasad | Thu Aug 31 03:13:14 2017


I am sorry to say that ,current government supposed to bring in BIG change in corruption, at ground level nothing is changed , remained same , change is it has slowed down the clearances at every level, tax litigation cases remained to bombard SMEs, GST supposed to ease operations , GST is copy of VAT hence confusions continued , Several goods appear in both HSN and SAC , help desk is symbolic , if an SME goes with a letter for clarification , they dont even acknowledge as if their job is at stake.Now SME s are more terrified because ,look at the confusion , if HSN code is taken , there are chances that their old books get opened , chances of loosing at tribunal and court cases , similarly the same with SAC as well, Government should announce to withdraw all notices on tax dispute litigation cases , instead copy book of vat,excise,ST together made one mixture of GST and continued to confuse SMEs, goods made and kept in wear-houses and not being sent out due to lack of clarity on HSN,SAC and related old cases ,it means there is no sale,results in pressure for working capital,chq bounces on loans taken for manufacturing,expenses remained to be growing, retained goods will give no revenue to government as well,my humble request is please bring in policy on all existing litigated cases and announce that there is no bearing for existing cases irrespective of adopting HSN or SAC,let entrepreneurs run their businesses without fear,,bring revenue to government and jobs for jobless.



SMEs Startups : New ventures are not known to new entrants


J.P. Madvaiya ( jpmadvaiya@gmail.com ) | Wed Aug 30 07:05:46 2017


There is ground level ignorance of the startups, which can be filled up if an exclusive TV channel is started for start up entrepreneurs to display/depict various industries, how they can manufacture goods, make waste to wealth, where raw material is available. May I take an example : From every auto-vehicle there is scrap of tyres which is not popularly used for making something else. These scrapped tyre are useful for making astroturf, rubber mats, and so many things. I may add video to this example : www.youtube.com/watch?v=wRr33QMikGs Thousands of products can be manufactured by raw material locally available, but there is need to impart knowledge to the entrepreneurs, which is easily possible if a TV Channel dedicated to this object is available for watching manufacturing process, their raw material, machines, man power, marketing, uses etc. A packaged complete guide for Start Ups need be displayed. An interactive advisory program shall be beneficial if added to this channel. Many of the process are available on You Tube, but many more may be picturised at running industries. Let the Niti Ayog, concerned Ministries think over this proposal and implement.



Ease of doing business,in Ind_a?


Mahendra Merchant Exporter | Wed Aug 30 06:22:59 2017


Not Possible & whatever is done all Hamburg & Bogus attempts, so far.



one window system


A I K | Wed Aug 30 03:37:29 2017


In one window system, the files or papers should be put in one window and during submission they should check the documents and inside office all the processing of file within stipulated time and no official to customer contact should come. But this is not the case in most of the places.


Customs Exchange Rates
Currency
Import
Export
US Dollar

66.20

64.50
UK Pound

87.50

84.65
Euro

78.25

75.65
Japanese Yen
58.85
56.85
As on 17 Feb, 2020
Daily Poll
Ease of doing business improved in last one year
| | |
| --- | --- |
| Commented Stories | |