---

'India's leather exports to touch $27 bn by 2020'

---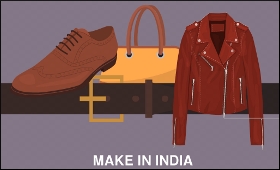 | | |
| --- | --- |
| Top Stories | |
SME Times News Bureau | 21 Apr, 2017


Council for Leather Exports (CLE) has estimated that India's leather exports will peak to USD 27 billion by 2020, from the present level of USD 5.89 billion, given proper encouragement and support.

Explaining the insignificant share of India's exports to the CIS region, Chairman, CLE, Mukhtarul Amin said, "The combined annual import value of leather, leather products and footwear by CIS was about USD 6 billion."

Underscoring that leather trade between the two regions can be a win - win situation. Amin observed that CIS can take advantage of the expanding market for leather and leather products in India, which is estimated at USD 12 billion.

Different policy steps that are needed to push up leather exports from the country, which has been assigned importance under the Make in India program were discussed at a Symposium organized by CLE on Thursday in New Delhi, which was attended by a cross section of leather exporters, policy makers and representatives of embassies of various leather importing countries, particularly Russia and CIS countries.

The symposium has focused how to enhance India's leather trade between Russia and CIS, which were major importers of Indian leather during the erstwhile Soviet Union period.

Chairman, CLE explained that the combined annual import value of leather, leather products and footwear by CIS was about USD 6 billion. Of this, Russia alone imported over USD 4 billion, accounting for a share of 69 percent. However, India's exports to the region were USD 70 million, which is insignificant. India's export to Russia alone is to the tune of USD 49 million, accounting for a share of 82 percent of export to the region.

These countries can export hides, skins and finished products into India. Also, they can collaborate with Indian tanneries and technical institutions to produce high-end products and to undertaken extensive research for improving the quality and design of the leather products.

Echoing the views, Sunil Kumar, Joint Secretary, Ministry of Commerce, said that CIS would be one of the focus areas for augmenting India's leather exports. Concrete efforts are being undertaken in consultation with stakeholders to evolve various schemes to increase leather exports from the country in general and to CIS in particular.

Newer markets are being identified for leather exports and various factors that hamper exports are being studied and ameliorative measures are being taken. Initiatives like North South Transport Corridor (INSTC) and proposed India-Eurasian Free Trade Union comprising of countries like Russia, Armenia, Kazakhstan, Kyrgyzstan, would open up alternative and cost effective transport routes to CIS, which would help India to enhance its trading relations with the region.

In the discussion that ensued the exporters have pitched for taking concrete steps for building a land route to Moscow through Kashmir and China by building a few tunnels and constructing a road measuring 220 Kms, to reach Chinese border. From there, cargo can move seamlessly to Moscow by road, considerably cutting down the lead time and cost of transportation. Presently, the goods meant for CIS countries have to be transshipped at various centers creating long delays in transportation coupled with high cost,

The Indian exporters also urged the Russian and CIS authorities to ease the visa rules and the procedures for taking samples to be taken for trade fairs and exhibitions. Presently, there are many hurdles being faced by the exhibitors in taking samples to Russia, with the result that such sampes are lying with customs authorities.

There were presentations at the symposium on various aspects of trade by representatives of commerce ministry, ECGC, EXIM Bank and SABERBANK Russia, explaining various insurance covers extended to exports as also credit facilities available. Customs Head of Russian Embassy Igor V Kalinin explained how to apply for the Russian visas and procedures for taking samples to be displayed at various trade fairs and exhibition in this country.
Please comment on this story:
Subject :
Message:

(Maximum 1500 characters) Characters left 1500
Your name:
Customs Exchange Rates
Currency
Import
Export
US Dollar

66.20

64.50
UK Pound

87.50

84.65
Euro

78.25

75.65
Japanese Yen
58.85
56.85
As on 13 Aug, 2022
Daily Poll
COVID-19 has directly affected your business
| | |
| --- | --- |
| Commented Stories | |