---

Entrepreneurial ecosystem & startup's to accelerate India's growth

---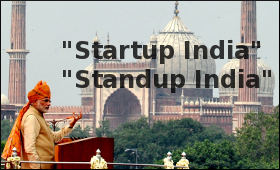 | | |
| --- | --- |
| Top Stories | |
Saurabh Gupta | 27 Sep, 2016


India is today undertaking a fundamental shift towards startups was the mantra at the 2nd day of Invest North where a focused session on Startups & Ecommerce deliberated on how India can nurture its entrepreneurial ecosystem to create more start-ups as well as opportunities for its vast young population.

Opening the session, Vijay Thadani, Chairman, CII Regional Special Taskforce on Entrepreneurship & Start-ups shared, "Startups today are a necessity to lead India in the right direction as that involve the youth who have fresh mind, innovative ideas, energy, skills, and new thinking to lead businesses."

Setting the tone for discussions, Vishesh C Chandiok, Chairman, CII Northern Region Committee on Economic Affairs and Taxation, made an impressive presentation on how unprecedented pace of technology adoption had put India at a cusp of startup revolution where innovative, small companies are leveraging technology to solve consumer problems.

The session featured some of India's budding 'techpreneurs' share their own experiences of starting their ventures and their journey so far. Each experience highlighted how an unmet need was catered to through a business idea.

Sanjeev Bikchandani, Co-Founder and Executive Vice Chairman, Naukri.com stated that in the case of Ecommerce & startups, identifying right opportunities at the right time differentiates between a success and a failure. Being Innovator & first mover carries a risk but just being an innovator and not being the first mover entails even greater risk.

Jeremie Kletzkine, Vice President, Startup Nation Central, Israel shared that Israel has 40 Incubators where Government provides 85% funding to support private initiatives. Drawing synergy, Jeremie remarked "Israel offers scalability & technology to startups while India has the scale & market."

Faisal Farooqui, Chief Executive Officer; and Founder, Mouthshut.com which is a platform for capturing and communicating consumer feedback fulfils this void. He further shared how Mouthshut stood for consumer's voice and opened the doors for startup's by getting the Section 66 A repealed from Supreme Court.

Anubhab Goel, Chief Executive Officer and Co-Founder, Zimmber, dwelled on the need to provide dignity to Blue collar worker by empowering them with Technology. He shared that need of the hour is to get the right person to do the right job at right time & right price.

Raghav Gupta, Country Manager (India), Blablacar sharing his experience mentioned that objective of his company is to provide a car pooling platform wherein the city to city travel is easy, economical & fun. He further shared that in June 2015, his company has entered into tie up with IRCTC wherein those people unable to get Railway reservation can use their platform to plan their travel in car pool system

Manish Chopra, Co-Founder, Zovi.com and Chief Executive Officer & Co-founder, Little Internet Private remarked, "The objective is to connect small merchants in focused manner with smart phone user wherein both of them are able derive value." Speaking on GST, he mentioned that while the startup community is going to take time to learn it's nuances, this should have a positive reflection on the overall startup scenario, provided the rates are reasonable.

Nikhil Sahni, Senior President (Government Banking), Yes Bank called upon the state governments in North to look at setting up Startup hubs which should have a complete ecosystem for startups to evolve. This will help the Banks & Financal entities to Invest & support the startups.

Sharing CII's Initiatives, Thadani briefed the audience that CII in partnership with Andhra Pradesh Government is coming up with a Center of Excellence on Startups in Amravati later this year. CII organises a Startapreneurs Expo every year, which helps startups take the next step in their business.

In order to encourage the youth and skilled workers to start their own business, CII is also in process to initiate a concept of Startupreneurs Forum .Fee to become a member of this Forum will be very nominal as startups are boot strapped for funds. The Vision of this Forum is to make India into a nation of Entrepreneurs. He called upon the all young entrepreneur fraternity to get itselfself enrolled in this Forum.

Please comment on this story:
Subject :
Message:

(Maximum 1500 characters) Characters left 1500
Your name:
Customs Exchange Rates
Currency
Import
Export
US Dollar

66.20

64.50
UK Pound

87.50

84.65
Euro

78.25

75.65
Japanese Yen
58.85
56.85
As on 10 Jul, 2020
Daily Poll
COVID-19 has directly affected your business
| | |
| --- | --- |
| Commented Stories | |