---

Factory output expands by 6.4 pc in August

---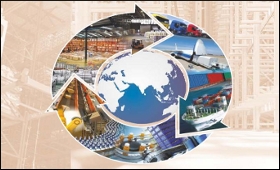 | | |
| --- | --- |
| Top Stories | |
SME Times News Bureau | 13 Oct, 2015


The acceleration in manufacturing and mining sectors' output speeded up India's factory expansion growth to 6.4 percent in August, from 4.1 percent in the month before, official data showed on Monday.

The industrial output in the corresponding month of 2014 had inched up by 0.5 percent.

Furthermore, the factory output in August is the fastest rate of industrial expansion since October 2012, when the data on the Index of Industrial Production (IIP) had shown a growth of 8.4 percent.

India's industrial output during April-August period grew by 4.1 percent from an increase of three percent registered in the corresponding period of last year.

The Central Statistics Office (CSO), which released the data on the IIP, also revised its July estimates downwards.

The revised figures for July showed a growth of 4.1 percent against a rise of 4.2 percent which was published in the "Quick Estimates of IIP" released on September 11, 2015.

The August IIP data revelled an expansion in all the three core sectors of manufacturing, mining and electricity, as against revised figures for July and the corresponding month of 2014.

In August, the manufacturing sector, which has the maximum weightage in the IIP, grew by 6.9 percent from 4.55 percent rise in July and a decline of 1.1 percent in the corresponding month of 2014.

The mining sector output rose by 3.8 percent from a marginal increase of 0.94 percent in the month before, and a rise of 1.2 percent in the like period of last year.

The electricity sector's yields accelerated to 5.6 percent last month from a 3.53 percent in July. However, the expansion rate for the month under review was considerably lower than the surge of 12.9 percent in August 2014.

Cumulatively, the overall industrial output rose by 4.1 percent in the April-August period from an increase of three percent in the corresponding period of 2014-15.

The manufacturing sector swelled by 4.6 percent, while the electricity sector expanded by 3.2 percent. The mining sector's cumulative output in the period under review edged up by 1.2 percent.

Monday's data showed that among the six use-based classifications of the index, the output of capital goods segment expanded by 21.8 percent in August. The capital goods segment is a key indicator of economic activity.

Healthy production was also observed in the consumer durables' output, which grew by 17 percent. The output of consumer goods was higher by 6.8 percent.

The basic goods segment rose by 3.4 percent, while intermediate goods grew by 2.6 percent and consumer non-durables segment inched up by 0.4 percent.

Overall, 15 out of the 22 industry groups in the manufacturing sector have shown positive growth during the month under review.

Segment-wise, growth was witnessed in gems and jewellery (192.3 percent), sugar machinery (140.8 percent), hot rolled sheets (129.5 percent), fruit pulp (93.4 percent), cable (72.1 percent), vitamins (37.6 percent), aluminium wires and extrusions (28.9 percent), aluminium conductors (25.6 percent), carbon steel (23.6 percent), steel structures (22.5 percent) and liquefied petroleum gas (LPG) (21.2 percent).

Segment-wise, high negative growth was reported in the ready-to-eat (-42.9 percent), grinding wheels (-37.8 percent), cold rolled sheets (-28.2 percent), stainless steel (-27 percent), furnace oil (-26.5 percent), colour TV sets (-22.9 percent), aerated waters and soft drinks (-22.4 percent) and air conditioning (-20.5 percent) sectors.

India Inc welcomed the substantial rise in the factory out. It credited the government's reform measures, lower commodity prices and rising demand as supporting factors.

"The growth in manufacturing seems to be accelerating and we are hopeful of higher growth in the coming months. Government's efforts to revive manufacturing has started yielding results," said A Didar Singh, Secretary General, Federation of Indian Chambers of Commerce and Industry (Ficci).

"Reduction in the interest rates last month by RBI is expected to encourage investment and aggregate demand in the economy."

The Associated Chambers of Commerce and Industry of India (Assocham) said that it is pleased to see finally the green shoots of economic activity getting converted into strong industrial growth figures.

"On the whole, these estimates put forward certain positive indications of growth revival, however, the policy makers need to continue with the proactive stance to support these developments," said Rana Kapoor, president, Assocham.

Alok B.Shriram, president of PHD Chamber said that: "Decline in the prices of raw materials vis-Ã -vis international commodity prices and rejuvenating domestic economic activity will help industrial sector to perform better."

Devendra Kumar Pant, chief economist at India Ratings and Research (Ind-Ra) said: "August IIP growth at 6.4 percent came much higher than the market expectation, which is highest since October 2012."

"In absence of support from global demand, IIP growth is very positive and support's Ind-Ra view of initial growth to come from consumption."
Please comment on this story:
Subject :
Message:

(Maximum 1500 characters) Characters left 1500
Your name:

Buy Email list


atia | Tue Oct 13 05:34:32 2015


Every day, consumers become more selective and skeptical of boring and obviously promotional tricks. Even loyal customers are starting to think more about the selection and conditions offered by other


Customs Exchange Rates
Currency
Import
Export
US Dollar

66.20

64.50
UK Pound

87.50

84.65
Euro

78.25

75.65
Japanese Yen
58.85
56.85
As on 27 Apr, 2022
Daily Poll
COVID-19 has directly affected your business
| | |
| --- | --- |
| Commented Stories | |