---

Making common man self-dependent main objective: MSME Minister

---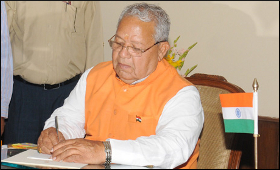 Kalraj Mishra taking charge as the Union Minister for MSME, in New Delhi on May 28.
| | |
| --- | --- |
| Top Stories | |
SME Times News Bureau | 28 May, 2014


After assuming charge as the Union Minister of Micro, Small & Medium Enterprises (MSME) on Wednesday, Kalraj Mishra told media that making common man self-dependent is his ministry's main objective.

"The objective of the Ministry is to make the common man self-dependent," said Mishra in New Delhi.

"Optimum utilization of human resources and establishing a framework for this purpose is the need of the hour and this Ministry will work towards that goal," he added.

Interacting with the media the Minister highlighted the importance of the Ministry of MSME in creating jobs for youth & opportunities for educated unemployed persons in backward regions.

Born in 1941 in Ghazipur District of Uttar Pradesh, Kalraj Mishra is a veteran leader of BJP in Uttar Pradesh. He has served as the state chief of the party and was a Cabinet Minister in state government holding the portfolios of Public Works, Medical Education and Tourism during March 1997-August 2000.

He has been an MLA for several terms and a member of the Rajya Sabha. He won the 2014 Lok Sabha elections from Deoria constituency.

Later the Minister was briefed on the key initiatives and policy frame work of the Ministry by Madhav Lal, Secretary, MSME.

Also present on the occasion were Amarendra Sinha, AS&DC, J. S. Mishra, CEO, KVIC, H.P. Kumar, CMD, NSIC, Arun Kumar Jha, Director General, NIESBUD and other senior officials.

The new MSME Minister didn't assume the charge on Tuesday as the Prime Minister Narendra Modi has sent him and Minister of State for Railways Manoj Sinha to visit the site of the Gorakhdham Express train accident in Sant Kabirnagar, in which at least 25 people were killed, to supervise relief operations. They have also visited the injured at the district hospital in Khalilabad, railway hospital and BRD Medical College and Hospital.

The Gorakhdham Express Monday rammed into a stationary goods train, killing at least 25 people and injuring over 100 others, some critically. Many trains were diverted and cancelled after the accident.
Please comment on this story:
Subject :
Message:

(Maximum 1500 characters) Characters left 1500
Your name:

SME Unit Policy Intervation required


N. P. Desai | Thu Jun 5 07:26:15 2014


Kindly accept our congratulations being the part of New Govt. at Delhi, with strong mandate we can achieve effective results in development of Country & SME sector, which is the driving force and growth engine of Indian economy. One of the priority or focus area that Govt. has to look is the reduction in NPA and increase in employment in SME sector, which is capable of giving more employment per capita investment next to the Agriculture sector. Our Association is unique, as we provide guidance and helping hand to the small and micro industry in manufacturing sector at the stage of incipient sickness and hardship due to various variable factors in the economy or policy changes. We represent to the different departments like the Commissioner of Industries, RBI, SLIIC and other statutory bodies, suggests various fiscal and non fiscal ideas for the benefit of our member units. In this connection we have conducted a full one day work shop on the Incipient sickness and other issues faced by Industries, various suggestions and public deliberations are collected and compiled are enclosed for your ready reference.(Resolutions) We would like to seek your appointment as per your convenience at your office at New Delhi, for a delegation of our members from Hyderabad to deliberate various burning issues faced by SME Sector, which are otherwise also bothering to the respective state and central govt, RBI, Commercial Banks and other Govt Institutions in tackling the problems of SME.



Linking Self Help Groups with Industrial activities


Dr Mrs Sushma Joiya Pandit | Wed Jun 4 04:35:49 2014


Entrepreneurship is the backbone of Development.Entrepreneurship is the need of rural people. Common man of a village can be made self dependent through entrepreneurship.We have a number of Self Help Groups in villages which have tremendous energy.The optimum utilization of this tremendous energy can eradicate poverty by establishing an Industrial framework in villages for this purpose. We have trained staff to impart product oriented training to these enthusiastic and willing poor ladies for establishing a production unit in village. These ladies can do wonders through micro-entrepreneurship. Hon'ble Shri Kalraj Mishra ji will have to take personal interest in doing so through his Ministry. We know Shri Kalraj Nishra ji has the capacity and willingness to eradicate poverty through entrepreneurship.



MSME Act In Chandigarh


ANMOL RATTAN SHARMA | Wed May 28 18:04:03 2014


Dear Mr Kalraj Mishra,I bring to your kind notice that CHANDIGARH ADMINISTRATION has not implemented the MSME ACT , thus denying the benefits to micro , Small and medium Enterprises in toto. IS it fair ? Please intervene & get it implemented immediately and oblige by taking the Administration to task.


Customs Exchange Rates
Currency
Import
Export
US Dollar

66.20

64.50
UK Pound

87.50

84.65
Euro

78.25

75.65
Japanese Yen
58.85
56.85
As on 13 Aug, 2022
Daily Poll
COVID-19 has directly affected your business
| | |
| --- | --- |
| Commented Stories | |