---

'Introduce rebated income tax for SMEs'

---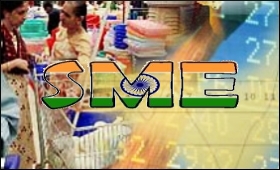 | | |
| --- | --- |
| Top Stories | |
Saurabh Gupta | 20 May, 2014


Industry body FICCI has suggested major steps for the welfare of small and medium enterprises (SMEs) in their 12-point agenda for the new government released on Monday.

FICCI has emphasised that the new government of the BJP-led NDA should introduce rebated income tax for small start-up businesses, in essence individually owned.

"Rebated Income Tax for small, start-up businesses linked to employment creation is required," suggested the FICCI statement. Apex body unveils its wish list for the new government at a press conference in New Delhi on Monday.

"There is need to link tax benefits to direct employment by the start-up business," it said

Precedence in example of Singapore and China, it said that of Indian scheme could be called START (= STArtup Rebated Tax). Tax benefit will be for defined rebate proportion (say 33-50 percent) and period (say 3-5 years), added.

"The Nation has very clearly voted for development. FICCI congratulates PM-Elect Sri Narendra Modi for the overwhelming mandate received from the largest elections ever held. Sri Modi has charted a dynamic vision with determination to lead from the front. We look forward to renewed trust, sound governance and decisive actions as enabling factors to address needs and aspirations of both our entrepreneurs and youth" Sidharth Birla, President, FICCI.

"Even as the Union Budget is a ripe opportunity to spell out key policies, fiscal imperatives and plans for implementation, the interim weeks must be liberally used by our Leadership to project its vision and set a progressive tone and direction. We also hope to see measures on inflation mitigation and restoring confidence, besides road maps on job creation and national competitiveness".

"Mission-mode actions and bold decisions are most likely to deliver tangible outcomes over 6-24 months" added Birla.

FICCI has made certain suggestions via our agenda for Enabling India. FICCI assured the Government of its untiring efforts and participation in developing positive policies leading to job creation and growth across regions and sectors - particularly manufacturing".
Please comment on this story:
Subject :
Message:

(Maximum 1500 characters) Characters left 1500
Your name:

Reshuffle economy and taxation


Madhusudan Pogul | Wed Jun 4 07:31:23 2014


Reshuffle of economy i.e. cancellation of 500 and 1000 denominated notes and waive taxation at every level like city,state,other tax should be at only one place and one time whether manufacturer,trader, miscellaneous and remove all level of taxes and also reduce expenditure of the Govt.central and state and district level



Rebated IT for MSME


Arun Deshpande | Mon Jun 2 14:37:44 2014


I welcome this suggestion since MSME is always in short of Cash-flow. Also corruption at every step needs to be tackled sternly. MSME is harassed by too many rules, laws and procedural complications. What rules apply for a company of 100 crore turn over , they are same for the one turning over 10 lacs. Can we differentiate among these? That will save wasteful administrative costs.



INCOME TAX


P RAJESH KUMAR | Mon Jun 2 11:46:42 2014


I REALLY AGREE OF THE INCOMETAX REBATES, SO EARLY.& GST ALSO MADE. SUPPORT GOVT ME,I SUPPORT GOVT.



Change of taxation. system of country


Durga Shanker Sarada | Fri May 30 06:35:46 2014


"Arthakranti Proposal" has been given by a Pune (Maharashtra) based "Arthakranti Sansthan" which is an Economic Advisory body constituted by a group of Chartered Accountants and Engineers. This funda has been patented by the Sansthan. Arthakranti Proposal is an effective and guaranteed solution of Black Money Generation, Price rise and Inflation, Corruption, Fiscal Deficit, Unemployment, Ransom, GDP and industrial growth, terrorism and good governance.



introduction of rebated incometax gor SMEs


Sopan P Ghodekar | Wed May 28 14:22:55 2014


I agrre with the proposal of subject matter , and must be effected very soon



Reduce many layer of Taxation


Rajeev Maheshwari | Tue May 27 17:18:22 2014


I am also living in Indonesia. Make I tax simple and remove all Education and other cess. Make VAT 3 to 4% allover India. Heavily penalised to culprits. Easy to get license online by paying Fees and single window clearance as far as possible. Same in stock market too.



Start-up support


Venky | Wed May 21 01:29:19 2014


I am living in Singapore and travelled across globe. The simple and easiest way to bring success to economy is encouraging more and more entrepreneurs, remove so called dynasty businessmen, give incentives to start up companies, tax free for certain limit, easiness in license, permits, I have seen the great success in China, Taiwan, Singapore - simple way of encouraging ideas, business and empowering the economy. I am ready to share my 17years of business experience in Singapore, key successful start up support and that becomes great success. Many Indians are eager to come back and create a policy and promotion to bring back the NRI talents and investment Create a opportunity for NRI to be get involved in advisory boards at every segments Create state level CM advisory board with experts from across Give a clean and clear image of "development, uplift ment, growth, one policy, one nation, one language, oneness to every individual Think of policy to make every young to serve compulsory in military for two years just like in Singapore - this brings everything as Indian. Sri NM success and we believed is his sense for his Mother Nature, his sense in talking about proud Indian, his humanity as Indian, his humbleness as Indian, his statement as One Bharat - Successful Bharath. He did talk about caste, religion, hate, state, language, etc., so majority Indians are looking for India's growth as one India. Unfortunately other parties and politicians are still same old!


Customs Exchange Rates
Currency
Import
Export
US Dollar

66.20

64.50
UK Pound

87.50

84.65
Euro

78.25

75.65
Japanese Yen
58.85
56.85
As on 13 Aug, 2022
Daily Poll
COVID-19 has directly affected your business
| | |
| --- | --- |
| Commented Stories | |