---

Collateral free loans available for MSMEs: Minister

---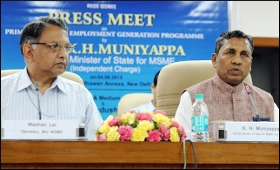 | | |
| --- | --- |
| Top Stories | |
Saurabh Gupta | 05 Sep, 2013


A slew of measures recently taken by the Ministry for improved implementation of its flagship scheme are expected to fight economic slowdown by faster creation of enterprises and jobs in the micro sector, the Minister of State (Independent Charge) for Micro, Small & Medium Enterprises, K.H. Muniyappa Wednesday said, also making it clear that collateral free loans are available for MSMEs under PMEGP and CGTMSE.

"Collateral free loans are available for PMEGP projects costing upto Rs 25 lakh, as follows: (a) vide RBI circular dated 6 May 2010, Banks have been mandated not to accept collateral security in the case of loans upto Rs 10 lakh extended to units in the micro and small enterprises sector and (b) under the Credit Guarantee Fund Trust Scheme for Micro & Small Enterprises (CGTMSE)," said Muniyappa, at a press conference held in New Delhi on Wednesday.

Speaking on the recent initiatives for enhancing the effectiveness of implementation of Prime Minister's Employment Generation Programme (PMEGP), he said, "The scheme is designed to create productive employment through entrepreneurship (especially in the manufacturing sector) and arrest migration of workers and artisans to urban centres and other areas in search of employment."

On the issue of plan allocation, the Minister said, "For the country, as a whole, the outlay for 12th Five Year Plan under PMEGP has been kept at Rs 8060 crore which is 70 percent higher than the allocation of XI Plan."

"The scheme will create over 5 lakh enterprises and will generate employment for about 40 lakh persons," he added. PMEGP is the major credit linked subsidy programme being implemented by the Ministry.

On the major steps taken by the Ministry the Minister said "towards speedy and effective implementation of the scheme through expeditious monitoring at the district level. The Ministry has already issued instructions to KVIC that the units assisted under the scheme are actually set up within a time frame of 100 days."

Highlighting the PMEGP as a major credit linked subsidy programme the Minister said that the Government has released Rs 5251.51 crore under the scheme since 2008-09 and more than 2.22 lakh projects have already been assisted, providing employment to an estimated 20.42 lakh persons.

The Government has been enhancing the allocation for PMEGP every year and the allocation for the current year for 2013-14 is Rs 1418.28 crore for existing 1.03 lakh projects creating employment for over 8 lakh persons, the minister added.

He further said, "The Ministry of MSME on 30 August 2013 constituted an Advisory Committee for each district of the country for monitoring the progress of PMEGP with active involvement of Members of Parliament from the district."

The Minister highlighted that the Ministry of MSME has approved constitution of a District Level Advisory Committee comprising around 30 members which would provide overall guidance and suggestions for the implementation of the programme.

The committee would liaise and coordinate with KVIC, State Government and other agencies including Banks for effective mobilization of young entrepreneurs under PMEGP. It would also ensure that the scheme is implemented in accordance with its guidelines.

The Committee would be chaired by the Member of Parliament (Lok Sabha) elected from the District having the largest part of the district under his/ her Parliamentary constituency. Other Members of Parliament of Lok Sabha having part constituency in the district would be co-chairperson and Member of Parliament of Rajya Sabha will be a member.

The other members would include Members of State Legislative Assembly and Legislative Council, Chairperson of Zilla Panchayat, representatives of SC/ST, OBC, minority and women and one professional from social work/ social science, representatives of bank and financial institutions. District Magistrate/ Collector will be its member-convener. The committee will meet once in every quarter. KVIC which is the nodal agency for the scheme at the national level has been asked to take necessary action.

The Ministry has also directed KVIC and the implementing agencies to ensure that at least 100 projects per district are assisted under the scheme this year. The allocation for the three disaster affected districts of Uttarakhand has also been increased substantially which would help re-build the entrepreneurial base of the region.

Present at the Conference were Madhav Lal, Secretary, Ministry of MSME, S.N Tripathi Joint Secretary, and Udai Pratap Singh, CEO, KVIC.
Please comment on this story:
Subject :
Message:

(Maximum 1500 characters) Characters left 1500
Your name:

Msme uan-PB01B0003026.fly ash bricks.udyog aadhaar regd.cert.


AJMER SINGH. | Tue Nov 20 07:31:11 2018


I was applied for loan PMEGP above matter,DIC is sanctioned..but P&sind bank asked for gurntee and they are asking me for property..so what I do..pls halp me sir..



PMEGP approved,first time fly ash bricks plant in our District.


AJMER S I NGH | Tue Nov 20 07:09:22 2018


But p&sind bank asked for gurntee & they are asking me for property..I am sc,so what I do..pls help me sir..



Business loan


Pankaj Devnath | Mon Aug 6 18:00:53 2018


Mujhe ab tak nahi mila Loon



START UPS/STAND INDIA/CGTMSE BANK LOANS


vincent gomez | Sat Mar 17 16:37:47 2018


I am an herbalist in Herbal Medicines, since 1986 I had been working on an unique formulation for herbal hair oil in mustard oil base, vegetable oil base, coconut oil base and many such oil bases. With full assistance of MSME okhla a detailed Project report for bank loan under Start up/Stand up/CGTMSE scheme for Rs. 1.95 cr was prepared by a repute Chartered Accountant, my Banker OBC gladly took my said Project Report and told me to contact him after 20 days. Several visit was made to his office and after three months still no news, then I filed complaint with PMO, RBI, Finance Ministry-DOFS,and when my banker learnt this, he then directed me to AGM Office in Delhi. When contacted AGM at his office, he was shocked to learn about my said detailed Project report for bank loan about which he knew nothing till then he then claimed as " how can it happen". On contacting his concerned department he then learnt that my said PR was with one of his colleague, who commented that this Project is for SC/ST/ Minority/Lady Entrepreneur only, my banker never informed then. PMO, Finance Ministry-DOFS also never looked into the matte. AGM was told to take mudra loan instead and made me to write a redressal letter to the bank stating that my loan application was under a wrong category hence be cancelled forthwith. My CA and MSME-OKHLA was shocked to learn this matter and till date I did not get my said Loan. About 1500 to 2000 employment could have been generated and export as well.






Rajat kamila | Wed Mar 14 08:21:56 2018


Dear_ Sir/madam gorvment scheme mpegs loan approval3 months but bank giving loan amount my account number government team action please loan amount give me sir please sir please sir



hotel loan


suresh kumar | Mon Feb 26 11:17:20 2018


sir m apna hotel suru krna chahta hu kya pmegp ki trf se muje loan mil skta h or iske liye muje kya krna hoga or kya garnty deni hogi



Mineral water processing unit


Fayaz Ahmad Ganaie | Sat Jan 27 07:43:58 2018


Dear chairman Sahab,my case has been approved by DLTFC Budgam under project cost Rs.25.00 lakhs but the bank demanded collet real security of immovable property but I can,t possible such type of security please help me in this regard



Collateral security


Shrey | Fri Dec 29 06:16:29 2017


What is the Limit of collateral free loan under PMEGP? After 5 months and 2 managers the 3rd one come with a new twist, you have to give a security of loan amount deducting subsidy because your project is amounting 21L. Please reply the exact rules of PMEGP.


Re: Collateral security


maharishi world peace society | Fri Aug 3 07:26:48 2018


garment making unit


This is worst scheme


Gopi krishna | Fri Nov 10 08:01:39 2017


I tried 3 years to get collateral free loans under this scheme, but the banks refuses to give. my project is good and clean, but bank needs property to give loans to my project. no government official is interest to take actions on banks. Govt. doing waste of time and money on these sectors why don't close these offices(DIC and CGTMSE).






KYC | Wed Oct 11 10:04:41 2017


Can these gentlemen's comments, through their experience can be voiced to our PM and see that they get the loans for setting up their dream projects?



PMGP


NAGESHHWARAN.S. KARUR TAMILNADU. 09486545814. | Thu Jul 13 04:37:36 2017


SOME GOVT. OFFICES SCRUTANICE THE APPLICAATION AND PROJECT REPORTS WHICH ARE ELIGIBLE TO SANCTION THE ASSISTANS THEY ARE FORWARDING TO THE BANK BRANCHES. BUT THE BANK BRANCHES ARE REFUSING TO SANCTION. THEN WHAT TO DO



Banks not approving loan without collateral security


amit kumar agarwal kanpur 7081700030 | Thu May 18 11:17:38 2017


PMEGP scheme seems to be an eye wash . no bank is giving loan to new units, women entrepreneurs or existing set up expansion .please forward my issue to PMO.


Re: Banks not approving loan without collateral security


Ganesh ahsok mhetre | Tue Sep 18 10:08:27 2018


Sir.. I was aplly for loan to kvic dic and it is sanctioned.. But sbi bank asked for gurnterr and they are asking me for property... So what i do.... Pls help me sir..


PMEGP


Sunita Patel | Fri Jul 31 05:13:23 2015


Dear sir /Madam, we want to manufacturer plastic machinery and ancillary equipment.in gujarat and we all 4partners belong to ST category, for that we need at least 1.5cr, we are of 4nos as partner. are we eligible for PMEGP Scheme.pls sent us the contact address and person name thanking you peekayengineering07@rediffmail.com



PMEGP


KRISHNA RAO CA | Wed Sep 11 07:07:45 2013


SINCE YOU HAVE INVOLVED THE MP AND MLAS, THE INDUSTRY SUPPORT WILL GO TO THEIR FOLLOWERS WHO ARE NOT THE DESERVING CANDIDATES.NATURALLY THEY WILL NOT BRING THE PROJECT.THE SWALLOW THE SUBSIDY IN COLLUSION WITHE OFFICERS CONCERNED.



comments


Ajay dubey | Wed Sep 11 04:31:23 2013


Sir, As indicating the points in this para is only in paper when anybody move ahead for that u will find a lot of disturbance in system ist of all they will demand money for processing and convenience charge for that if we do not agree for that ur file will be discharged with a chargr of unfill etc.the subsidy provide by govt is totally robbed by the employee and managerial body once i submitted to grant a loan against small scale industry establishment but not grant due to robery behabiur of employee of related dept as well as bank manager also.In India nothing else only the air


Re: comments


Anil Kumar | Wed Sep 11 13:51:20 2013


The government should have check up on corruption. The system should be devised in such a manner that one has not to incur even a single rupee for getting in practical this sort of Government scheme. then only the people will be encouraged to get these sort of government beneficial schemes .

Re: Re: comments


nethaji | Sat Sep 14 01:14:45 2013


This schmes r deviced not for a common man, this is for a political family ,govt officials sons & their friends.pm,mp,state cms, malls itself knows everything what is happening in real,they r also getting some indirect bnft.thats y they wont care .

Customs Exchange Rates
Currency
Import
Export
US Dollar

66.20

64.50
UK Pound

87.50

84.65
Euro

78.25

75.65
Japanese Yen
58.85
56.85
As on 04 Jul, 2022
Daily Poll
COVID-19 has directly affected your business
| | |
| --- | --- |
| Commented Stories | |