---

June Eng exports fall over 9 pc; sector eyes new markets

---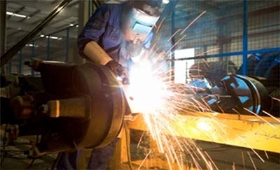 | | |
| --- | --- |
| Top Stories | |
SME Times News Bureau | 16 Jul, 2013


Concerned over a sharp year-on-year fall of 9.25 percent in engineering exports in June, despite rupee depreciation by about same ratio in the last two months, the EEPC India (Formerly known as Engineering Exports Promotion Council) with support of the Commerce & External Affairs Ministries is seeking new markets in the African continent, which holds promise in an otherwise glum global economy.

"Indias overall engineering exports fell by 9.26 percent to USD 4.2 billion from a revised figure of USD 4.65 billion achieved during June 2012. This implies that the decline has exacerbated from -3.15 percent in May 2013. Thus, the average growth rate for the first quarter of 2013-14 was -7.53 percent," Chairman EEPC, Aman Chadha said in a brainstorming session on ways to increase India's trade with Afria, particularly in the engineering products on Tuesday.

"While keeping an eye on new economic storm clouds in Europe, both India and Africa must keep its focus on reforms that encourage growth and foster bilateral trade and investment between our two regions," he added.

EEPC Chairman said several segments of the sector are suffering. "Heavy weight engineering segments seem to be facing considerable demand problem in external markets and there is, so far, no visible impact of the currency depreciation on our exports," he said.

Important engineering export segments like iron and steel, products of iron and steel, copper and copper products, Motor vehicles and aircrafts, spacecrafts and parts have witnessed sharp decline in exports.

Out of the 33 engineering panels, 19 engineering panels recorded negative growths in the month of June 2013 as opposed to 16 such panels in the month of May 2013.

While the overall trade with Africa is much below the potential, India and Africa can help each other tide over the impact of global slowdown, Chadha said.

In the second Interactive round table with over 30 diplomats of key African countries, senior Commerce Ministry official, Additional Secretary, D S Dhesi attached greater importance to the share of India's engineering exports to African continent to arrest negative growth in India's overall trade.

The continent is recovering from the global crisis of 2009 and it is sustained even though a new global slowdown is constraining Africa's growth, like that of many other regions. With the gradual recovery of North African economies, Africa's average growth is expected to rebound to 4.8 percent in 2013.

The synergy that exists between India and Africa can be gauged from the recent robust trends in Indo-Africa trade relations wherein bilateral trade has risen by two times in the last 5 years from 34 Billion USD in year 2008 to 65 Billion USD in year 2012.

India and Africa have also revised the bilateral trade targets for Year 2015 to USD 100 billion from the current levels.

In his remarks, EEPC Sr Vice Chairman Anupam Shah said several top Indian companies including NTPC, SAIL, BHEL, Maruti Suzuki, Reliance, L&T, Punj Lloyds, Escorts Construction, Toyota Kirloskar, EIL, EPL Ltd seek to the possibility of enhancing engagement with mineral-rich African continent.

He also talked about the opportunities which will be available at the forthcoming India Engineering Sourcing Show in Mumbai in January, 2014 where 400 Indian exhibitors are expected to participate.

"There would be 100 international exhibitors,1000 foreign delegates and 10000 domestic visitors," he added.
Please comment on this story:
Subject :
Message:

(Maximum 1500 characters) Characters left 1500
Your name:
Customs Exchange Rates
Currency
Import
Export
US Dollar

66.20

64.50
UK Pound

87.50

84.65
Euro

78.25

75.65
Japanese Yen
58.85
56.85
As on 27 Apr, 2022
Daily Poll
COVID-19 has directly affected your business
| | |
| --- | --- |
| Commented Stories | |