---

'Northeast India can become major centre for trade'

---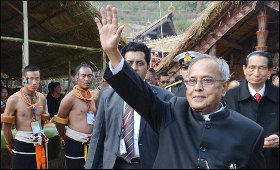 | | |
| --- | --- |
| Top Stories | |
SME Times News Bureau | 02 Dec, 2013


Northeast India has a huge strategic importance for the country and can turn itself into a major centre for trade and business, President Pranab Mukherjee said in Kisama (Nagaland) on Sunday.

He said this after inaugurating the Nagaland State's Golden Jubilee Year Celebrations and Hornbill Festival 2013 at Kisama Heritage Village, 12 km from state capital Kohima.

He said his frequent visits to the Northeast region reflect its "strategic importance and the role it can play in the building of a strong and powerful India". Considering the quality of its human resource and its natural resources, Northeast India has tremendous potential to achieve "rapid, inclusive and sustainable growth", he said.

He said this region can become a "magnet for major investments" from the rest of the country as well as abroad. "It can turn itself into a major centre for trade and business". This region constitutes one of India's most important opportunities of the future and it must be given the utmost importance and attention by our political leaders, policy makers and administrators, he said.

The president said the traditions and practices of the Naga people are rich and unique. He called upon the people of the rest of India to discover Nagaland, visit the state, contribute to the local economy and strengthen the bonds that tie different parts of our country and people together.

The president complimented the people and government of Nagaland on having organized the Hornbill Festival 2013 which brings together all Naga tribes in a collaborative effort to preserve, protect and provide new impetus to their rich traditions of music, dance, food and culture.

A commemorative stamp of Nagaland and a coffee table book on the 50th Anniversary of its statehood were also released by the president on the occasion.

Mukherjee said it was impossible to achieve development in the absence of peace and security. He urged all concerned to work towards establishing and maintaining a peaceful environment in the state so that the dreams of the youth can be realized in the shortest possible time.

He called upon Nagaland to lead the way in the building of a new future for India and set an example to the rest of India by showing how the entire region can be transformed into an "area of peace, stability and prosperity".
Please comment on this story:
Subject :
Message:

(Maximum 1500 characters) Characters left 1500
Your name:

east india


rakesh jain 9466090984 | Wed Dec 4 02:59:26 2013


East India is now leading tourist place as well as business centre, from you can buy the eastern goods and sale of the north gift items.




'Northeast India can become major centre for trade'


Vissionary | Mon Dec 2 14:03:38 2013


Excellent - Hope AGARTALA emerges as new cyber city of INDIA !! Really hope leadership in CENTER, TRIPURA Govt and Other Concerned DIGNITARIES takes a FUTURISTIC and PROGRESSIVE approach and goes BIG to put TRIPURA in the GLOBAL IT RADAR and transform into next IT and Technology powerhouse of INDIA !! Really hope BUSINESS CONGLOMERATES establishes their presence in TRIPURA which shares boundaries with Bangladesh and have a direct proximity (through Mizoram) with Myanmar and Southeast Asia! Not a single High Tech corporate, Big IT MNCs, Renowned HOSPITAL Chains, BEST of Higher Educational Institutes, World Class (5 Star) Hotels and Luxury Shopping Malls have presence in TRIPURA - Being the 2nd highest POPULUS state in NE and literacy rate crossing 90% (no of unemployment stands 6 lakhs!), need of the hour is to set up IT zones, Industrial corridors (in the line of DELHI-MUMBAI corridor) with invitation to Big IT MNCs (IBM,Accenture,TCS, Infosys, Wipro,HCL,Cognizant), World Class Hospital Chains (FORTIS, APPOLO,MANIPAL), World Class Hotel Chains (Taj, Leela, Oberoi, ITC), world class Retail outlet chains (Walmart, IKEA, Pantaloons,Shoppers Stop, Croma, Reliance Retail etc) to set up their presence at AGARTALA! TRIPURA is also home to massive talent pool with combination of huge number of working professionals (working in other Metros and abroad currently), local educated youths, youths (and working professionals) from neighboring NORTHEAST states and Neighboring countries!


Customs Exchange Rates
Currency
Import
Export
US Dollar

66.20

64.50
UK Pound

87.50

84.65
Euro

78.25

75.65
Japanese Yen
58.85
56.85
As on 13 Aug, 2022
Daily Poll
COVID-19 has directly affected your business
| | |
| --- | --- |
| Commented Stories | |