---

'Business angels' driving entrepreneurial movement

---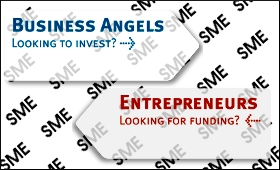 | | |
| --- | --- |
| Top Stories | |
Shudip Talukdar | 20 Apr, 2013


'Business angels' are taking the initiative to help budding entrepreneurs set up and manage their own start-ups successfully in a highly competitive environment.

This emerging new class of mentors, successful tycoons in their own right, are also providing crucial capital for fledgling ventures, usually in exchange for a part of convertible debt or ownership equity.

'Business angels', with their team of experts and advisors, are coaching youths with entrepreneurial bent through acceleration programmes, which can be likened to 'gurukuls'.

Under acceleration programmes, these industry gurus not only share cutting-edge insights, observations and valuable advice with potential entrepreneurs but also actively involve themselves in guiding, strengthening and boosting the growth of their start-ups.

VentureNursery (VN), based in Mumbai, is India's first angel-backed start-up accelerator, set up in March 2012 by Shravan Shroff, founder and former MD, Fame Cinemas, and Ravi Kiran, former CEO-South East and South Asia.

A team from VentureNursery will mentor and groom eight promising ideas from start-ups representing media and entertainment, retail, e-commerce, consumer technology, education and cleantech from May 16 in Mumbai.

It will be conducted by the company under its Season-3 of Acceleration programme.

Earlier, on April 6, Season-2 of the programme saw the fructification of four start-ups: InterviewMaster, KLIP, Smart Sample and The Venturator.

The first two seasons of acceleration boot camps also attracted over 300 applicants from 27 cities, including Bhopal, Bhubaneswar, Calicut, Kanpur, Lucknow, Nasik and Pune.

Two start-ups -- InterviewMaster and KLIP -- have moved to VentureNursery investment committee to evaluate and propose investments in these two companies.

"Enabling fledgling ideas to bloom into business opportunities is a wonderful experience. By making available years of experience of VentureNursery's 50 angels, experts and mentors will help us create many such opportunities," Ravi Kiran told agency from Mumbai.

Shroff added: "VentureNursery's active acceleration approach helps budding start-ups to work on their weak areas in a focused manner. More and more start-ups are approaching us for bridging their business gap area."

InterviewMaster is an innovative web application which allows you to evaluate interviews online, using pool of pre-recorded video questions. It can help save up to 90 percent time and cost incurred in recruitments, compared to traditional methods.

KLIP is a social shopping platform that helps users make better buying decisions and personalize their shopping experience. The start-up is founded by professionals experienced in social media space.

SMART SAMPLE is a platform that allows users to convey their feedback and experience directly to large corporates at the launch and pre-launch stage of the product.

The Venturator is an online marketplace that helps early stage start-ups to connect with the right resource pool available in the market, thereby accelerating their growth in the shortest time span.

VentureNursery's use of InterviewMaster platform will help each of these start-ups hire the best talent by neutralising their locational disadvantage.

Said VentureNursery executive vice president, Apoorv Ranjan Sharma: "VentureNursery will offer a customised mentoring programme for 13 weeks. The programme begins with identification of the key gaps and challenge areas in each participating start-up by the Angels-in-Residence."
Please comment on this story:
Subject :
Message:

(Maximum 1500 characters) Characters left 1500
Your name:

Angels want start shoiomet


sachin agarwal | Fri Apr 26 07:07:53 2013


give me some innovative ideas for new start up. I am in trading business for last 20 yrs & want to start something new.my e mail is : krishnatraders1983@gmail.com



needs contact, address of business angels


Robin | Tue Apr 23 06:51:20 2013


Hi I am an MBA, based in new delhi, wanted to chat with business angels for entrepreurship workshop they conduct, i am presently engaged in production (bakery & confectionary) as an employee but wanted to start my own business in imports for computer goods, appreciate your help thanks robin, mobile 919811416321, new delhi


Customs Exchange Rates
Currency
Import
Export
US Dollar

66.20

64.50
UK Pound

87.50

84.65
Euro

78.25

75.65
Japanese Yen
58.85
56.85
As on 13 Aug, 2022
Daily Poll
COVID-19 has directly affected your business
| | |
| --- | --- |
| Commented Stories | |