---

'Don't worry over dilution of SME sourcing norms in retail FDI'

---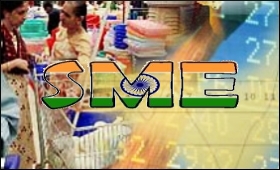 | | |
| --- | --- |
| Top Stories | |
Saurabh Gupta | 22 Sep, 2012


While giving a healing statement for small and medium enterprises (SMEs), who are not happy with the eased 30 percent sourcing norm in single-brand retail FDI, industry bodies have said that Indian SMEs need not worry as in the long term SMEs and the farmers were the one who would get the maximum benefit from these upcoming foreign investors, also they have urged the government to look into the matter.

Acknowledging that SMEs are not happy with government's decision to dilute 30 percent sourcing norm in single-brand retail FDI, FICCI President, R. V. Kanoria recently told SME Times, "I agree that our SMEs are not happy with the decision, but I must say that they (SMEs) and our farmers will be the one who will get the maximum benefit from this decision."

As the government has opened doors to foreign direct investment (FDI) in retail last week, along with that had diluted the sourcing norms for foreign retailers looking to invest in the country, removing the earlier proposed clause to make 30 percent sourcing from SMEs mandatory. SMEs are not happy with the decision.

In a statement government had said, "In respect of proposals involving FDI beyond 51 percent, sourcing of 30 percent, of the value of goods purchased, will be done from India, preferably from MSMEs, village and cottage industries, artisans and craftsmen, in all sectors, where it is feasible."

The move came as a surprise as only recently Commerce Minister Anand Sharma had said that the government is not considering any proposal to do away with the mandatory 30 percent SME sourcing norm for Foreign Direct Investment (FDI) in single brand retail.

Earlier, it was mandatory for the overseas firms to source 30 percent of the goods from MSME.

Reacting on this FICCI said, "I know it is preferred sourcing, see if anybody who comes to any country will ultimately like to adapt that country's culture. I remember those days, when soft drink company Pepsi come into India. But look at what Pepsi has done for the tomato farmers, look at what McDonald has done for the potato farmers and also changed the life of whole supply chain, which do have may SMEs in the chain."

"So there are huge benefits associated with the induction of technology and with the investment, which coming into the country. Because first of all that money contributes to the growth and ultimately to competitiveness. Progress needs not to be measures in sector, progress needs to be measure in totality."

FICCI take that FDI in retail will continue to agriculture reforms. "It is not a panacea, it's a long term get. It is not going to happen overnight," he added.

"FICCI has taken a stand that ultimately we must move towards getting as much local contact as possible, but for that we acquire capacity building. It means that it not going to happen overnight so there has to be a calibrated approach for SMEs to buildup. Let us look at the process of reforms at 1991 to now. So there is a success story of the reform process.

I think there is a natural process that if some company is investing in our country finally it is going to be the most economical to procure from India. And also what sops anybody if importing today...nothing. FDI is not going to change any import law. So we must have the will to do that and must have the confidence to do that. And then there is no reason that why anybody should source from any where else."

"I think we have to look at the ultimate goal of consumer," he added.

However the Apparel Export Promotion Council (AEPC) pitches for increasing local sourcing in multi-brand retail FDI by another 20 percent.

In a letter written to Anand Sharma, the Union Commerce, Industry and Textiles Minister, Dr..A Sakthivel Chairman AEPC, has requested Government to increase the share of domestic sourcing in multi-brand retail by another 20 percent.

The AEPC is a nodal agency of apparel exporters, sponsored by the Ministry of Textiles. Out of the total membership of the council, 85 percent constitutes the SMEs.

Dr. Sakthivel wrote, "In order to provide benefit of multi-brand retailing in India, the Government has prescribed 30 percent sourcing from the domestic market. The SME sector would definitely take advantage of this."

"In order to immediately take advantage of domestic sourcing, it is proposed that additional 20 percent sourcing can be mandated by the Government, which can be procured from the existing garment exporting firms, who are willing to take FDI route as per Circular No 1 of 2012 dated 10.04.2012."

The proposed move would also enable the garment export factories to divert their available capacities and also continue to give employment to large number of workers, who are not able to continue due to crisis in Euro Zone. This is also in line with Foreign Trade Policy, where activities in domestic markets have been incentivised.

The garment manufacturing exporting units are already equipped to handle this opportunity. The garment exporting units have experience in dealing-with overseas buyers, have compliant factories, which have highest standards of working and more and more garment exporting units have attained council's Common Code of Conduct programme DISHA, Sakthivel added.

He complimented Anand Sharma on behalf of the entire Textiles Industry.

"The industry, once again, takes this opportunity to thank you for your vision, direction in restoring the confidence of investors in our great country. The industry is confident that with the introduction of this reform, there would be gains to our farmers, manufacturers, traders across the value-chain," remarked Sakthivel.
Please comment on this story:
Subject :
Message:

(Maximum 1500 characters) Characters left 1500
Your name:
Customs Exchange Rates
Currency
Import
Export
US Dollar

55.30

54.35
UK Pound

84.50

82.50
Euro

71.80

70.00
Japanese Yen
54.40
53.00
As on 23 May, 2013
Daily Poll
Do you think banks will lower lending rates after recent RBI rate cut?
| | |
| --- | --- |
| Commented Stories | |