---

'SMEs have started taking advantage of cloud computing'

---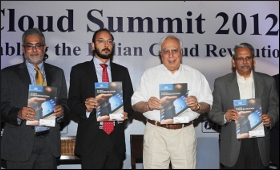 | | |
| --- | --- |
| Top Stories | |
Namrata Kath Hazarika | 05 Jul, 2012


Indian Small and Medium Enterprises (SMEs) have started taking advantage of the cloud services but they are facing several challenges when it comes to fully capitalizing on the economic benefits of the cloud, said the industry experts.

"The use of cloud computing has just started. For example, the Customer Relationship Management (CRM) applications were earlier prerogative to only big organization. It used to take several months and required huge investments. But today the entire enable infrastructure and applications are provided to you," said Nitin Khanapurkar, Partner, Management Consulting, KPMG India.

He added that the advantage an SME has today is not what has been available to them few years back. SMEs have already started using cloud services, and as they grow there will be more usage from SMEs standpoint.

On network connectivity, which is considered a strong impediment for growth of cloud services in the country, Khanapurkar told SME Times, "Network challenges to a greater extend is getting resolved. Telecom infrastructure is getting better day-by-day."

When asked whether SMEs are able to adopt cloud services, he said, "Absolutely as that is the need of the hour for the SME sector to get the most cost-effective and state-of-the -art infrastructure and cutting-edge technology available to them at their doorstep."

Dr Chandan Chowdhury, Managing Director, Dassault Systemes India also added that the real challenge for SME sector is to maintain quality. "First of all, if they (SMEs) want to be competitive, they have to deliver quality. They have to deliver goods on schedule."

"SMEs in India need to be competitive if they have to deliver experience to customers. If they want to do this, they should have their own physical infrastructure to manage it. For SMEs, cloud becomes a very important channel of using technology," he opined.

Besides this, it is requisite to create awareness among SMEs on IT enabled services and products, he added.

Also, the bandwidth is not readily available, Chowdhury mentioned. He said, "If you look at the developed economies you will see that they have strong bandwidth. Bandwidth is very affordable and it is available for them. In India, it is expensive and not readily available. There are several ongoing projects in India which is directed towards making bandwidth available to the remote places. We still have a wide gap."

Rameesh Kailasam, VP- Government Programs, India& South Asia, IBM said that earlier it has been difficult to maintain accounting standards, data, security, privacy, intellectual property etc., but today it has become at ease. It is mobility that can drive cloud adoption in India.

SMEs are free from taking the headache of maintaining the security, data privacy, costs and reliability, etc., themselves. It is easily done by the service providers, he added.

On the same note Vikas Gupta, Vice President and Head Cloud initiative, Tech Mahindra Limited said, "There are mechanisms present in the country for Indian SMEs but the important aspect is to adopt those mechanisms."

SMEs can adopt the technologies or the cloud computing devices as it is readily available to them at present, which will help them to mitigate the challenges and help in business growth, he added further.
Please comment on this story:
Subject :
Message:

(Maximum 1500 characters) Characters left 1500
Your name:
Customs Exchange Rates
Currency
Import
Export
US Dollar

66.20

64.50
UK Pound

87.50

84.65
Euro

78.25

75.65
Japanese Yen
58.85
56.85
As on 02 Apr, 2020
Daily Poll
Ease of doing business improved in last one year
| | |
| --- | --- |
| Commented Stories | |