---

'Pital Nagri' Moradabad fighting hard for its survival

---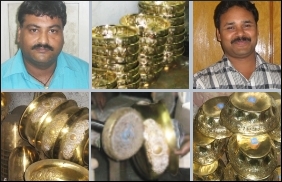 | | |
| --- | --- |
| Top Stories | |
Saurabh Gupta | 30 Jul, 2008


Today when the pressure of runaway inflation and input costs make survival of artisans difficult, the world famous 'Pital Nagri' (brassware city), Moradabad, which doesn't need any viva-voce report, is also looking for a small concavity for its very survival.

SME Times Correspondent Saurabh Gupta visits Moradabad to find out what's turning this district, once an inspiration to thousands of craftsmen, into an artisans' graveyard.

Interestingly, the brassware industry in Moradabad saw the blooming period in early 19th century and Britishers took the art to foreign markets. It is believed that the brassware industry originated from Moradabad and spread to the rest of the country.

But today it's an different story altogether. Once a flourishing city, bustling with activity, now resembles a ghost town with rusted locks and chains hanging from the shutters of many workshops which once were centres of art, innovation and business.

Prices of raw materials hitting the roof, hike of around 40 to 50 percent in raw material and increasing price of petro-products are eating into the margins of the manufacturers and exporters of Moradabad brass industry. It is estimated that about eight lakh people attached with metal industry are facing the same problems and the 250 listed exporters and 25,000 listed artisans are in actuality out of business or struggling for survival.

Manoj Kumar Gupta, owner of M.K. Electroplaters & Handicrafts, manufacturer and supplier said, "Almost 40 percent of the businessmen, those involved in this metal business, have shut down their businesses and have chosen other professions for their bread and butter."

My business which was growing at the rate of 15 to 20 percent annually until 2004, is likely to witness a fall of 50 percent in 2008, Manoj says. For this situation, he blames inflation and the government apathy.

"In a small period of less then two years the cost of silver bars, which is used in silver-plating of ornaments and jewelry, shot up from 9,000 per kg to 27,000 per kg. Five years back brass was available at Rs 100 which now costs Rs 280 per kg," he said.

Manoj also blames the entry of Chinese products in the domestic and global markets, which are much cheaper because the Chinese exporters and manufactures get subsidies form their government.

"Chinese government gives subsidies to their exporters, which we don't get. Even Chinese exporters buy the galvanized sheets from us and than they export it at cheaper rate in global markets. How do we compete them," he added.

"The non-availability of manpower or craftsmen is also a problem for us. As the industry is passing through a phase of acute loss, the craftsman and artisans are not getting enough wages to survive and to look after their families. So they have also chosen other options for income like pulling rickshaws or migrating to the metros in search of some better opportunities," Manoj said.

Manoj, who has started his business 14 years back said, "I'm also looking for openings in a financial firm as the business of brassware is no longer profitable enough to make ends meet."

Moradabad is known for its metal products mainly brass work and has carved its name in the handicraft industry throughout the world. The modern brass handicrafts, brass jewelry, instruments, brass hardware, brass fittings, antique brass ornaments, silver plated jewelry, silverware and trophies made by skilled artisans are the main crafts of Moradabad.

The attractive brassware are exported to countries like US (US is the biggest market of Moradabad handicrafts), EU, Britain, Canada, Germany and Middle East. There are about 600 export units and 5,000 industries in the district.

Anuj Agarwal, owner of Bharti Handicrafts, manufactures and exports alleged that the lobbying of the warehouse officials and the big business tycoons of the industry are making things worse.

"The big traders are hand in glove with the local authorities and have their hold on the raw material warehouse situated in Moradabad. They take advantages of it including subsidy on diesel and relaxation on VAT," said Anuj.

"There are government policies for betterment of us, but it reaches the big exporters only," he added.

Anuj also said that there is need of a training institute, which can help to produce skilled manpower.

Seventy percent of Moradabad's population works in the metalwork industry, producing a variety of craft items and kitchen implements. Due to abnormal increase in the prices of raw materials, particularly brass, many workshops have been forced to close, and artisans are left with no work.

Aaftab Bhai, an old artisan said in his poignant tone, "Sir, you will see in the next few years, Moradabad will become the graveyard of artisans."
Please comment on this story:
Subject :
Message:

(Maximum 1500 characters) Characters left 1500
Your name:

you people are wrong,moradabad is very good city


prabhat kumar | Sat Oct 3 09:26:21 2015


i does not believe in this bakwaas story, moradabad is a very clean and developed city and that is why this city is in the list of india's smart cities,it follows all the good rules and the city is very clean the only one problem of this city is about the river ramganga and when the problem will be solved it will become the most clean city of uttar pradesh and can be the most clean city of india.



Brass business in Moradabad


Sumit Bhatnagar | Fri Dec 26 12:35:37 2008


I am sure the story has changed completely since it was written in July 2008. Today the brass prices are rock bottom. Once the prices were actually 280/kg but today they are at close to 140/kg ie a drop of 50%. Inspite of this brass business is bad because of the global economic melt down.Export demands have almost vanished keeping all the brass exporters and manufacturers at bay. This is ironical that the situation of businessmen stays the same even though a big favorable change in raw material price have taken place. Its a 10X change in economy. People need to go for a break through and they need to look at different options other than what they have been doing so far.



BOOSTING THE BRASSWARE PROBLEMS


MANOJ GUPTA MBD | Thu Jul 31 17:22:07 2008


I will be very thankful . If the gov.t will take action as early as possible to solve the all above mentioned problems. I also request to give us the better opportunities to boost up handicraft works & new commers (EXPORTERS). Note:By providing financial facilities @ lower rates.


Re: BOOSTING THE BRASSWARE PROBLEMS


Rajneesh | Thu Aug 7 13:57:07 2008


There should be an association to represnt manufacturers and exporters woes on issues to media and government. Much help can be sort from media these days1


Even big exporter are also facing the same prob.


Rahul Mehta,Delhi | Thu Jul 31 06:55:20 2008


This is not true that - There are government policies for betterment of us, but it reaches the big exporters only.I myself is the big industrialist and exporter in Delhi & was doing the same business,facing the same problem and finally have wind up my bussiness.I dont think govt. is doing anything for even big exporters.



brass industry


anuj agarwal | Wed Jul 30 15:48:00 2008


our industry is very much in problem everyone knows. But what and where is the solution, nobody knows. Looking for the measures to be used and taken to improove the condition within our limits. it must happen in short time as well, othervise this industry will be in danger. Rgds, Anuj Agarwal Moradabad


Customs Exchange Rates
Currency
Import
Export
US Dollar

66.20

64.50
UK Pound

87.50

84.65
Euro

78.25

75.65
Japanese Yen
58.85
56.85
As on 04 Jul, 2022
Daily Poll
COVID-19 has directly affected your business
| | |
| --- | --- |
| Commented Stories | |