---

India Inc's mixed response to Budget 2013

---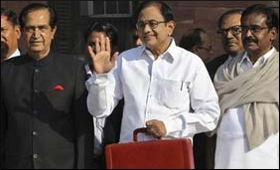 | | |
| --- | --- |
| Top Stories | |
SME Times News Bureau | 01 Mar, 2013


India Inc Thursday welcomed Budget 2013-14 as a laudable effort to kickstart the next cycle of investment while addressing inclusive and sustained development.

"The budget meets most of our concerns regarding fiscal consolidation, investment incentives and inclusive growth," said Adi Godrej, president of the Confederation of Indian Industry (CII).

Fiscal deficit has been kept below the target at 5.2 percent for 2012-13, and has been pegged at 4.8 percent for 2013-14.

The CII particularly welcomed the emphasis on inclusive growth and development, with Plan expenditure raised almost 30 percent and inflationary pressures from the supply side sought to be depressed.

"This would encourage further monetary steps to lower interest rates which would spark investments," Godrej added.

"Investment allowance of 15 percent in plant and machinery was a key recommendation from CII and should incentivise corporates to undertake new projects," said CII.

The CII, howvever, felt that for the oil and gas sector, the shift from cost recovery to revenue sharing announced by Finance Minister P. Chidambaram is of concern as it could hamper exploration in remote areas.

The Federation of Indian Chambers of Commerce and Industry instead welcomed the proposal to move from profit sharing to revenue sharing for exploration projects as this would do away the ambiguity in calculation of cost recovery and approval of capital expenditure incurred by companies before sharing profit petroleum with the government.

The IT and electronics manufacturing industry, which was looking forward to budgetary support, is disappointed that the government has not removed excise duties on seven key components, said Jaijit Bhattacharya, co-chair, FICCI Electronics Hardware Committee.

Malvinder Mohan Singh of Fortis Healthcare said: "There is something for all sectors. Outlay on rural development is up 46 percent and infrastructure has been given a significant boost. The initiative for a women's bank, a first in the world, is laudable."

Saying the budget is seen as growth oriented, A. Didar Singh, the secretary general of FICCI, said the GDP growth of a mere 4.5 percent has placed greater onus on the government to implement reforms.

"With the economy growing at its lowest in a decade, there is an urgent need to ensure that the steps envisaged in the budget are followed through and matched by speedy on-ground implementation of projects and schemes," said Singh.

CII said the measures to encourage micro, small and medium enterprises should go a long way in helping these firms to scale-up and invest in technology.

"The three-year extension of non-tax benefits after a unit attains medium size would encourage growth and employment creation," it said.

"On the policy front, the major 'breakthrough idea' is the Independent Regulator for the roads sector. This is most welcome," said Vinayak Chatterjee, Chairman, CII National Task Force on infrastructure projects.

"The budget brings good news for the radio industry. Benefits like news, networking, current affairs and sports, will add the fillip to further fuel listenership growth through reach and content diversification," said Tarun Katial, CEO, Reliance Broadcast Network.

The Indian Electrical and Electronics Manufacturers Association (IEEMA), however, said the domestic electrical equipment industry is generally disappointed as the budget proposals do not provide the desired impetus essential for growth, sustainability and viability.
Please comment on this story:
Subject :
Message:

(Maximum 1500 characters) Characters left 1500
Your name:
Customs Exchange Rates
Currency
Import
Export
US Dollar

66.20

64.50
UK Pound

87.50

84.65
Euro

78.25

75.65
Japanese Yen
58.85
56.85
As on 28 May, 2018
Daily Poll
Is counterfeiting a major threat to SMEs?
| | |
| --- | --- |
| Commented Stories | |