---

Siemens launches road show to woo SMEs for technology solutions

---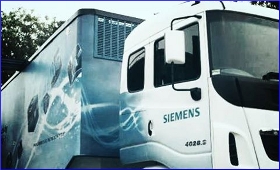 | | |
| --- | --- |
| Top Stories | |
Saurabh Gupta | 19 Jul, 2013


Small and medium enterprise (SME) contribution to Indian GDP is very less in compare to Chinese SMEs' due to lack of technology penetration and keeping this in mind Siemens Industry Sector has launched 'Siemens Productivity Tour', a nation-wide, multi-city mobile road show aimed at empowering manufacturing SMEs across India with technologies for productivity and efficiency.

"Due to lack of technology penetration, the contribution of Indian micro, small and medium enterprise (MSME) sector in country's GDP is only 8 percent, as compared to that of China, where the contribution is almost 60 percent of the GDP," informed Siemens Indian in a statement Thursday.

Aiming this, the Siemens Industry Sector has unveiled 'Siemens Productivity Tour', a nation-wide, multi-city mobile road show to help manufacturing SMEs across India.

Targeted primarily at automotive, medical, aerospace, power, F&B, packaging, textile, printing and pharmaceutical industries, this road show will cover 204 locations in 86 cities across India. It will highlight innovative technologies for productivity and efficiency improvement.

"It is imperative for manufacturers, especially the SME sector to adopt the latest technologies that enable them to improve productivity, enhance flexibility, optimize costs and increase profit margins," said Bhaskar Mandal, Executive Vice President and Sector Cluster Lead - Industry Sector, Siemens South Asia.

Commenting on this launch, he said, "Proven technologies from Siemens can help these industries accelerate their growth and thus gain a competitive edge globally."

This 'Productivity tour', Siemens aims to raise awareness among the SMEs about the definite competitive advantage that can be gained by adopting innovative technologies and solutions.

According to industry body, FICCI, Indian manufacturing segment houses over 26 million micro, small and medium enterprises (MSMEs) that employ around 59 million people.

"Despite its enormous size, the sector is yet to realize its true potential. One of the reasons is the lack of technology penetration beyond industrial hubs in and around large cities. As the economy is going through testing times, it is becoming increasingly difficult to sustain the high growth rates without embracing cutting edge technology that can optimize energy efficiency and productivity," it said.

This road show will showcase how industrial processes can be optimized to achieve flexible, future ready, and highly productive integrated systems. Using videos and live technical demos, the road show will also demonstrate transparent energy flows and energy-saving potential using Siemens electric drive systems, motors and automation technologies.

Starting from Delhi, the first leg of the 'Productivity tour' will cover 14 cities of northern India namely Lucknow, Rudrapur City, Haridwar, Yamunanagar, Chandigarh, Hoshiarpur, Amritsar, Ludhiana, Panipat, Alwar, Ajmer, Jodhpur, Dewas and Bhopal.

"Currently we're in Nimbahera and Devas (Indore) will be our next destination on July 23," it said.
Please comment on this story:
Subject :
Message:

(Maximum 1500 characters) Characters left 1500
Your name:

Good Move by Siemens


Newton Das | Wed Jul 24 05:16:14 2013


It is indeed a great move by Siemens to help revive our failed economy. Let other technology suppliers also join hands and try to improve the economic situation of the country. In a country where all options have failed & the present UPA government has no rescue map ahead, let these companies come forward and do the needful.


Customs Exchange Rates
Currency
Import
Export
US Dollar

66.20

64.50
UK Pound

87.50

84.65
Euro

78.25

75.65
Japanese Yen
58.85
56.85
As on 23 Sep, 2021
Daily Poll
COVID-19 has directly affected your business
| | |
| --- | --- |
| Commented Stories | |