---

Green tea business grows in India amid health awareness

---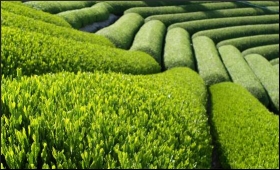 | | |
| --- | --- |
| Top Stories | |
Mithun Dasgupta | 27 Feb, 2012


More and more tea makers are adding green tea in their portfolio as consumers in India are developing a taste for the beverage for its many health-promoting effects.

Green tea consumption in India is rising at a rate of more than 10 percent annually. According to J Thomas & Company, the world's largest tea auctioneer, consumption of green tea, considered very urbane and sophisticated, is rising from a very tiny base.

"From a small consumption base, demand for green tea is increasing. There will be growth in consumption. Traditionally, people here drink black tea with sugar and milk. But green tea consumption will grow in the future because of its health benefits and awareness," said Krishan Katyal, J Thomas & Co director.

Katyal said India, the world's second biggest producer of tea, on an average produces 9-11 million kg of green tea annually and half of that was currently being consumed domestically.

"It (consumption) will grow. I, however, do not think that it will grow by leaps and bounds," he observed.

Arun N. Singh, managing director and chief executive of tea major Goodricke Group, said green tea consumption in the country is growing by more than 10 percent a year.

"Green tea will have a slow organic growth in India. High consumption growth of it will take time as it is related to change in tradition," Singh said.

Sangeeta Kichlu, vice president of Jay Shree Tea and Industries, a B.K. Birla Group company, said although retailers were beginning to stock green tea, its supply was not currently matching demands. She said there was a lack of marketing for green tea in the country as tea producers were not sure about how to market it.

"I think there is a future for green tea in India. What is lacking is marketing strategy. Darjeeling green tea market is yet to be cultivated."

According to Indian Tea Association (ITA) Secretary General Manojit Dasgupta, more and more brands are adding green tea in their portfolio as its domestic market has shown evidence of growth.

Dasgupta said people were not replacing black tea with green tea, but adding the latter in their food habit as an additional choice, driven by health considerations.

"Urban, educated, health conscious and economically strong consumers are experimenting as green tea is more natural as it is drunk without milk and sugar. It is also light and delicately coloured...it means goodness, wellness and health," he averred.

Nutritionists said health-conscious tea drinkers are adding green tea in their diet as it is full of antioxidants which can reduce the risk of cancer and help in weight loss.

"People have started to add green tea as a part of their healthy diet as it is high in antioxidants which reduces risk of cancer and also helps combat obesity by increasing the metabolism rate," said Hena Nafis, a nutritionist.

High metabolism rate increases boiling of calories, helping over-weight people lose fat.

Nafis said green tea should be a preferred beverage in India, a potential diabetic capital of the world, as it contains less calories than tea drunk with sugar and milk.

"Drinking green tea also reduces risks of lifestyle disorders," Nafis told IANS.

Kichlu, who is also the chairperson of Calcutta Tea Traders Association, said green tea should be promoted not only on the health front. "Green tea means health, strength and also taste. Drinking this variety of tea is also enjoyable," she added.
Please comment on this story:
Subject :
Message:

(Maximum 1500 characters) Characters left 1500
Your name:
Customs Exchange Rates
Currency
Import
Export
US Dollar

66.20

64.50
UK Pound

87.50

84.65
Euro

78.25

75.65
Japanese Yen
58.85
56.85
As on 29 Jun, 2022
Daily Poll
COVID-19 has directly affected your business
| | |
| --- | --- |
| Commented Stories | |