---

Goa's draft mining policy soft on capping ore extraction

---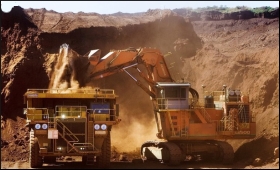 | | |
| --- | --- |
| Top Stories | |
Mayabhushan Nagvenkar | 11 Aug, 2012


After making a vocal case for sustainable mining, Goa Chief Minister Manohar Parrikar's much-awaited draft mining policy appears to have turned its back on a crucial recommendation of a government committee on capping iron ore extraction.

The draft policy, which was tabled on the last day of the monsoon session of the Goa assembly Thursday by Parrikar, who is also mines minister, advocates a 45-million- tonne annual cap on the extraction of iron ore, even as the Goa Golden Jubilee Development Council (GGJDC), chaired by eminent scientist Raghunath Mashelkar, has recommended a 20-million-tonne cap.

"No strain on any infrastructure will be created as the existing infrastructure has proven incapable of crossing 45 million tonnes," the draft says.

The chief minister had earlier said that he was in agreement with the findings of the Mashelkar report, which was submitted to the Goa government earlier this year.

The 45-million-tonne cap is not only more than double that recommended by the Mashelkar committee but is more than 10-15 million tonnes higher than Parrikar's earlier state figure of 30-35 million tonnes.

"We cannot allow extraction of 55 million tonnes like it has happened earlier. Something like 30 to 35 million tonnes can be all right," Parrikar said a few days after coming to power in March.

But for all intents and purposes, the unbridled extraction will continue when the mining season begins in September after the monsoon recedes because a law on the issue, in whatever form it takes, will not be in place by then.

The draft policy will be put in the public domain for 15 days after which the cabinet will take a call on the suggestions received. This process will take about 45 days. However, the assembly, which will consider the bill cleared by the cabinet, is scheduled to meet only in October-Novmeber.

What, then, prompted Parrikar's turnaround?

"It's simple logic. Here is a person who was firing left and right at the Congress for illegalities in mining. Now he is giving the mining industry a free hand to carry out destruction. He kept such a high cap to satisfy the interests of the mining Lobby. Forty-five million tonnes is not a logical capping," anti-mining activist Ramesh Gauns told IANS.

Parrikar had also maintained that the state would have to be weaned away from dependence on the mining sector.

"That has to be done. Revenues from the mining industry are already slipping. Last year we earned Rs 730 crore (Rs.7.3 billion/$132 million) from mining. In the year before that the state government got Rs.1,200 crore," Parrikar said.

The mining industry contributes nearly 35 percent of Goa's Rs.8,000 crore GDP, according to Goa Mineral Ore Exporters Association (GMOEA) president Shivanand Salgaocar.

"The mining industry attracts Rs. 17,000 crores in foreign exchange and brings Rs.6,000 crores in the form of direct revenues to the state and the central governments," the mining baron added.

The draft policy also castigates the preceding Digambar Kamat-led coalition government for mismanaging Goa's mining sector.

"In the past five years, due to huge spurt in demand of low grade ore in the international market followed by the most corrupt regulatory regime of the previous government, the state has witnessed the peak of chaotic and unregulated mining without any concern for fragile ecology and environment of the state or for the general well being of an average Goan," the policy states.

The mismanagement had resulted in massive exports and reckless exploitation of ore without any concern for sustainability, the draft policy says.

It charges previous governments with delays in laying down a mineral policy and tentative decision-making that led to chaos in the sector.

"Earlier governments delayed the state's mineral policy for several years and its decision making has been very tentative which resulted in haphazard mining in the state and, as pointed out in the Public Accounts Committee report, turned out to be a scam involving Rs 3,500 crore," the policy states.

In fiscal 2011-12 that ended March 31, Goa exported nearly 55 milion tonnes of iron ore from over 100 open cast mines.
Please comment on this story:
Subject :
Message:

(Maximum 1500 characters) Characters left 1500
Your name:
Customs Exchange Rates
Currency
Import
Export
US Dollar

55.30

54.35
UK Pound

84.50

82.50
Euro

71.80

70.00
Japanese Yen
54.40
53.00
As on 19 May, 2013
Daily Poll
Do you think banks will lower lending rates after recent RBI rate cut?
| | |
| --- | --- |
| Commented Stories | |