---

Global emissions set to rise in 2017 after three years, scientists warn

---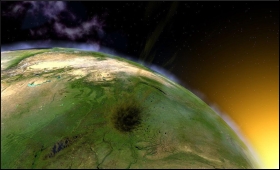 | | |
| --- | --- |
| Top Stories | |
Vishal Gulati | 14 Nov, 2017


After a three-year stable period, global emissions of carbon dioxide from fossil fuels and industry are projected to rise by about two percent by end of this year compared with the preceding year, with an uncertainty range between 0.8 and three percent, scientists warned on Monday.

China's emissions, mainly though coal, account for 28 percent of global emissions.

In India, emissions are projected to grow two percent, with a range between 0.2 and 3.8 percent this year, compared to six percent annually averaged over the previous decade, due to significant government interventions in the economy (GDP up 6.7 percent).

These startling facts came to light in the 2017 Global Carbon Budget was published by the Global Carbon Project in journals Nature Climate Change, Environmental Research Letters and Earth System Science Data Discussions.

The report comes as 197 nations are meeting in Bonn in Germany for the annual United Nations climate negotiations, this one being COP-23.

"Global carbon dioxide emissions appear to be going up strongly once again after a three-year stable period. This is very disappointing," an official statement quoting lead researcher Corinne Le Quere, director of the Tyndall Centre for Climate Change Research at the University of East Anglia, said.

"With global CO2 emissions from all human activities estimated at 41 billion tonnes for 2017, time is running out on our ability to keep warming well below two degrees Celsius let alone 1.5 degrees."

"This year, we have seen how climate change can amplify the impact of hurricanes with stronger downpours of rain, higher sea levels and warmer ocean conditions favouring more powerful storms. This is a window into the future. We need to reach a peak in global emissions in the next few years and drive emissions down rapidly afterwards to address climate change and limit its impacts," Le Quere said.

Blaming China for the spike in emissions, co-author Glen Peters, research director at CICERO in Oslo, who led one of the studies, said: "The return to growth in global emissions in 2017 is largely due to a return to growth in Chinese emissions, projected to grow by 3.5 percent in 2017 after two years with declining emissions."

"The use of coal, the main fuel source in China, may rise by three percent due to stronger growth in industrial production and lower hydropower generation due to less rainfall."

"Several factors point to a continued rise in 2018," warned Robert Jackson, another co-author of the report, co-chair of Global Carbon Project and a professor in earth systems science at Stanford University.

"That's a real concern."

"The global economy is picking up slowly. As GDP rises, we produce more goods, which, by design, produces more emissions," Jackson added.

A team of 76 scientists from 57 institutions in 15 countries working under the umbrella of the Global Carbon Project said despite the growth in 2017, it is too early to say whether this is a one-off event on the way to a global peak in emissions, or the beginning of a new period with upward pressure on the growth of global emissions.

In the long term, emissions are unlikely to return to the persistent high growth rates seen during the 2000s of over three percent per year. It is more likely that emissions will plateau or have a slight positive growth broadly in line with national emission pledges submitted to the 2015 Paris Climate Change Agreement.

The 2017 carbon budget, now in its 12th year, says global carbon dioxide emissions from all human activities like fossil fuels, industry and change of land-use will reach around 41 billion tonnes carbon dioxide this year.

Emissions from fossil fuels and industry will reach around 37 billion tonnes carbon dioxide in 2017.

In the US, emissions are projected to decline 0.4 percent (minus 2.7 percent to plus 1.9 percent) in 2017, lower than the decline of 1.2 percent per year averaged over the previous decade, with an unexpected rise in coal consumption (GDP up about 2.2 percent in 2017).

There is also some good news.

The report says in the last decade (2007-2016), emissions in 22 countries (representing 20 percent of global emissions) decreased even as their economies grew.

Technologies like wind and solar power have expanded across the globe by about 14 percent annually in recent years, according to the report.

The report is scary, said British charity Christian Aid's International Climate Lead, Mohamed Adow.

"Having achieved the success of a global agreement to tackle climate change in Paris two years ago, these findings show that we need more than warm words in conference halls to tackle a warming world. Coal needs to be rapidly phased out of the global energy mix, while renewables must be ramped up far quicker," he added.
Please comment on this story:
Subject :
Message:

(Maximum 1500 characters) Characters left 1500
Your name:
Customs Exchange Rates
Currency
Import
Export
US Dollar

66.20

64.50
UK Pound

87.50

84.65
Euro

78.25

75.65
Japanese Yen
58.85
56.85
As on 19 Dec, 2018
Daily Poll
Is counterfeiting a major threat to SMEs?
| | |
| --- | --- |
| Commented Stories | |