---

Entrepreneurship is a lonely path for women

---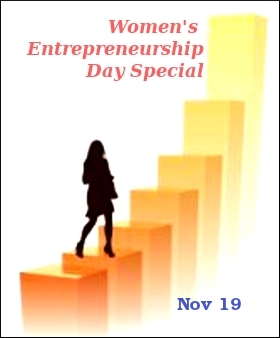 | | |
| --- | --- |
| Top Stories | |
Aparajita Gupta | 20 Nov, 2017


Being a woman entrepreneur may be aspirational for many, but is it easy being one? As people celebrate women entrepreneurship day on 19th November, many of them say entrepreneurship is not for the faint-hearted and it's important to have self-belief in a path strewn with bureaucratic and gender obstacles.

"Yes, it has been a man's world. Almost 10 years back when I took charge of the business there were a lot of insecurities in the minds of the people. People had also tried to buy out the business. But I remained strong. I had a mission to complete. I had to make the business bigger and stronger," Anasuya Gupta, Chairperson and Managing Director, Cico Group, told reporter.

Gupta was a homemaker who was forced by circumstances to turn entrepreneur. She took up the task after her husband's demise.

"Today I realise the opportunities of being an entrepreneur. I had the opportunity by accident; but now I understand what it is like to be an entrepreneur. In Cico itself I have changed the ratio of senior leadership. Now 50 per cent of the top leadership is women. Women are more empathetic and are good listeners, which helps in decision-making," she added.

She said financial independence and financial decision-making powers for women were important, but one should not seek extra benefits. "If we want women empowerment, we also have to be at a level playing field with men. We can't ask for extra opportunity for being a woman," she said.

Women's Entrepreneurship Day was started by social entrepreneur and humanitarian Wendy Diamond, who's now the CEO of Women's Entrepreneurship Day Organisation, a privately-owned philanthropic set-up which aims to empower women and girls globally.

But in India, how difficult is the entrepreneurship journey for women?

"Entrepreneurship is a very challenging task. It is a lonely path. It is important to have self-belief regardless of what the naysayers have to say. Persistence is one of the key elements in entrepreneurship," said Upasana Taku, Co-founder and Director, MobiKwik.

She also mentioned that for a women entrepreneur, family background is very important. "Some families make it easier, some make it harsher or harder. I started the company when I was single, my parents are pro-career, so it was easier for me," she said. MobiKwik is a financial technology company.

Talking about work-life balance, on a lighter note, Taku said: "My start-up was my baby. Now the baby has grown up and is an eight-year-old. And now I have a two-year-old toddler of my own."

Shelly Singh, Co-Founder and Chief Business Officer, at PeopleStrong, who started her journey as an entrepreneur 12 years back, felt women should aim higher in life.

"I come from a middle class family. My parents ensured the best education for me. I worked in two places before embarking on this journey of entrepreneurship. In both the places I worked in the human resource (HR) development team. I have always felt that something needs to be done in the HR space. I wanted to build a scale company," said Singh. PeopleStrong deals in HR services and solutions.

She said the mentoring eco-system for women entrepreneurs is very weak in India. "If you get the right mentor, your journey becomes smoother."

"Women have their own mental blocks. If they aim for it, they can achieve it," she added.

Taking about work-life balance, Singh said: "We women do not have to be super in everything we do. Being super in everything is not possible. It is okay if one fails in one area."

"We have to set ground rules for ourselves. Entrepreneurship is also an inward journey. If someone likes luxury, then do not get into entrepreneurship. There will be failure and there will be massive failures. It is not for faint-hearted people," she said.

Singh added: "Women really do not dream big. Women aim for limited economic freedom. Women are born networkers; they are good at social lives and are more empathetic as bosses."

(Aparajita Gupta can be contacted at aparajita.g@ians.in)
Please comment on this story:
Subject :
Message:

(Maximum 1500 characters) Characters left 1500
Your name:

Submission of women entrepreneur


L. DOROTHY | Sat Nov 25 02:54:06 2017


Hello! My name is L. Dorothy Chang, an Entrepreneur from Tuensang District, Nagaland. It has been set an record in the Industry & Commerce as the sole Successful Women Entrepreneur in the last 50 years of Statehood of Nagaland. Just a brief report about BENLIN BAKERY LTD.



Women Etrepreneruship.


Surekha Shashikant Ghode | Thu Nov 23 15:09:53 2017


I am running "Elegant India" Company. I am a wholeseller of Agarbatti, Cosmetics, Perfumes & Attar. =and also Dress materials.I started selling Agarbatties from the capital of Rs.100, I am doing this business since 15 years and now I have the grip over it now I have got confidence in doing this business, my website is there, I am now doing the business systematically, I have done M.COM, the main subject was Business Administration.I had the knowlwdge of running the business in advance; but it is very different in practical. sometimes it is found that the person not so educated can do the business better. We have to give more time to business than doing a job. One has to be very prompt in taking decisions and working on them; also luck factor counts sometimes. Business woman has to handle the work at home and also in the workplace; women have the tendency of thinking over many issues at one time; they are taking the responsibility of children which is very much important.In my case I could able to do the business with full concentration now when my daughter got married and my son completed his education. In the beginning my husband did not support me , but I had very strong urge to do the business, I am now happy that my dream came true, now I am a trader , with God"s grace I will be starting Manufacturing.



Indian Rich Heritage and her Flora & Fauna


Nehali Das | Thu Nov 23 04:19:23 2017


What are the new ventures are now can boost up Indian Economy. Can anybody predict short term stable and profitable business. I am sure now any long term large capital and large number people intensive new business is a big question mark today.


Customs Exchange Rates
Currency
Import
Export
US Dollar

66.20

64.50
UK Pound

87.50

84.65
Euro

78.25

75.65
Japanese Yen
58.85
56.85
As on 18 Dec, 2017
Daily Poll
Is counterfeiting a major threat to SMEs?
| | |
| --- | --- |
| Commented Stories | |