---

When small is beautiful

---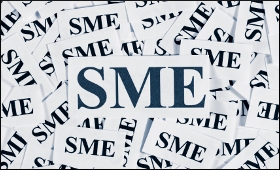 | | |
| --- | --- |
| Top Stories | |
Dr. Yasho V Verma | 11 Jan, 2016


India is blessed with the strength of the 'small'. Indeed, Small and Medium Enterprises (SMEs) are the very backbone of Indian economy. A heterogeneous group operating a wide range of activities to the extent of an artisan's boutique, a posh restaurant in the city, a garment or a software firm, to a bulk drug manufacturer selling locally or overseas. Their scalability vary in catering to markets of different shapes and sizes, be they rural, semi-urban, national, regional and even global. As per industry estimates, there are over 6,000 products, ranging from traditional to high-tech, which are being manufactured by the MSME sector for domestic as well as international markets. These businesses operate at divergent skill levels, investments, growth patterns and complexities. But the fact remains that the Indian SMEs are poised to grow exponentially within the range of USD 88 billion in the next two years, there's much expected from and within the sector. Indian SMEs, numbering over 48 million, have grown at a stable pace of 4.5% in the last 5 years employing close to 40% of India's workforce. After agriculture, SMEs rank second in fostering employment opportunities.

When Technology dominates: Since the past few years technology has been at the core of almost any growth. Understandably technology startups added to the SME sector. In 2014, some 200 startups were funded and initiatives such as Nasscom's 10,000 startups set the tone for further intra-growth. Flipkart and Snapdeal became inspirational as to how SMEs can turn into billion dollar companies by using advanced platforms of technology. Such platforms not only ushered an altogether fresh growth area but also a new high in mass penetration, visibility and reach. Many small and cottage scale industries seem warmed up to the disruptive force of technology to ink advancements in retail.

Cash-infused market and Technology development: Flipkart, one of the leading horizontal players in India, recently announced moving its data centers in-house to build a network of India's largest server farms, a model similar to global leader Amazon. These data centers include details of sellers / resellers and listings across Flipkart's platforms. These data centers allow the online retailer data security as well as scalability during 'Big Sale' days. They turned the site into an application -- a big technology leap along with established of own data farms. The advantage is passed on to small enterprises that can now focus on improving their products, and leave marketing and promotions to larger selling formats and platforms.

Available: Best of Talent and systems: Technology companies that are small in nature of category selling are creating their own niche in product or service offerings. Differentiation in products or services can be created on basis of taste and preferences of customers, depending on the size and structure of a market. Further, new businesses see the opportunity in concentrating on a vertical industry or segment of choice, and improve manufacturing capabilities and distribution networks. Such efforts directed towards specializing in an area of choice, quality becomes paramount. The biggest competitive edge of niche players is low overhead costs, the benefits of which can be passed on to the price-sensitive, discerning customer. In case of B2B, these small businesses can supply to big manufacturers as niche vendors akin to the way Maruti developed its OEMs around its main facility.

A sustainable focus upon the B2C segment makes catering to a specific market with specific needs an imperative. Rural and semi-urban markets are growing at a much faster rate than the urban markets. Focus on a specific market will result in lower supply chain costs which traditionally range between 5% and 25% of the overall money spend. When compared with multi-layered industries or larger brands, it's easier for entrepreneurs in rural and semi-urban areas to establish trust with their channel partners via the personal rapport route. This is because smaller businesses can handle smaller markets as per their capacities or bandwidth, and possibly spend lesser in market research to arrive at customer behaviour and buying preferences. Scaling up is gradual and with adequate RoI. For instance, international selling and global imagery will follow once there is reasonable success achieved in local markets and after-sales service networks are well established over the period of time and have withstood all challenges and tests of the environment. Haldiram is just the example of such a scale-up. The brand of namkeens and sweets existed in the domestic market for years, gradually establishing a name and spreading its wings within, before venturing overseas, Today, it is a global 'IMNC (Indian multi-national company)' that has demonstrated scalability basis trust placed in different set of customers as per varying choices.

An SME can easily create high-level of ownership among its key employees by offering them either profit sharing or stock options and making them essential part of decision making. Small is more nimble footed and can change faster as per the requirement of the market it functions in.

Almost 45% of India's manufacturing output comes from SMEs. As per a NASSCOM report, SMEs are expected to spend about USD 18.5 billion (Rs 1.11 lakh crore) on information technology by FY2018, driven by growing adoption of cloud and mobility solutions. Emerging businesses are already adopting new and relevant trade practices, to consolidate and fortify their individual position. For this, SMEs need to be on a high alert at all times, exercising continuous self-checks and evaluation. Indeed, there is no finishing line for them for it's always a race to raise the bar and become 'Big Enterprises'.

About the Author:
Dr. Yasho V Verma is a Management Thinker & Philosopher, a Mentor and a Strategy Consultant, an Academician and a Veteran in consumer durables and retail. He was formerly associated with LG Electronics as its COO and Director. Currently he is consulting with World Bank. He is also a member on Board of Dena Bank and an advisor to Videocon. Besides, he is in the board of few other business houses across various industry verticals and consults them on plans and policies. He can be reached at yasho.v.verma@gmail.com

Disclaimer: The content including all the data, information, illustrations, graphs, tables or other visual representations written or compiled in the manner as above is owned by the author. All or part/s of the document cannot be republished without prior permission and consent from the holder. Pictures to be used with mentioned credits.
Please comment on this story:
Subject :
Message:

(Maximum 1500 characters) Characters left 1500
Your name:
Customs Exchange Rates
Currency
Import
Export
US Dollar

66.20

64.50
UK Pound

87.50

84.65
Euro

78.25

75.65
Japanese Yen
58.85
56.85
As on 27 Apr, 2022
Daily Poll
COVID-19 has directly affected your business
| | |
| --- | --- |
| Commented Stories | |