---

Prices of essential commodities a major challenge for Govt

---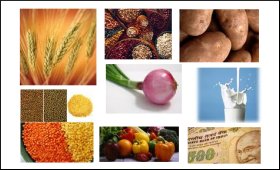 | | |
| --- | --- |
| Top Stories | |
Gargi Parsai | 05 Jan, 2016


The prices of pulses because of huge demand supply gap and the government measures to contain the prices dominated the food sector in 2015. On the other hand, sustained efforts of the central government resulted in the implementation of the National Food Security Act in 25 states/UTs towards the end of the year -- under which 67 per cent identified population is to get highly subsidized foodgrains through ration shops -- and secured assurances from remaining States to set the ball rolling by March next year.

The government took several steps to check the rise in the prices of tur and urad dals during the year. The gap between supply and demand is huge and there is tightness in the availability also in international markets which is putting pressure on prices. Pulses' domestic production declined to 17.20 million tonnes in 2014-15 as against 19.25 million tonnes in the previous year, owing to drought in parts of the country, leading to an additional shortfall of about 2 million tonnes in availability. The country imported 4.58 million tonnes in 2014-15 and till October this year, 2.78 million tonnes had been imported to augment availability and check price rise. Export of pulses, except for kabuli chana and organic dals, was banned. Import of pulses with zero duty was further allowed. The government entered the market and imported 5000 tonnes of tur and sold it in Delhi through its Kendriya Bhandars and Safal outlets at Rs. 120 per kilogram as against higher prices in the open market. The situation worsened as even in the international market there was a squeeze in the availability of tur and urad, as the pulses growing countries too had suffered from drought which impacted their production.

Official statistics showed that the prices of tur escalated from Rs 75.66 per kilogram a year ago to upto Rs.198 per kg. Urad prices jumped from Rs.75.81 per kg to Rs. 144 per kg. Not only this, the prices of gram dal spiraled by 51.67 per cent, moong dal by 13.27 per cent and masoor dal by 22.36 per cent in one year.

To better manage the situation, the central government convened an urgent meeting of state food ministers and issued an advisory to States to invoke the Essential Commodities Act and take strict action against hoarders and black marketers. Stockholding limits were imposed not only on domestic stocks but also on imported tranche of pulses. Frequent raids by states unearthed about 1.3 lakh tonnes of pulses that were hoarded for speculation.

To arrest the prices of pulses, the government decided to form a 1.5 lakh tonne-buffer stock of tur and urad which will be procured directly from farmers during the kharif and rabi marketing seasons at market rates. At what price the buffer stock pulses will be sold, is not declared yet as the market is largely ruled by private trade.

Meanwhile, the minimum support price of most pulses was raised by Rs. 275 per quintal for the kharif marketing season to encourage sowing of pulses. However, the ban on export and stockholding limit on pulses remains, indicating that the situation is not very comfortable. An inter-departmental group comprising departments of food, agriculture, commerce and revenue was formed for better coordination and to prevent repeat situation in the coming year. It will also monitor prices of onion and decide in advance about its availability and the need to import.

During the year, the government had to deal with the serious situation of sugarcane growers not getting their dues from sugar mills, as excess sugar production over domestic demand resulted in huge stocks with the sugar industry. The government took a number of steps and now the arrears that peaked to Rs. 21000 crore in March-April this year, stand at Rs. 5406 crore currently.

Among the steps that the government took to give relief to the beleaguered industry and thus to the growers, was to give a soft loan of Rs. 6000 crore to the industry and to bear the interest subvention cost estimated at Rs. 600 crore. Of this amount, Rs. 4047 crore have been disbursed to enable millers to clear farmers' dues. It was also decided that after clearing arrears, any balance amount will be credited into the mill accounts. This will benefit about 150 additional sugar mills that had proactively liquidated more than 90 percent of their cane dues payable to farmers and to ensure that mills are incentivized for arranging bridge finances for timely clearance of cane arrears.

In addition, the central government decided to pay a production linked subsidy of Rs 4.50 per quintal directly to cane farmers in 2015-16 season, costing the exchequer an estimated Rs 1,147 crore. Besides extending incentives on export of raw sugar, the government enhanced import duty on sugar from 25 per cent to 40 per cent to discourage imports.

In another major step to help the sector, the government decided to withdraw the excise duty on ethanol, for blending with petroleum, from the next sugar season, so that the price benefit to the sugar mills could facilitate payment of sugarcane arrears. Remunerative prices for Ethanol supplied for blending was raised substantially to Rs. 49 per litre.

The High-Level Committee under Mr Shanta Kumar to study restructuring of the Food Corporation of India (FCI) gave its report earlier in the year. One of its recommendations was to restrict the beneficiaries of the Targetted Public Distribution System. This was however not accepted by the government. But the government took a step towards Direct Cash Transfer of Food Subsidy to Beneficiaries by not only notifying "Cash Transfer of Food Subsidy Rules" under the National Food Security Act but also by launching pilot schemes in the Union Territories of Puducherry and Chandigarh. Preliminary reports suggest that beneficiaries do not prefer cash in lieu of foodgrains. Recently the Roller Flour Millers Association also backed the proposal for cash transfers to prevent leakage. With most states digitizing the PDS, the scope for diversion of subsidized foodgrains into the open market will be minimized, official sources said. End-to-end computerization has also helped in weeding out bogus ration cards.

With enough foodgrains stocks (about 50 million tonnes on December 1, 2015) with the FCI, the government took steps to revise the buffer norms, create additional storage capacity, paid attention to foodgrains' movement in the north-east and reduced transit and storage losses.

In a bid to increase reach of minimum support price (MSP) operations to more farmers and increase procurement of paddy, private players have been allowed to procure paddy from growers in a cluster, identified by the respective state government in the states of Assam, Bihar, Eastern Uttar Pradesh, Jharkhand and West Bengal, where the Food Corporation of India (FCI) does not have a robust procurement mechanism which often forces farmers to go for distress sale. Private firms would deliver custom milled rice (CMR) at the FCI or state government-owned agency godowns.

To protect consumers' interest in terms of quality and services, the Department of Consumer Affairs replaced certain provisions in the 29 year-old Bureau of Indian Standards (BIS) Act for simpler self-certification mechanism, mandatory hallmarking, and product recall and product liability for better compliance to standards. More subjects relating to health, safety, environment, prevention of deceptive practices, security were brought under the mandatory certification. Hallmarking of precious metal articles had been made compulsory.

In a far reaching action, the government proposes to amend the Consumer Protection Act to set up a Central Protection Authority which will have powers to recall products and initiate class action suits against defaulting companies, including e-retailers. E-filing and time bound admission of complaints in consumer courts is proposed. Efforts are being made at the level of the National Consumer Court to clear pendency of cases.

To tackle the menace of misleading advertisement such as fairness creams and weight reduction claims etc., the department launched a dedicated portal www.gama.gov which enables consumers to register their grievances against misleading advertisements in food and agriculture, heath, education, real estate, transport and financial services sectors.

In order to protect interests of consumers', the government filed class action suits, suo motu, to take action against misleading ads against a major MNC.(Source: PIB)

*Gargi Parsai is a senior journalist. The views expressed are personnel.
Please comment on this story:
Subject :
Message:

(Maximum 1500 characters) Characters left 1500
Your name:
Customs Exchange Rates
Currency
Import
Export
US Dollar

66.20

64.50
UK Pound

87.50

84.65
Euro

78.25

75.65
Japanese Yen
58.85
56.85
As on 27 Apr, 2022
Daily Poll
COVID-19 has directly affected your business
| | |
| --- | --- |
| Commented Stories | |