---

Year End Review 2016: Report card of MSME Ministry

---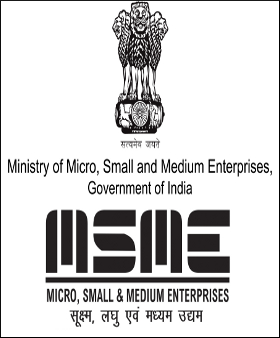 | | |
| --- | --- |
| Top Stories | |
SME Times News Bureau | 27 Dec, 2016


During the year 2016, Ministry of Micro, Small and Medium Enterprises (MSME) launched various initiatives to improve the ease of doing business and to make MSMEs more globally competitive. These initiatives include...

Cabinet approves creation of 'Indian Enterprise Development Service (IEDS)' in the Office of Development Commissioner (MSME) under the Ministry of Micro, Small and Medium Enterprises

The Union Cabinet chaired by the Prime Minister Shri Narendra Modi has given its approval to the Cadre review and formation of a new service in the name of 'Indian Enterprise Development Service (IEDS)' in the Office of Development Commissioner (MSME), Ministry of Micro, Small and Medium Enterprises(MSME). The creation of the new cadre and change in structure will not only strengthen the organization but will also help to achieve the vision of "Startup India", "Stand-up India" and "Make in India". The measure will enhance the capacity and efficiency of the organization and also help in achieving growth in MSME sector through a focussed and dedicated cadre of technical officers.

Foundation Stone Laying Ceremony of MSME Technology Centre at Greater Noida, Uttar Pradesh under Technology Centre Systems Programme (TCSP) & National Vendor Development Programme

This Technology Centre is one of the 15 new Technology Centres that are being established in the country by Ministry of MSME. This Centre will provide support to Electronics Systems Design & Manufacturing (ESDM) and automotive electronics sector particularly Micro, Small & Medium Enterprises towards their technological and skilled manpower requirements. The Programme would be implemented at an estimated cost of Rs. 2,200 crore including World Bank loan assistance of US $ 200 million. For the Technology Centre, Greater Noida, Government of India would be investing more than Rs.145 crore for creating facilities towards plant & machinery, development of civil and associate infrastructure.

MSME EXPO 2016 At Pragati Maidan New Delhi

MSME Expo 2016 was organized by Ministry of MSME in the 36th IITF 2016. Over 80 enterprises have showcased their range of products during the trade fair. The theme of the fair is "Quality Manufacturing and Inclusive Growth of MSMEs" which includes Zero Defect, Zero Effect (ZED) Certification Scheme, SC/ST Hub & National Award.

The participants have a diverse profile such as women entrepreneurs, SC/ST and Entrepreneurs from North Eastern States & Minorities. There are 50 Women, 14 SC/ST and 09 from North Eastern Region, 03 Minorities and others. The event also provides opportunities for creating sustainable business alliances. Wide range of products which includes Engineering, Food, Chemical, Cosmetics, Herbal products, Handicraft, Textile/Hosiery, Electrical/Electronic Appliances, Auto Components, Readymade Garments, Gems & Jewellery, and other products are being displayed in the MSME Expo, 2016.

National SC/ST Hub launched on 8th October 2016 in Ludhiana

Ministry of MSME has made an initial allotment of allocation of Rs. 490 crore for the period 2016-2020 for the National SC/ST Hub. The Hub would primarily aid in strengthening market access/linkage, monitoring, capacity building, leveraging financial support schemes and sharing industry best practices etc. The hub would operate from National Small Industries Corporation (NSIC) Headquarters in Delhi, supported by a special cell created for this purpose.

The public procurement order mandates 4% annual procurement by Central Ministries/ Departments and Public Sector Undertakings from SC/ST enterprises w.e.f 01.04.2015. It has been reported that at present the Government of India procurement form SC/ST enterprises in less than 1% due to low participation of the community. This needs to be scaled up to meet the procurement target for SC/ST.

In the past, there has been some increase in the number of SC/ST owned enterprises but this number needs to increase substantially to enable the socio-economic empowerment of SC/ST communities. In this direction, the National SC/ST Hub in an initiative of the Government of India targeted towards developing a supportive ecosystem towards SC/ST entrepreneurs.

After the announcement of creating National SC/ST Hub was made, MSME Ministry consulted the stakeholders including DICCI, Industry Association, Banks and relevant Ministries to suggest concrete steps to the proposed SC/ST Hub. Based on inputs received from the stakeholders a draft scheme for the proposed Hub was prepared and shared with CEO Niti Aayog as directed by PMO. Subsequently CEO Niti Aayog has called a meeting with all stakeholders. Based on the decisions taken in the meeting a draft SFC note was prepared and circulated to all concerned Ministries for comment. The SFC Committee approved the proposal on 14.7.2016. The final guidelines of the scheme were circulated on 25th July, 2016.

MSME Databank and Finance Facilitation Launched at 14th Meeting of National Board - Online Census of MSMEs and Finance Facilitation Centres Launched

Ministry of MSME launched two new initiatives viz., MSME Databank Portal and Online Finance Facilitation Web Portal on the sidelines of 14th Meeting of the National Board of MSME.

Ministry of MSME has made online Census of the MSMEs in the country for the first time by launching a comprehensive databank on msmedatabank.in/">http://www.msmedatabank.in This will not only save the efforts and money required for physical Census but will also enable the MSME units and the various Associations to furnish data on click of the button and sitting in their units. The MIS dashboard of the databank will provide real time information on various types of the MSMEs registered on the databank. The databank will eventually will be used for public procurement purposes and the PSUs will make use of the data for procuring from MSMEs. MSME Development (Furnishing of Information) Rules, 2016 have also been notified making it compulsory for MSMEs to give the required information.

The objective of the databank is to have one-stop source of information of MSMEs of India, including their credit and technology, requirement in terms of raw material and marketing, etc. A decision has also been taken that no grant or subsidy will be given to any MSMEs unless the data is captured on the MSME Databank.

The NSIC, which provides suitable credit support to the various MSME units for purchase of raw material, has started an online Finance Facilitation Centre on http://www.nsicffconline.in To start with, the Finance Facilitation Centres will become operational at Jalandhar, Peenya, Ludhiana, Guwahati, Lucknow and Delhi from today onwards. The portal will allow the MSMEs to apply for loans from the various banks on the NSIC portal itself. NSIC has also signed MoUs with 33 banks, 14 of whom have agreed to associate with online Finance Facilitation Web Portal.

Giant Charkha unveiled at IGI Airport, Delhi - 42 carpenters from Ahmedabad built the Charkha in 55 days

World's largest Charkha (spinning wheels) was unveiled at the Terminal 3 of IGI Airport Delhi. The idea behind displaying the world's biggest charkha at the country's "busiest airport" is to highlight India's quest to foster an egalitarian society as demonstrated by Mahatma Gandhi, the father of the nation.

Installation of the iconic Charkha at the departure forecourt would carry forward the legacy of promoting India's rich cultural heritage through different artworks at the terminal. All the existing artworks at the terminal - Mudras, Regal procession, Elephant statues, Surya Sculpture, Suryanamaskar and Worli Art among others - depict and showcase Indian heritage globally.

The four-tones Charkha made from high-quality Burma teak wood is estimated to last for over 50 years. It is 9 ft wide, 17 ft tall and 30 ft long. It was built in 55 days by a team of 42 highly skilled carpenters hailing from Ahmedabad.

Incubation cell at IIFT Delhi Launched

Incubation Cell at at IIFT Delhi launched. The cell would enable young entrepreneurs to get all the expert advice and technical guidance at one point. The cell has been designed to provide export start-ups with necessary hand holding support towards expanding their existing domestic business to foreign markets, he added

The initiative is named as "KITTES (Knowledge for Innovation in Trade & Technology for Entrepreneurial Start-ups), a dynamic business incubation cell dedicated to startups in the domain of international business. Run by the Centre of MSME Studies at IIFT (Delhi), the aim of KITTES is to provide hand holding support for MSME start-ups right from ideation stage to their internationalization towards taking a final leap into foreign markets.

Incubation cell will be supported by an advisory body consisting of industrialists, venture capitalists, technical specialists and managers established to help entrepreneurs realize their dreams through a range of infrastructure, business advisory, mentoring and financial services. IIFT will facilitate mobilising of loans for export purpose, build awareness on export financing and insurance schemes and export promotion measures.

38 Psus Achieved the Target of 20% Public Procurement from MSME

Thirty Eight CPSUs have achieved the target of 20% public procurement from MSMEs in the just concluded financial year. Ministry of MSME had also issued a circular dated 10th March 2016 that allows Central PSUs to relax the norms of 'prior experience and prior turnover' for those MSMEs who can deliver the goods as per prescribed technical & quality specifications.

MSME Procurement Policy reviewed

Public Procurement Policy by all the Central Government Departments and Central Public Sector Undertakings, was reviewed. It was found that the share of MSME procurement is less than 10% against a mandatory 20% and that of SC/ST entrepreneurship share is less than 0.2% against a mandatory 4%.

Direction was issued to identify top 50 CPSUs and get a meeting organized at Ministers level so that concerned CPSUs can be sensitized towards meeting the requirement of Public Procurement Policy of MSMEs, which has already become binding from 1st April 2015 under the MSME Development Act 2015.

Mauritius to exclusively offer Biofarming Technology to India - Various areas of cooperation in MSME Sector between both the countries discussed

First Joint Committee Meeting between India and Mauritius for the cooperation in MSME sector was held successfully on 21stJanuary 2016. The possible areas of cooperation were identified . These areas are inline with the MoU signed between the two countries on 13th December 2015. The issues discussed for cooperation were in the areas of capacity building through training of trainers, surveys on potential areas, managerial and technical skills, marketing, exhibitions & trade fairs exchange of business missions, setting up of business incubators, easy access to finance, clusters initiative, etc.

(Source: PIB)



Please comment on this story:
Subject :
Message:

(Maximum 1500 characters) Characters left 1500
Your name:

Inquiry


Shyam Sumder Gautam | Thu Aug 23 15:08:26 2018


Kya msme m pig farming add h ya nhi.iske liye kuch h isme ya nhi.iske bare m bataye.detail m






Shivani | Sat Jul 14 00:21:18 2018


Mene msme Ka kors kiya h par me uska labh kese le Sakti Hu



Mahesh M btech ece project manager Cdit kerala


MAHESH M | Thu May 24 02:41:12 2018


Sir We had done solar roof top projects under the the board energy conservation department ment we were appointed for the feasibility study of all LSGI in our panchayath office roof tops for 6 months...Nw am job less am interested in MSME projects. Please give me the suggestion



Interest in this business


SHANTILAL PARMAR | Sun May 20 06:11:09 2018


Send me this business details



Tc


Ram mehar | Tue Apr 10 12:18:33 2018


Full detail with sailry



Issue a copy of msme registration against parshuram packaged drinking water


Jipemai kri | Sun Mar 11 16:26:42 2018


Due to lost



Good MSME Updates


Jude Davidson | Sat Dec 31 08:30:55 2016


This information shared was very useful and brings awareness of the changes been implemented for this segment, It has encouraged the small segments (MSME)to contribute their efforts and utilize the benefits offered by our Government of India to achieve the term Make in India.


Customs Exchange Rates
Currency
Import
Export
US Dollar

66.20

64.50
UK Pound

87.50

84.65
Euro

78.25

75.65
Japanese Yen
58.85
56.85
As on 16 Jun, 2019
Daily Poll
Is counterfeiting a major threat to SMEs?
| | |
| --- | --- |
| Commented Stories | |