---

Tale of an untapped $13 bn waste management industry

---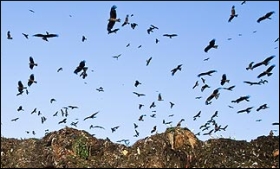 | | |
| --- | --- |
| Top Stories | |
Kushagra Dixit | 11 Apr, 2016


Between an India which produces 62 million tonnes of solid waste every year and a 'Swachh Bharat' is an untapped waste management industry which has the potential to be worth $13 billion by 2025, according to business organisations dealing in waste management research.

Entrepreneurs are now urgng the government to franchise the 'fragmented' waste management industry and give it industrial status, so as to explore the sector in an organised manner.

"Indian waste has big business potential; it's all set to become a $13 billion industry by 2025," Ritu Marya of Franchise India, a franchise solution company, told IANS.

"Swachh Bharat is a great initiative, but there are not enough businesses to back it up. At present, businesses are fragmented. They are either startups or SMEs, very few corporates and largely coming from overseas. That is not exactly an industry.

"A sector becomes an industry when professionalism and big funding comes, partnership happens at very large levels. That's what we are trying to do, to put all these fragments together and make it one large industry," Marya said.

Prime Minister Narendra Modi "means business, but I think Modi has put a lot on his platter, and business needs execution. Social enterprises are great but unless they make profit, they can't sustain for a very long time".

Franchise India along with SingEx, a Singaporean investment company exploring business opportunities with Indian waste, held a 'Clean & Green India' conclave here, where businesses chalked out the importance of an 'army of waste managers' to achieve success in the Swachh Bharat Abhiyan.

Indian waste management is governed by various legislation rolled out by the Ministry of Environment, Forests and Climate Change in association with state pollution control boards, state governments and municipalities.

Official figures say around 62 million tonnes of solid waste is produced in the country every year -- of which only 43 million tonnes is collected, only 12 million tonnes treated and the rest dumped.

This figure is expected to rise to 436 million tonnes by 2050.

Around 4.5 million tonnes is hazardous waste that includes bio-medical waste. Three million tonnes in plastic and 3.2 million tonnes of e-waste is generated annually in India.

As per another survey by business research organisation NOVONOUS, the waste management market is expected to be worth $13.62 billion by 2025, with an annual growth rate of 7.17 percent.

The e-waste management market, which is regularised compared to other solid waste, is expected to grow at 10.03 percent and the bio-medical waste management market is expected to grow at 8.41 percent during the same period.

As per the Ministry of Labour and Employment, the e-waste market is expected to grow at 30.6 percent during 2014-19.

"Given the size of India and the amount of garbage that we have, it could be even a $100 billion industry by 2020, provided we build the business around Swachh Bharat. Right now, it's just built on rhetoric. I have not seen any government official coming out and giving a business vision to Swachh Bharat," said a waste manager.

B.K. Soni of Eco Recycling Ltd. (Ecoreco), India's first professional e-waste management company, says 50 percent of expensive e-waste goes out of India every year to extract gold, silver, platinum and other expensive materials out of it.

"It is sold back to India at 50 percent higher rates," he says.

"Around 39 million people -- around three percent of India's population -- are involved in manual scavenging, e-waste or other waste management. Those working in this fragmented industry have a life expectancy of 45 years and 30 percent of their income goes towards medicine," he said.

"The government should at least work to give waste management an industry status," says Marya.

"Once it becomes that, everything that's working individually or at NGO level would come under one roof. Then things get regularised, people want to do jobs together. Today no one wants to work in waste management because there is lack of professionalism," she says.

The environment ministry on April 5, 2016, had announced regularisation of manual scavengers, but it did not answer the question on how to implement it.

"Given an industrial status, rag-pickers would get a blue collar job. It's important to uplift them by making them more professional," she adds.

Ravi Agarwal of Toxics Link, a Delhi-based group of philanthropists, says there is a huge opportunity in waste management and a lot of work is required to make it an industry.

But things are not clear as waste management happens at the local government or municipal level, which he says is incapable to handle the present recycling requirements.

"Municipality is the main stakeholder and it needs to open up. It requires well-defined hand holding, collection mechanism and revenue generation. Waste management is a completely untapped industry or rather an opportunity," he said.

"The environment ministry has done a good job, but the problem is with its implementation. Political initiatives like Swachh Bharat helps, because it keeps the ball rolling. But to actually implement it effectively, we need to go one step further," he adds.

Ministry officials, however, say waste management is already working as an industry at the local level.

"A part of the waste management market is already working as an industry, like e-waste or hazardous waste management. We make legislation and the state governments, pollution control boards and municipalities apply it. There are initiatives already going on.

"If demands like giving waste management an industrial status are coming up, then perhaps business houses or entrepreneurs are expecting support from the government like loans or land allotments. We are looking into it," an environment ministry official told agency.

(Kushagra Dixit can be contacted at kushagra.d@ians.in)
Please comment on this story:
Subject :
Message:

(Maximum 1500 characters) Characters left 1500
Your name:

solidmgmt.


vasudev krishnamoorthy | Sun Jun 12 14:52:14 2016


This industry is being controlled or un organised by different agencies is the main problem for developing further. this has to be looked into. krihnamoorthy mumbai.9820265775



waste management


purushottam kothari | Fri Apr 22 05:53:48 2016


Would love to discuss with you some possible solutions that are easy to implement and cost effective.please feel free to call whenever you are free tomorrow onwards.purushottam kothari..thanking you in anticipation.



Waste is somes gold


Archie Rae McFarland | Thu Apr 21 19:40:20 2016


Their is no waste only ignorance of the values. I have been in the US waste industry for over 60 years and still have not dented the 40% of agricultural wastes that can be recovered because of political and economic pressures. most hazard waste have simple solutions but wheres the monies to start???? Fresno ca has one of the most automated waste recovery systems to be evaluated immediately.My meat grinding inventions including the newest machine the Nu'Ege has recoverd billion of pounds of meat by removing he hard particle some older Raptor mechanical separators have for over 65 Years WW. Co2 is a veritle compound from waste to make methane and increase soil conversion of natural soils and waste to food and purify even radiation contaminated materials



Waste management


Ash Bharmal | Thu Apr 21 04:02:49 2016


Commercializing waste management will optimize proper disposal, value add to recoverable waste,give proper and regular job with security to persons now do the job on ad hoc basis. Government, Municipal Council should provide guidelines only and let industry do the rest. Strict regulations must be applied to Hazardous and medical waste. Swatch Bharat will reallyreally clean.


Customs Exchange Rates
Currency
Import
Export
US Dollar

66.20

64.50
UK Pound

87.50

84.65
Euro

78.25

75.65
Japanese Yen
58.85
56.85
As on 27 Apr, 2022
Daily Poll
COVID-19 has directly affected your business
| | |
| --- | --- |
| Commented Stories | |