---

Green energy has got a boost under Modi regime

---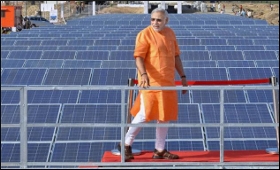 | | |
| --- | --- |
| Top Stories | |
K R Sudhaman | 22 Jun, 2015


The global warming, air pollution and climate change are danger signals that all is not too well with environment and Narendra Modi government has rightly taken some major green initiative for sustainable energy development during the last one year. Solar energy, which is abundantly available in the country is being given new thrust. The solar energy which accounted for mere one percent of nearly two lakh mw of power generated in the country, is being pursued with renewed vigour. The target of 20,000 Mw of solar power proposed to be installed in the country has been reset by the NDA government to achieve five time more at one lakh mw of solar power by 2022. The target, which looked overambitious, now seems to be within the realms of reality with some state already witnessing silent revolution on rooftop solar power generation with the launch of net metering in the country.

The overall renewable energy share at the moment is around 6 percent. Thermal power dominated, accounting for nearly 60 percent of power generation. Wind power, which has already caught on in some parts of the counry particularly in the coastal region is proposed to be stepped up to 60,000 mw of power generation by 2022.

Though there are reports to suggest that U S President Barrack Obama's visit to India last year pushed New Delhi to do more on promoting clean energy, Modi has repeatedly made it clear that his government's strong pitch for green energy is not to impress the world but for its own good both from environment and energy points of view.

Rightly the government has embarked upon a programme to attract up to $200 billion investment in renewable energy in the next five-10 years to scale up to solar power and wind power generation. According to energy minister Piyush Goyal the share of renewable sources of power is expected to more than double to 15 percent in the country's overall energy basket.

This is achievable, experts say but at the same time they felt it is not going to be all that easy as lot of effort would be needed to scale up skill development and political resolve just in case of Jan Dhan Yojana, financial inclusion initiative of Modi government to provide bank account at least one account in every poor family in the country.

China, which had huge capacity for manufacture of solar photovoltaic cells, has stepped up skill development and has created enough manpower to install up to 20,000 mw of solar power annually. India at the moment lacked requisite manpower to scale up solar power generation. Technicians involved in wind energy are being retrained to handle solar power installations in view of the shortage. The existing trained manpower in the country can at best install up to 2000 mw of solar power annually. So government will have to make concerted effort on this front as massive huge scaling up is required on skill development to achieve one lakh mw of solar power generation by 2022.

The funding for green energy is no longer an issue as enough resources available both domestic and foreign. The question is that of harnessing these resources. The German Development Kfw has already committed to providing one billion euro for setting up green transmission grid particularly in Tamil Nadu and Rajasthan for exclusive evacuation of Solar and wind power. The Indian government in the process of negotiating yet another loan of one billion Euro to promote rooftop solar power generation.

At the recent global renewable energy investor's meet in New Delhi, as many as 293 companies, including NTPC, Suzlon, and Reliance Power, committed to setting up plants to generate 26,600 Mw of renewable energy in 5 years, while the country's largest lender, State Bank of India (SBI) committed Rs 75,000 crore for generation of 15,000 MW of clean energy over a period of 5 years.

India is also working on building a consortium of 50 countries with abundant solar radiation, to pool research and technological advancements to improve its accessibility to the poor and in the remote areas.

Promotion of solar and wind power and biogas is a requirement will also ensure that the fruits of development reached the common man. These renewable sources of energy will help government reach every nook and cranny of the country particularly remote areas where grid connectivity is not there. Small solar and wind power generation provided the answer for off grid power generation particularly in remote areas where it is difficult to built transmission lines. Several diesel and electric pump sets used in farming are increasingly being converted into solar pump sets.

Telecom towers, which had diesel generation sets as back up due to erratic power supply in most parts of the country, too are switching over to solar power in view of very high cost of diesel power. Diesel power costs over Rs 15 per unit as against Rs 6-8 per unit of solar power. Also the problem with diesel power is pilferage of diesel for use in transport. This raised the generation cost further by Rs 2-3 per unit of electricity, experts said. There is yet another advantage of solar power is there is hardly any maintenance cost and photovoltaic cells lasts for nearly 25 years. The only maintenance required is periodical cleaning.

The cost of electricity from solar photo-voltaic cells is coming down drastically. At one point of time, it was as high has Rs 20 per unit some. In recent year it has almost reached grid parity and it is expected to come down further in the face of massive R&D work going on world over. Also costs of coal is increasing year after year particularly that of imported coal thereby raising the cost of thermal power. Recently new solar photo-voltaic cells have been developed, which can convert 40 percent of solar light falling on it to electricity as against the present ones which convert only 25 percent. Experts said now new transparent solar photo voltaic cells have been developed unlike the traditional opaque ones as at present. The transparent ones can be used as window panes in the buildings apart from rooftops. With solar power costs coming down, there is a possibility solar power generation would become very attractive without subsidy in not too distant future.

There is also proposal to set up hybrid energy parks in areas with abundant sun radiation as well as wind potential to save on transmission and power evacuation infrastructure cost. Several multinational companies have evinced interest in domestic manufacture of renewable energy equipment and this is expected to attract sizeable foreign investment in view increasing demand. This also had tremendous job potential. Solar water pumps will reduce input costs for farmers. Micro-irrigation also helps in conserving water apart from increasing crop yield.

Setting up large solar power projects like the one being set up in Rajasthan, Madhya Pradesh, Gujarat and Andhra Pradesh of 500-1000 Mw capacity is fraught with several dangers like line losses, evacuation problem, huge investments in transmission lines, transmission and distribution losses including theft.

According to Sun Source Energy President & COO Kushagra Nandan, many companies which have Diesel gen sets for power back up are switching over to rooftop solar PV power generation.

Tamil Nadu has already constructed three lakh rural houses for the poor with roof top solar power. This is expected to be replicated in the entire country with Prime Minister Narendra Modi government embarking upon housing for all by 2022. Solar power is likely to bring down costs of low-cost housing.

India receives solar energy equivalent to about 500 trillion kWh per annum, more than enough to provide for the entire country's needs. India produces around two lakh MW of power and one fourth of Rajasthan Thar desert is enough generate much of solar power. There is abundant waste land in the country, which could be utilized for setting up large solar plants. A one MW of solar power generation 4-5 acres of land

Gujarat tops the list of solar power generation with over 600 mw followed by Rajasthan with over 500 mw. Madhya Pradesh and Andhra Pradesh are too catching up now with huge solar power plant of 1000 Mw coming up just as in Rajasthan. (Source: PIB)

* K R Sudhaman is a senior business journalist and has served as Editor in Press Trust of India, TickerNews and Financial Chronicle
Please comment on this story:
Subject :
Message:

(Maximum 1500 characters) Characters left 1500
Your name:

CREATE JOB & ENTREPRENEURIAL OPPORTUNITIES


Dave Sassman | Thu Jul 2 05:54:23 2015


In December 2014 we Presented our Unique Brick Manufacturing & Building System to the 40th World Housing Congress in Funchal, Madeira, Portugal with resounding success. We now have invitations from no fewer that 14 countries - of the 42 countries represented at the said congress. Subsequently, we received a unique Letter of Commendation from the US International Association of Housing Science. Our System addresses all the UN Millennium Development Goals, The IAHS Theme for 2014 because of its Energy Efficiency, Waste Minimization, Environment and other Climate Warming threats adequately. Our Brick Manufacturing & Building System lends itself to unlimited Entrepreneurial Opportunities for Men, Women, Youth and TRADE INDIA Members and we would like an opportunity to Present same to you on TRADEINDIA.COM for the kind consideration of your Members please. We await your favourable response. Kind regards, DAVE SASSMAN The DAVE SASSMAN FOUNDATION Cape Town South Africa



Hydro Power


Somayajulu, SBV | Wed Jun 24 05:23:07 2015


Why the Hydro power generation development is not being in the Green Energy Plans and it is also equally competitive in the generation and cost. In case the subsidies extended to Solar are extended to Hydro power, it will prove more environmental friendly. Basically the extent of area required per MW and life of project are attractive. This is resource draining un-tapped and it has added advantages for the environment. GOI and Power market players may consider this aspect.


Customs Exchange Rates
Currency
Import
Export
US Dollar

66.20

64.50
UK Pound

87.50

84.65
Euro

78.25

75.65
Japanese Yen
58.85
56.85
As on 27 Apr, 2022
Daily Poll
COVID-19 has directly affected your business
| | |
| --- | --- |
| Commented Stories | |