---

Is the Congress running fast to stand still?

---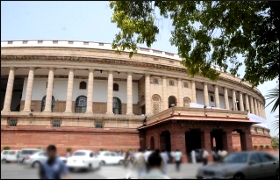 | | |
| --- | --- |
| Top Stories | |
Saeed Naqvi | 11 Aug, 2015


Do page one photographs of Sonia Gandhi, Rahul Gandhi, Kumari Shelja, Anand Sharma and Mohsina Kidwai agitating against suspension of opposition members spell Congress revival?

Let us pick up the thread from the build up to the election of May 2014. Everybody and his neighbour had tried cajoling Rahul Gandhi to be a willing counter to Narendra Modi - CII, FICCI, Arnab Goswami. But Rahul was a souffle that wouldn't rise. He would speak in parables; he planned to reinvent the party from grassroots, a 10-year project which, if it fructifies, will see a 53-year-old Rahul at the helm. He has not announced any change of heart yet.

What then is this hyper activity about? Surely, Sushma Swaraj, Vasundhara Raje and Shivraj Singh Chauhan and the discomfiture of the Sangh Parivar on that count are all custom made for any opposition to seize upon. Are these treaties designed to affect the Bihar vote?

Modi harvested the Congress-led United Progressive Alliance's discomfiture. Who in that page one photograph will reap the benefits of their current exertions against him in and out of parliament?

It is universally acknowledged that the Modi campaign was carefully crafted by Corporate India, with help from a host of outfits including APCO Worldwide Consultancy under the leaderships of Timothy Roemer, former US ambassador to India. India was going to be transformed into a Corporate Paradise which would provide new sinews to the global economy in free fall (Joseph Stiglitz's term) since 2008.

India Inc, led by Modi acolytes like the Adani group, spent more money on the Modi campaign than has ever been spent in the world's electoral history.

The campaign worked because the electorate was disgusted with the two stars in our photo-frame plus Manmohan Singh. The Congress was reduced to a rubble. Which is why Congress' new found confidence, so early in the proceedings, is puzzling, the scams notwithstanding.

A massive publicity campaign plus a pulpy state of the principal opposition brought Modi to power. An Arabic saying explains it succinctly: not love of Ali but disgust with Muaviya was the operative fundamental.

Modi had not come to power because he was loved by the people. Nor was he admired by senior BJP leaders he foiled during the 2013 Goa conclave in which he was nominated the party's prime ministerial candidate, despite their opposition. He was endorsed in the hope that he would be "strong".

Within six months of becoming prime minister, had Modi also picked up the election to the Delhi assembly as a trophy, the narrative today would have been very different. But the Aam Admi Party (AAP) wiped out the Congress and the BJP, in two elections in quick succession.

This petrified the BJP, Congress, Big Business with huge stakes in Delhi, the police and the section of Babudom prone to corruption. The AAP experiment had to be crushed. The media was mobilized in this expedition. The Lt. Governor-AAP stalemate in Delhi is part of this larger Ding-Dong.

In this fashion, a year has passed and an impatient business community, who have seen property prices in Delhi (for example) fall by about 40 percent, is restive. The famous Land Bill is neither here nor there. There is plenty of Maan ki Baat on the radio and photo ops on foreign trips, keeping up the delusion of energy, action, policy. But nothing of substance, except for deteriorating law and order and rising prices.

Impatience is now afflicting corporate India. Modi's cheer leaders in the media are turning upon him. Saner advice coming from former insiders may well be heeded. Why must the next generations of reforms be restricted to facilitating big business. These reforms should focus on governance, the Panchayati Raj apparatus, education, health, rural housing, police reform. There is no nodal point in Delhi that keeps a steady gaze on Kashmir. The BJP-PDP government in Srinagar is floating on its own. There is some indication the prime minister may make helpful announcements in his August 15 utterances.

The important point is that the business community, which had dreamed up the moon when Modi first came to power, is now distributing its largesse, which include the media it controls, to those stars in the photo frame too. To that extent the current unending agitation could well be on queue. There is no enunciation of new strategy. Rahul will visit Dalits, families of farmers, flood hit areas, but never victims of communal violence, confirming the Congress as a party similar to the BJP minus the Sadhus.

Of course, no one is for a moment suggesting that there is smoke without fire. The three scams do hang around the BJP's neck. But the shifting of Corporate favours away from Modi in the direction of the Congress once again ignores the people. Are the two national parties seeking comfort in Corporate munificence? This is at the heart of what is now being understood even by common people as crony capitalism.

Voters have recoiled on this arrangement in Latin America, Indonesia, Greece, Scotland, Spain - even in Delhi. They may not have discovered the third way but they are searching for it. If the Corporates, BJP and the Congress persist with their troika dance at the centre, the people will, over a period of time, make themselves heard in the regions.

In the long run, this is good for federalism. But it will dilute centralized power which is the dream of the ruling class as exemplified by the Congress and the BJP -- tweedledum and tweedledee.

(A senior commentator on political and diplomatic affairs, Saeed Naqvi can be reached on saeednaqvi@hotmail.com. The views expressed are personal.)
Please comment on this story:
Subject :
Message:

(Maximum 1500 characters) Characters left 1500
Your name:

Parliament news


Timir Kumar Chatterjee | Fri Aug 14 03:45:32 2015


Definitely it is extreme point for congress agitation as opposition. Even though some loop holes are there, under asking sign through BJP candidates. A planty of odd affers/movements need to be clarify by BJP for betterment of common peoples.


Customs Exchange Rates
Currency
Import
Export
US Dollar

66.20

64.50
UK Pound

87.50

84.65
Euro

78.25

75.65
Japanese Yen
58.85
56.85
As on 27 Apr, 2022
Daily Poll
COVID-19 has directly affected your business
| | |
| --- | --- |
| Commented Stories | |