---

Not industry, small farms key to jobs growth: Indian expert

---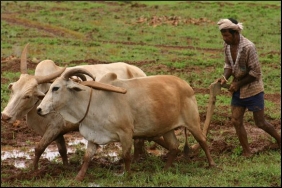 | | |
| --- | --- |
| Top Stories | |
Arul Louis | 04 Apr, 2015


Calling the decimation of small farms 'the biggest catastrophe", an Indian sustainable development expert has said that improving the lot of the small farmer while increasing productivity holds the key to employment growth and ending poverty.

Speaking at a panel discussion at the UN Economic and Social Council (ECOSOC) here on Wednesday, Pavan Sukhdev, the founder of GIST Advisory, said that size and scope of the farm sector was not adequately recognised in the rush to create jobs that focused on industry and the non-farm sector.

More than one billion people worked on farms and a majority of farms, which were less than two hectares in size and produced half of all the food, he said.

In contrast, he said, the number of jobs in the technology, industrial and other non-farm sectors were smaller and pointed out that, for example, there would not be a demand for one billion software professionals.

Therefore, Sukhdev called for making small farms the drivers of employment and economic growth by providing them access to sustainable technology and giving more help to the small farmer.

Small farms were now at risk, Sukhdev said, not only from factors like climate change but also from corporations that were decimating them through industrialising agriculture. This was "the biggest catastrophe", he said.

The theme of the panel discussion was "Wanted: 600 million jobs!" The UN and its affiliated organisations say that is the number of jobs that have to be created over the next decade to provide employment to a growing youth population, alleviate poverty, sustain economic growth and ensure social stability.

N.S. Rajan, the chief human resource officer of the Tata Group, said that corporations had to realise their role in society and cited Swami Vivekananada as saying that a society that exploits one section for another is like a bird with one wing.

His group's founder Jamshedji Tata understood this and his belief was that corporations were an integral part of society and must function as such, Rajan said.

As a result, 66 percent of Tata Sons is owned by philanthropic trusts. This philosophy also led the company from its earliest days more than a century ago to provide creches and schools to enable women to work, thus increasing the nation's workforce.

The group has over 550,000 workers, of whom 115,000 were women and it was committed to doubling their numbers, Rajan said. There were now 350 women leaders in the company and its goal was to increase their number to 1,000 by 2020, he added.

Referring to the overall job development situation, he said the group worked to develop the skills of its recruits and many of them later left to work for other companies. This led to making more people employable and contributing to economic development.

Sukhdev cited the case of Infosys as an example of how the top private sector companies were taking on the role of training and developing the nation's workforce. Every year Infosys hired and trained about 30,000 people, and of them about 18 percent will ultimately leave to go to work for other companies and in other nations, he said. This was an export of human capital to other companies and countries, he said.

Participating in a general ECOSOC debate earlier on economic and social integration, India's Permanent Representative to the UN Asoke Kumar Mukerji said that employment generation must be at the centre of sustainable development and balanced economic growth.

For developing countries to harness their democratic dividend, creating decent jobs was essential, he said. Therefore, the Indian government has launched an ambitious initiative to make the nation a destination for world-class manufacturing, he added.

With 54 percent of Indians under 25 years, the nation was poised to reap the population dividend, but first it must make them educated and employable for the 21st century jobs and the government was taking institutional and policy measures for this, he said.
Please comment on this story:
Subject :
Message:

(Maximum 1500 characters) Characters left 1500
Your name:
Customs Exchange Rates
Currency
Import
Export
US Dollar

66.20

64.50
UK Pound

87.50

84.65
Euro

78.25

75.65
Japanese Yen
58.85
56.85
As on 13 Aug, 2022
Daily Poll
COVID-19 has directly affected your business
| | |
| --- | --- |
| Commented Stories | |