---

Why GST is important?

---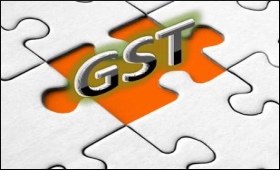 | | |
| --- | --- |
| Top Stories | |
Amit Kapoor and Sankalp Sharma | 31 Dec, 2014


On the one side are those who believe that the proposed changes in the regime will lead to greater centralization and this will limit the ability of states to impose a tax that they deem fit. This according to them is not a very welcome step (since it goes against the idea of greater competition and competitiveness at state level).

One the other hand are those who believe that the proposed Goods and Services Tax (GST) has to be looked at from the perspective of cooperative federalism with greater harmonization leading to greater competitiveness. We tend to pivot along with most economists on the second side that introduction of GST will lead to significant benefits.

It is well known that free movement of labour, goods and capital is a prerequisite for growth and economic development. It is as true within as it is outside the country. Taxation often acts as a hindrance to the movement of these critical factors (labour, goods and capital) for boosting growth and competitiveness of any economy. In India, the indirect taxation system (which is mired in complexity) is at the cusp of a major overhaul. The goal is to create a single uniform market across the country.

Finance Minister Arun Jaitley, while introducing the 122nd Constitution Amendment Bill, 2014 (to facilitate the introduction of GST) in the Lok Sabha during the just concluded winter session of parliament, called it the "biggest tax reform since 1947". The measure tries to do away with multiple rates and impose a dual structure GST, with a state component called an SGST, and a central component called a CGST. The proposed combined rate of CGST and SGST (called the proposed GST rate) is 27 percent, which will make it one of the highest in the world and in a league of countries like France and Belgium.

At present, there are different central and state taxes (that result in complexity) that will be subsumed by the proposed GST. These include central excise duties, additional excise duties, service tax, additional customs duty and special additional customs duty under the central level taxes and value-added tax, sales tax, central sales tax, entertainment tax, octroi, entry tax and luxury tax under the state level taxes.

All these state and central level indirect taxes had given rise to a number of issues most prominently, (a) cascading effect (double taxation) leading to an overall loss in competitiveness of India's goods and services; (b) different tax treatment for manufacturing and service sectors leading to greater litigation; (c) high cost of compliance and tax administration adding to the 'unease' of doing business in India and (d) uncertainty of tax incidence on investment in manufacturing and services and litigation due to frequent changes in tax laws and procedures thus discouraging investment. All these factors were seen as being detrimental to the overall competitiveness of India.

The historical antecedents of the proposed GST and the likely impact of it merit attention. The Vajpayee government first took up the idea of GST in 2002. Subsequently, the Manmohan Singh government took up the idea when it saw success with the implementation of a Value Added Tax (VAT) as a replacement for state sales tax in 2005. In November 2007, the Empowered Committee of State Finance Ministers decided that the solution for indirect taxes is a GST to be levied by both levels of the government. The subsequent Manmohan Singh government failed to act on the advice given by the taskforce on GST of the Thirteenth Finance Commission. The GST proposal was derailed due to the kind of changes required in the constitution as well as in getting all the states on board with the idea. Fast forward to 2014 and this is still a likely threat.

A recent report by World Bank estimates that for the collection of indirect taxes approximately 650 checkpoints result in slowing freight traffic in India due to bad infrastructure. Implementation of GST could simply halve these delays due to roadblocks, tolls and other stoppages and could cut freight times by some 20-30 percent and logistics costs by an even higher 30-40 percent. It would lead to a gain in competitiveness of some three-four percent of net sales for key manufacturing sectors in India that have presently been ailing.

Similarly, a report by the National Council of Applied Economic Research (NCAER) in 2009 had stated that implementation of comprehensive GST could provide gains in India's GDP somewhere within the range of 0.9 to 1.7 percent. This is equivalent to the case of Canada, where Professor Mawrk Hamilton had estimated the benefit of GST to be 1.4 percent of Canada's GDP in 1991. The Thirteenth Finance Commission's task force report also estimated that the present value of total gains arising out of GST to be between $325 billion and $637 billion using a three percent discount rate in 2008-09. The figure was approximately one-third to half of India's GDP in 2008-09.

All these figures go on to show the importance of GST for India and the global competitiveness of its industry. Finance Minister Jaitley will do a great service if he can get the bill passed by two-thirds majority in both the houses as well as sget it ratified by 50 percent of the state legislatures. The date of April 1, 2016 may very well then be a game changer for the competitiveness of Indian industry.

(The article is co-authored with Sankalp Sharma, Senior Researcher at the Institute for Competitiveness, India. is Chair, Institute for Competitiveness & Editor of Thinkers. The views expressed are personal. He can be reached at amit.kapoor@competitiveness.in and tweets @kautiliya)
Please comment on this story:
Subject :
Message:

(Maximum 1500 characters) Characters left 1500
Your name:

GST IN INDIA


Wg Cdr Narendra Kumar, Retd | Wed Dec 31 08:46:00 2014


GOOD ARTICLE THOUGH OFT-REPEATED.iT TAKE 5 mTS TO APPRECIATE THAT gst WOULD RATIONALIZE & GREATLY IMPROVE THE TAX ADMINISTRATION TO OVERALL NATIONS'S GAIN. WHAT STOPS ITS IMPLEMENTATION ? (1)INDIVIDUAL'S GREED AT EVERY TAX COLLECTION / ADMINISTRATION POINT. GOVTs CANT AFFORD TO RATIONALIZE TAX ADMINISTRATION, AS IT HURTS THEM, DEPRIVING FINANCIAL VESTED CONTROLS, WHICH IS USED ONLY TO ENCASH THE POWER TO COLLECT & SPEND TAX REVENUE. I WONDER IF ANY THING CAN CHANGE BEFORE WE CHANGE QUALITY OF OUR POLICY MAKERS (lEGISLATORS).


Customs Exchange Rates
Currency
Import
Export
US Dollar

66.20

64.50
UK Pound

87.50

84.65
Euro

78.25

75.65
Japanese Yen
58.85
56.85
As on 07 Dec, 2019
Daily Poll
Ease of doing business improved in last one year
| | |
| --- | --- |
| Commented Stories | |