---

Pranab won't be rubber-stamp President

---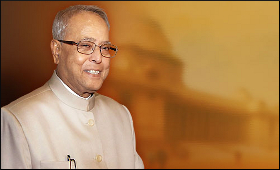 | | |
| --- | --- |
| Top Stories | |
Amulya Ganguli | 31 Jul, 2012


Pranab Mukherjee's relatively uneventful, to use a post-operative surgical term, journey to Rashtrapati Bhavan is one of the Congress' few success stories of late. What made it possible was the unforced errors of its opponents, who were apparently guided by blind antipathy towards the Congress rather than a realistic assessment of their position.

Nothing demonstrated their folly and cynicism more than the promptness with which the Bharatiya Janata Party (BJP) washed its hands of the opposition presidential candidate, P.A. Sangma, after his defeat, telling him that if he wanted to challenge Mukherjee's victory in the Supreme Court, he would have to do it on his own. Even before Sangma's defeat, one of his sponsors, Tamil Nadu Chief Minister Jayalalitha, had distanced herself from him, going off on a summer holiday while the former Lok Sabha speaker fought what was expected from the start to be a losing battle.

The fruits of the Congress candidate's victory were made all the sweeter by two factors. One was Mamata Banerjee's decision to get off her high horse and support Mukherjee, albeit with a heavy heart, as she said. Since the run-up to the contest had starkly exposed her political ineptitude, it would take quite some time for her, if ever, to recover her poise.

If Banerjee's blunders were there for all to see, the gaffes of the BJP leadership came to light only after the results showed that there had been cross-voting by its legislative assembly members in Karnataka and even in Gujarat in Mukherjee's favour. To make matters worse for the party's central leadership, the Karnataka strong man, former chief minister B.S. Yeddyurappa, taunted the Delhi-based leaders for failing to make the right choice while selecting a candidate.

Since Mukherjee's across-the-board popularity was known - the senior BJP leader, Yashwant Sinha, had voiced his support for him while two allies of the BJP, the Janata Dal-United (JD-U) and the Shiv Sena, had decided to vote for him - the saffron outfit's preference for a palpably weak nominee could only be explained by its unthinking animosity towards the Congress. But now it has ended up with egg on its face.

It may be the party's immaturity or inferiority complex which makes it adopt an anti-Congress stance on all conceivable issues to announce its distinctiveness to an uncertain support base. But the BJP's latest blunder along with its internal leadership tussles show it to be on a weak wicket as the parties gear up for the next general election.

As for the Congress, what the outcome showed was that if it followed its political instincts instead of depending only on the preferences of the Nehru-Gandhi family, the party's chances of success were much higher. It is worth recalling that Mukherjee was not the party's first choice, presumably because the first family did not regard him as a true loyalist. After all, he had left the Congress to form his own outfit after Indira Gandhi's assassination in 1984.

Besides, Mukherjee is a politician of considerable administrative experience and intuitive grasp over the functioning of the system. As such, he cannot be expected to sign on the dotted line, as Fakhruddin Ali Ahmed did during the 1975-77 Emergency. Arguably, he tends to follow a political line close to that of the first family either because of his own convictions or to play safe since he does not have a mass base, having won a Lok Sabha election for the first time only in 2009. His criticism of the "trickle down" theory in his first speech as president will substantiate this belief as did his preference for retrospective taxation outlined in his last budget.

At the same time, it is undeniable that Mukherjee has grown in stature in the last few years, so much so that it was being said that he would be known as the best prime minister India never had. During Manmohan Singh's heart surgery, Mukherjee's shepherding of the government drew unstinted praise from L.K. Advani. One of the reasons for his prominence was his apparent indispensability in the matter of interacting with other parties, as with the Left on the nuclear deal, or in sorting out various political and administrative tangles as the head of a group of ministers.

It was this high profile which made him something of an automatic choice for the president's post. The support he received across the political spectrum from the Communist Party of India-Marxist (CPI-M) on the Left to the Shiv Sena on the Right confirmed his worthiness. But, it is precisely this distinction that may have made the first family jittery since, given his present high standing, Mukherjee is unlikely to be a rubber-stamp president like Fakhruddin Ali Ahmed or Giani Zail Singh, who famously expressed his willingness to sweep the floor if Indira Gandhi asked him to do so.

* Amulya Ganguli is a political analyst. He can be reached at amulyaganguli@gmail.com
* The views expressed by the author in this article are his/ her own and do not necessarily reflect the views of SME Times.
Please comment on this story:
Subject :
Message:

(Maximum 1500 characters) Characters left 1500
Your name:

Pranab will become a self inked rubber stamp!


k.Pathi | Mon Aug 6 12:13:11 2012


So far we have seen Presidents are like rubber stamps...But,Pranab will become India's first SELF INKED RUBBER STAMP



President


G. Chandrashekar | Wed Aug 1 11:10:33 2012


Nice presentation


Customs Exchange Rates
Currency
Import
Export
US Dollar

55.30

54.35
UK Pound

84.50

82.50
Euro

71.80

70.00
Japanese Yen
54.40
53.00
As on 21 May, 2013
Daily Poll
Do you think banks will lower lending rates after recent RBI rate cut?
| | |
| --- | --- |
| Commented Stories | |