---

Tibetan self immolations: Why isn't the world listening?

---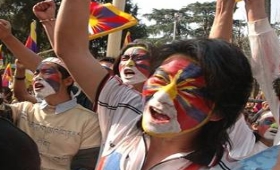 | | |
| --- | --- |
| Top Stories | |
Vijay Kranti | 03 Apr, 2012


Until he became a burning sensation in the international media, the story of Jamphel Yeshi, 27, was no different from the few million Tibetans who live today in what Chinese leaders call a Socialist Haven or China's Tibet. He was one of those 10,000 odd young Tibetans who could smuggle themselves out of Tibet in recent years in search of better education or to find some breathing space for their suffocated souls.

Like most of his fellow young compatriots in occupied Tibet, Jamphel too had never seen the Dalai Lama nor lived under what China brands the "feudal" rule of the "Dalai clique" that was dethroned by Mao's army 36 years before Jamphel was born.

Like his father, he too was educated and brought up on a daily overdose of Communist indoctrination which hopes to convert Tibetan and children of other 55 "national minorities" of China into "patriotic" citizens of the "great motherland".

He too was told by his class teacher in school that the Dalai Lama was a "wolf in the robes of a monk" and hence deserved their hatred for being a "splitist" and the "worst enemy" of their Chinese motherland.

However, when he entered his teens and started becoming aware of his ethnic identity, he too began feeling suffocated and lost amidst a new flood of Han settlers (the majority community in China) in his traditionally Khampa Tibetan town of Tawu which was assimilated into neighbouring Sichuan province after Tibet lost its freedom.

Jamphel quietly crossed over to India in 2007 and was going through a computer course in Delhi on the day he decided to take the extreme step of immolating himself during an anti-China, anti-Hu Jintao Tibetan rally near the Indian parliament.

Hu is especially despised by Tibetan masses as the "Butcher of Lhasa". As the governor of Tibet, Hu used army tanks and armoured vehicles to effectively crush the Tibetan uprising in Lhasa in 1989. Three months later, it was the same "Lhasa Model" that was used by his seniors in Tiananmen Square in Beijing to crush the Chinese youth's uprising against the Communist system.

Jamphel was the 32nd in a chain of self immolations inside and outside Tibet in past one year. On Wednesday, he became the 18th among the confirmed Tibetan deaths. The fate of the other 13 is known only to Chinese authorities. Following Jamphel's death, the government in New Delhi has, for obvious reasons, decided to further tighten measures to ensure a comfortable stay for Hu Jintao.

Hu will soon return to China and the stink raised by the immolation is most likely to melt away in the flood of other important news. But Jamphel's moving inferno leaves behind some issues which may haunt a world community that expresses faith in democracy and civilised conduct.

Just a few issues to ponder over:

A long chain of self immolations by Tibetan youths, a majority of them monks and nuns, negates the oft repeated Chinese claims that everything is fine inside Tibet. Or that Tibetans love Chinese rule and despise the "feudal" Dalai Lama.

One burning and dying immolator after another shouting for "rangzen" (Tibetan freedom) and return of Dalai Lama to Tibet has exposed another face of Tibetan reality to the millions of YouTube watchers across the world as opposed to what Chinese government claims.

At least 32 cases of self immolation by Tibetan youths and not a single case of stabbing, shooting, bombing or hostage taking against their colonial masters underlines the Tibetan people's deep faith in their leader Dalai Lama and his commitment to 'ahimsa' or Gandhian non-violence.

It also makes a laughing stock of Chinese leadership when they desperately try to paint Dalai Lama as Hitler and a Nazi collaborator of the US.

It establishes beyond doubt that resistance inside Tibet is alive and widespread even 61 years after the Chinese takeover and that the Dalai Lama is, perhaps, more popular that he was on the escape day to exile in 1959.

It also proves that the Communist indoctrination of six decades has failed to cool down the national aspirations of Tibetan masses. And that Tibetan masses today feel pushed to desperation.

Each of the 32 immolations occurred in the erstwhile Tibetan provinces of Kham and Amdo, now parts of Sichuan, Yunnan, Quinghai and Ganzu - this challenges Chinese assertion that these areas are not Tibet or that only Tibet Autonomous Region (TAR) is the "Real Tibet".

In most events of these self immolations, the manner in which the Chinese PSB police and agents kicked the man on flames or the local Han bystanders pelted stones over the dying young Tibetan only reflects the deep divide between the Tibetan and the Chinese settlers in Tibetan areas.

In a world where a single self immolation by a Tunisian vegetable vendor can invoke world support and revolution in 15 countries, the absence of any reaction or measure on the part of the UN and governments towards an unending chain of immolations compel sceptics to think the real triggers of world sympathy lie somewhere else rather than in commitment to human and democratic values.

They might start wondering loudly if the world community has not arrived a stage where world opinion is more influenced by economic power of a single government than the collective moral power of the world at large.

And above all, Jamphel Yeshi has left the world community with a question: have we arrived at a stage where thousands of struggling communities across the world might lose faith in the efficacy of democratic and non-violent expression as a valid tool of conflict resolution?

(Vijay Kranti is a senior journalist and a Tibetologist. He can be contacted at v.kranti@gmail.com)
The views expressed by the author in this feature are entirely his own and do not necessarily reflect the views of SME Times.
Please comment on this story:
Subject :
Message:

(Maximum 1500 characters) Characters left 1500
Your name:

knowing the feeling: EXPERIENCE RICHMOND BC CHINADA


Cooper | Sun Apr 8 18:58:04 2012


If anyone wants to experience the feeling of being overrun by brutality, rudeness, inconsideration, immorality, invasion and a few more... qualities, a stay IN RICHMOND BC is the closest to what you can get to the TIBETAN PEOPLE'S ORDEAL with the Chinese masses. The feeling extends, sadly, to a MONASTERY, supposedly for Canadians, with TIBETAN MONKS AND LAMAS. Hard to actually describe the feeling, but an invasion can be performed with armed guards, or with money for greedy individuals, ready to sell their home, and their parent's home. In a few words, it's impossible to explain the extend of the damage caused by the corruption of a leadership, selling off a country, its resources and its people for the right price. If the world wants to understand what happened over there in Tibet, just a trip to Chinese Columbia, ex- Beautiful British Columbia, send a reporter, since, for now, there is freedom of the press, although we seem to already have communication control on our messages, probably including this one which includes the dirty T word.




Sadly true...


David | Tue Apr 3 17:02:46 2012


Sadly true... The world is still a very primitive place where only violence gets results.. W e cannot afford to lose Tibet..it should be declared as a Universal treasure.....



China has everything sown up.


Matthew Reilly | Tue Apr 3 12:15:01 2012


Greetings. The only information i get about mainly young people burning themselves in Tibet and elsewhere is through Google alerts for the Dalai Lama. There has been no National coverage given to this shocking and very painful development in the ongoing struggle by Tibetans for the four basic freedoms: Freedom of expression. Freedom of assembly.Freedom of religion. Freedom to be Tibetans pursuing there ancient cultural traditions. As far as i can see the National media in most European countries are not pursuing these enormously important issues because the Chinese are within an ace of becoming the biggest economy on the planet, therefore European economies are rolling over backwards to please the Beijing Communist party leadership. We must however not give up. Freedom and right will win out in the end. All the best. Mathusla


Customs Exchange Rates
Currency
Import
Export
US Dollar

66.20

64.50
UK Pound

87.50

84.65
Euro

78.25

75.65
Japanese Yen
58.85
56.85
As on 13 Aug, 2022
Daily Poll
COVID-19 has directly affected your business
| | |
| --- | --- |
| Commented Stories | |