---

'A comprehensive 360 degree paradigm has now been brought to cleaning the Ganga'

---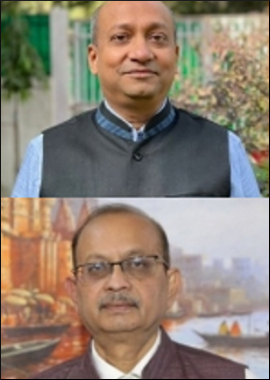 | | |
| --- | --- |
| Top Stories | |
Vishnu Makhijani (Source: IANS) | 23 May, 2022


While a whopping Rs 4,000 crore had been spent in the three decades since the efforts to clean the Ganga river began in 1986 it is only since the launch of the Rs 20,000 crore Namami Gange or National Mission for Clean Ganga (NMCG) in 2014 that a comprehensive 360 degree approach has been brought to bear and for the first time, a complete estimate of sewage treatment plants required - a vital cog in the wheel - has been worked out and is being implemented, say the authors of a new book on a river that is dear to millions of Indians.

"River cleaning is complex. We have to understand that it cannot be a one-time business since the filth is being added to the river on a regular basis by all of us on its banks. It needs to be done on continuous basis. But it feels satisfying to note that for the first time, we have a complete estimate of required treatment capacity, i.e., 3,148 MLD against which 3,363 MLD (including future needs) capacity has been lined up which includes about 2,374 MLDs already created and 989 MLDs under creation through projects already under execution," Rajiv Ranjan Mishra and Puskal Upadhyay told IANS in a joint interview of their book, 'Ganga - Reimagining, Rejuvenating, Reconnecting' (Rupa).

"This has led to perceptible improvement in water quality in several important stretches of the river. The paradigm shift from only construction to ensuring actual performance through long term operation and maintenance and PPP through hybrid annuity mode would ensure sustainability of infrastructure being created," the authors said.

Mishra, an IAS officer of the 1987 batch and an IIT-Kanpur alumni, virtually changed the discourse on Ganga rejuvenation and its long-term sustenance during his two separate stints at the NMCG, first as a Mission Director and then as the Director General. Upadhyay, a civil engineer turned civil servant and finance professional, is one of the pioneers of the clean-Ganga initiative.

They are categorical that the task is not yet over and much more needs to be done. However, the successful journey so far, as documented in the book, is a testament to the fact that a job well begun is not just half done but also provides a roadmap for future successes.

"It is also very crucial that the Mission has gone beyond cleaning. It has started making a difference towards improving ecology and flow," the authors said.

Among the firsts of the Mission are:

The evolution of the Ganga River Basin Management Plan (GRBMP) that takes into account the entire drainage area of 861,404 sq km as well as preserving the wholesomeness of the river before degradation, a hybrid annuity model in waste water management, e-flow determination and notification, ensuring ecological restoration, scientific afforestation along the river, using state-of-the-art LIDAR (Light Detection and Ranging) technology to pinpoint the network of drains and rivers releasing sewage into the Ganga, and real-time water quality monitoring stations.

"We have highlighted that not many countries have set themselves to the agenda of cleaning their rivers and make them sustainable at par with their basic needs like hunger, health and employment. India has done so. That is our country's foresight and environmental sensitivity," the authors said.

At the same time, such programmes "are not routine and cannot proceed in copybook style and it takes time in developing understanding and working out concrete strategies. The program has also evolved. We needed to be adaptive, learn, apply, fine tune and work again".

"Allocation of resources is a major issue but that can happen meaningfully only after the size of the problem has been assessed. Namami Gange has brought concrete results because it was able to translate the learnings of past experiences, global best practices and refine, adapt its implementation strategies," the authors maintained.

Namami Gange, they said, "has brought that comprehensiveness in the implementation strategy. It is tackling the issues of availability of water in the river through the environmental flow paradigm and the creation of sewage treatment capacity for the entire river simultaneously. It is also attempting to connect people to the river and make it a Jan Andolan. This is really a 360 degree approach which will ensure its sustainability too."

They also drew particular attention to the chapters titled 'Why Ganga Matters' and 'People River Connect'.

"Ganga has a special meaning for all, as it had for us in particular and we need to rediscover that. The 'People River Connect' chapter shows us a bouquet of possibilities for each one of us to get reconnected to Ma Ganga in action terms as so many of common people have already done. Their response has been humbling. We have been privileged to get an opportunity to work for Ganga at taxpayers' cost which is nothing in comparison to the selfless service being given by millions of people on its banks, conducting clean up drives, awareness campaigns and in so many other innovative ways. Let us all find our own meaning and work for it," the authors said.

What next? What's their next project?

"Right now we are focussing on expanding the reach of the book and attending various discussions. We intend to next focus on its dedicated website www.ganga3r.com, which is already launched and make it a real knowledge and action hub for #Ganga3R i.e. Ganga- Reimagining, Rejuvenating, Reconnecting as the new river cleaning paradigm. We also intend to take the learning of this programme to other rivers both nationally and internationally and show that India is a country of possibilities," the authors concluded.
Please comment on this story:
Subject :
Message:

(Maximum 1500 characters) Characters left 1500
Your name:
Customs Exchange Rates
Currency
Import
Export
US Dollar

66.20

64.50
UK Pound

87.50

84.65
Euro

78.25

75.65
Japanese Yen
58.85
56.85
As on 04 Jul, 2022
Daily Poll
COVID-19 has directly affected your business
| | |
| --- | --- |
| Commented Stories | |