---

SMEs should adopt intelligent logistics automation: Locus CEO

---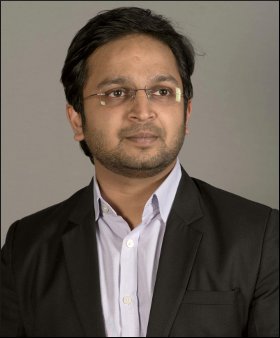 Nishith Rastogi, CEO & Co-founder, Locus.
| | |
| --- | --- |
| Top Stories | |
Rituparna Kakati | 21 Sep, 2017


Intelligent logistics automation can help not only large companies but "it completely works in favour of small and medium enterprises (SMEs)", Nishith Rastogi, CEO & Co-founder, Locus, said in an exclusive interview with SME Times. He added that Intelligent logistics automation helps SMEs to have better control over the logistics operations and also keep end customers in the loop with detailed tracking of their shipments



Excerpts of the interview...



Please tell our readers about Locus? How and why did the idea strike you?
Nishith Rastogi: Locus is a state-of-the-art decision making platform for logistics which optimizes operations to provide consistency, efficiency and transparency. Locus helps enterprises reduce logistics costs with increased efficiency, on-time deliveries and a delightful end-customer experience.
The Indian logistics market has been largely unorganised but the emergence of e-commerce over the last few years, has led to the need for growth of logistics infrastructure. Enterprises, today, want to have more control over last mile logistics. We realized that this huge demand for supply chain management can be met by introducing technology, to make operations cost-effective, efficient, hassle-free and transparent.

Realising that there was a huge opportunity in this space with technological innovation largely absent, we launched Locus, a logistics automation platform. Modern logistics solutions can be traced back to the Traveling Salesman and Bin Packing problems. Businesses have cracked both, but with the evolution of technology and market expectations, newer layers of complexities have been added to these problems.

Locus has combined solutions for all problems plaguing the logistics industry into a single platform and used heuristic algorithms to deliver efficient and accurate results. Locus serves various verticals, industries, and use-cases.

What is intelligent logistics automation? How it helps?
Nishith Rastogi: The business of movement of goods or people from point A to point B within budget and on time involves an immense amount of complexity: You're juggling between numerous depots, vehicles and customers, each with unique constraints. Typically, the logistics industry employs people to make plans and other decisions when it came to sending a shipment, be it the route to be taken, the person and vehicle assigned to a particular shipment, or even where to place a box in a trailer. That is hundreds of man-hours down the drain. In this scenario, Locus delivers end to end automation from point of dispatch till the order reaches the end customer, with an unparalleled end-user experience, with intelligent alerts & live tracking.

Locus' intelligent algorithm solves various problems of the logistics industry. One of the things that set us apart is the route planning and optimization engine that takes real world conditions into consideration. We have made sure that it works on ground despite all issues that are typical to India, for example, manually inputting addresses is one of the major challenges that the logistics industry faces, since there could be multiple ways of inputting an address which depends on person to person. Our proprietary geocoder effectively solves this using machine learning to provide accurate locations. Apart from this, we have recently launched a new product, 3D Packaging known as Packman, a packaging engine which gives efficient packing configurations for loading cargo into containers. The engine honours stipulations like stacking, orientations and packing arrangements like Last- In, First- Out.

Can SMEs benefit from such a platform? How cost effective is it?
Nishith Rastogi: Yes, it completely works in favour of SME's. Logistics and supply chain management is mostly about managing relationships. Locus' solution helps companies have better control over the logistics operations and also keep end customers in the loop with detailed tracking of their shipments. This acts as an added advantage and helps make customers more loyal while building a company. Also, we work on a pay per transaction model with no overhead costs. We don't charge any annual or quarterly licensing fee - we work on pure transaction based pricing so that we are aligned with our clients' business goals.

How efficient is logistics in India compared to developed countries?
Nishith Rastogi: India ranked 35th in the Logistics Performance Index, in the 2016 survey done by the World Bank. The results put 'infrastructure' as the major detriment for India when compared to the developed countries, much higher up in the rankings. The overall logistics competence is also ranked on the lower side.

The biggest challenge faced by India today is the poor integration of road networks, technology, warehousing & distribution facilities. It is well acknowledged that the cost of logistics is very high in India. Some estimates put it at about 14 per cent of GDP, which is higher than developed countries. A study by Assocham-Resurgent India stated that the country can save $50 billion if logistics costs were to reduce from 14 per cent to 9 per cent of the GDP. Reduced logistics costs would bring down prices of products, while also freeing companies up to focus on the infrastructure. However, India's logistics industry is experiencing a transformative phase with the 'Make in India' initiative, funding support for various start-ups, introduction of Goods and Services Tax (GST), plans for upcoming logistics parks and proactive support from the government. With the boom of e-commerce industry, it is experiencing fast growth to reach their international counterparts.

What steps the government needs to take to revolutionize this sector?
Nishith Rastogi: The government has already begun taking steps towards organizing the otherwise fragmented logistics sector with the introduction of GST. The removal of cascaded taxes and reduction in toll charges is sure to drive the free flow of goods between states and cities. Since cost has traditionally been detrimental to the Indian logistics sector, this is a move in the right direction. It is also an incentive for companies to either set up its own logistics wing or tie up with domain experts - the 3PL providers. The anti-profiteering clause, which regulates GST adherence, is sure to keep the unorganized companies in check.

It is said that GST and check gate abolition would help logistical efficiency. How and to what extent?
Nishith Rastogi: One of the key objectives of GST was to make India a single market where goods and services could flow seamlessly. Typically, check gates scrutinize material and location-based tax compliance, resulting in delays in delivery of goods, besides causing environment pollution as trucks queue up for clearance.

The introduction of multi-modal logistics parks is sure to act as a paradigm shift in warehousing since warehouse consolidation will now be driven by demand as opposed to taxes. The extent of the impact remains to be seen, but the trend points towards improved customer experience and logistical efficiency.

Do you think Indian SMEs and even large companies are lagging behind time when it comes to logistics?
Nishith Rastogi: The disorganized nature of the logistics sector in India, its perception as a manpower-heavy industry and the lack of adequate infrastructure has created problems for SMEs and larger enterprises alike. The lack of technology standard, equipment and poor systems integration adds to the woes as well.

When compared to developed countries, India has a huge scope for improvement. As SMEs and large enterprises represent the totality of the logistics industry in India, the aforementioned problems represent the problems of the country as a whole. It is essential to prioritize research and development so that the weaknesses in the industry can be taken care of and improved.

Please share future plans of Locus.
Nishith Rastogi: We want to create technology that will automate all human decisions that are required to transport a package or person from point A to point B.
Please comment on this story:
Subject :
Message:

(Maximum 1500 characters) Characters left 1500
Your name:
Customs Exchange Rates
Currency
Import
Export
US Dollar

66.20

64.50
UK Pound

87.50

84.65
Euro

78.25

75.65
Japanese Yen
58.85
56.85
As on 19 Sep, 2019
Daily Poll
Is the Union Budget 2019 MSME-friendly?
| | |
| --- | --- |
| Commented Stories | |