---

IoT based monitoring & control products can save up to 30 pc energy: Zenatix COO

---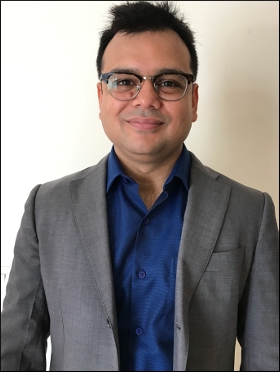 | | |
| --- | --- |
| Top Stories | |
Rituparna Kakati | 28 Oct, 2017


Internet of Things (IoT) based energy monitoring and control products can help retail chains, banking& financial set-ups, mid-sized hotels, among others, save up to 30 percent energy, said Vishal Bansal, COO & Co-founder, Zenatix, a leading provider of IoT based energy monitoring and control products.

In an exclusive interview with SME Times, Bansal added that the primary reason for power shortage in India is not the lack of generation capacity but inappropriate management of the peak load.



Excerpts of the interview...



Please tell our readers about Zenatix, its entrepreneurial journey and product portfolio?
Vishal Bansal: Zenatix is a full stack provider of IoT based automation solutions for enterprises and uses advanced machine learning based models to save up to 30% energy for large commercial consumers of electricity like retail chains and banking/ financial set-ups.

Zenatix was co-founded by alumni from IIT Delhi, IIM Ahmedabad and UCLA who were on their own journey before coming together for Zenatix. All of us, Rahul Bhalla, Dr. Amarjeet Singh and myself, strongly believed in power of technology & data and wanted to leverage these to make a meaningful contribution towards a sustainable planet. Zenatix decided to disrupt the traditional energy efficiency market by focusing on operational energy efficiency and using technology and advanced data analytics to achieve that.

Our product WattMan, is an IoT based Building Management System (BMS) tailor-made for retail chains and banking set-ups (essentially, anyone who has large number of geographically distributed infrastructure) and help them in reducing their electricity consumption by up to 30%. WattMan has been embraced by prominent names in the Indian retail and banking industry namely Mother Dairy, Domino's Pizza, Fabindia, Vodafone, Airtel, State Bank of India among others.

We recently launched WattMan Lite, a revolutionary IoT product, tailor-made for controlling stand-alone ACs over the internet. It is targeted at SMEs, schools, colleges, retail outlets, offices, pharmacy chains, etc, that need to manage a large number of ACs and save electricity.

In what way your products help save energy and how much?
Vishal Bansal: Our product, WattMan, built over a scalable IoT stack and robust hardware developed in-house, is targeted at large retailers and BFSI segment. Given the distributed nature of retail/ banking set-ups (100s of thousands of outlets/branches, spread across the country), having a control over the electricity spend and providing the right customer experience at the same time is a big challenge. WattMan addresses these challenges in an automated manner through its cloud based intelligent controls driven by advanced machine learning algorithms. It employs proprietary firmware for performing automatic sensing and control. Collected data is used to develop machine learning driven models deciding optimal operational settings based on external factors like weather and footfall, thus allowing sophisticated control and saving up to 30% energy.

WattMan Lite does automated control for ACs, monitors temperature and humidity in real time and uses machine learning algorithms to raise alerts in advance if an AC needs servicing.

Are Zenatix's products applicable to small and medium enterprises (SMEs)?
Yes, we cater to SMEs as well. WattMan is also deployed at mid-sized hotels that typically have 20-25 rooms. For such hotels, it's a common problem that ACs keep running beyond room occupancy for hours, and it becomes difficult for the ground staff or the admin team to track and manage such a large number of ACs across different floors and rooms.

Our customer acquisition is a combination of direct sales and channel partnerships. Since we are selling an innovative product, creating awareness is extremely important. We use a variety of marketing channels to create awareness about our product like content marketing through blogs and videos, email marketing and direct reach out to potential customers.

What is your view on the power shortage challenge facing the Indian industry?
Vishal Bansal: The primary reason for power shortage in India is not the lack of generation capacity; - India has more than enough generation capacity to meet its demand. However, due to the variations in the electricity consumption at different times of the day result in demand peaks. (Mis)management of this peak load is the primary reason behind power shortage. The distribution companies need to have enough supply to cater to these peak demands. However, this means a lot of electricity gets wasted during the off peak hours. Therefore, efficient demand side management and accurate peak demand prediction is crucial to ensure 24×7 electricity supply without much wastage during off-peak hours. If the peak can be flattened, it can result in easier and cost-effective path towards 24×7 availability. Real time monitoring and control, together with analytics in the cloud can help utilities perform several demand side management programs such as Demand Response System and work towards peak flattening.

We would like to hear from you on the current crisis engulfing the discoms.
Vishal Bansal: One of the many crises that discoms face today is electricity theft. India is one of the worst affected countries and controlling theft is imperative to provide uninterrupted power to the entire country. The government has recently announced that it will spend more than Rs. 25,000 crore to tackle the problem of electricity theft. The amount of money reflects the magnitude of the problem. The money will be largely spent on upgrading electrical infrastructure and new metering across the country. In fact, a contract of more than Rs. 1300 crore was awarded last month to install 50 lakh smart meters in parts of Haryana and Uttar Pradesh.

The decision to invest in advanced metering and infrastructure up gradation is commendable and shows that the government is serious about tackling this problem. This opportunity of upgrading the metering infrastructure should be appropriately utilized to put in place Advanced Metering Infrastructure (AMI) that can provide real time consumption data and smart data analytics can be leveraged to identify abnormal consumption trends and possible theft and fraud.

Please let us know the future plans of Zenatix.
Vishal Bansal: In future, we would like to expand to other customer segments such as large office buildings, large hotels, hospitals, industrial units etc. Zenatix aims to develop more products so as to address the energy efficiency problem across a range of customers and eventually help electric grids turn smarter. We currently have WattMan deployments across the country at 750 locations and our aim is to take the count to 5000 locations by August 2018.

Our team is continuously developing and adding use cases to our products so as to deliver more value to customers, while simultaneously innovating technologies to reduce costs of hardware and improve its robustness.

We are working on developing channel partnerships with other players who provide orthogonal solutions to our target market segment e.g. those providing electrical panels. Such partnerships will help us achieve faster growth in a shorter span of time. We are currently running pilots in Southeast Asia and soon will expand to further into the region.
Please comment on this story:
Subject :
Message:

(Maximum 1500 characters) Characters left 1500
Your name:
Customs Exchange Rates
Currency
Import
Export
US Dollar

66.20

64.50
UK Pound

87.50

84.65
Euro

78.25

75.65
Japanese Yen
58.85
56.85
As on 14 Dec, 2018
Daily Poll
Is counterfeiting a major threat to SMEs?
| | |
| --- | --- |
| Commented Stories | |