---

To grow business online SMEs must embrace technology, start with small: VP & MD, GoDaddy India

---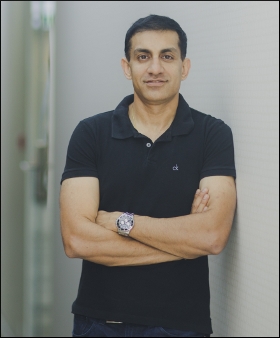 | | |
| --- | --- |
| Top Stories | |
Saurabh Gupta | 04 Oct, 2017


The small and medium enterprises (SMEs) in India have to embrace technology and start with small amount to grow their business online, Vice-President and Managing Director, GoDaddy India, Nikhil Arora told in an exclusive interview to SME Times.





He said, "GoDaddy powers the world's largest cloud platform dedicated to small, independent ventures. Our mission is to give our customers the tools, insights and the people to transform their ideas and personal initiative into success."


Excerpts of the interview...

Lets start with GoDaddy and its latest launch 'GoDaddy Business Hosting'.
Nikhil Arora: We are world's largest small business platform.

Today

we have about 71 million domains under management and over 17 million small business customers and independent ventures worldwide. In India we are

today

at over 750,000 customers and we have over 30 percent market share in the .in domain world.





The mission of GoDaddy Inc. is to shift the global economy towards independent ventures and small business. So essentially we want small business/ independent ventures to easily start, confidentially grow and successfully run their business. Ultimately that's the segment we focus and always focus on. In India it's the same we focus on micro, small and medium enterprises (SMEs) and really want to help them in their journey to become digital and to make their online presence. In terms of product portfolio, we starts from domains, then we have website builders, then we have hosting products, then productivity tools like emails, some office products and then some security products like SSL etc.





We started here (India) in 2012, just from a 5 year base, from about 40 care agents,

today

we have about 700 care agents. We used to get probably 30-40 calls per day,

today

we are getting 4000 calls a day and i.e. 160 conversation happening every hour or you can say having 3 conversation in every minute. As we had introduces chat also, so we had over 300,000 chat conversation.





Our customer care centres play a very big part in helping and educating our customers. GoDaddy is the world's largest technology provider dedicated to small businesses.





What strategy we follow...first one is awareness, but awareness is all driven towards the benefits of going online and how does it help you. Then we have the customer care — which really is more of a hand holding tool to help our customers get started, use the products and then after sales services. Third is ecosystem — which is how do we leverage India ecosystem especially you have web developers, web pros and then resellers. Lastly is relevance and relevance is around localization i.e. we work in four regional languages of India and our care centre talks in six languages, which primarily covers about 60-70 percent market of India. So these are the four pillars of our strategy.





Despite the simplified and easy-to-use cPanel, if some one (SME) requires technical help?


Nikhil Arora: We have our customer care centre, which is 24X7 for almost all kind of technical and internal supports. We have trained specialists as part of that care centre. What we don't do is like we don't go to the site of the customer but most of the stuff is resolved through calls and also since many of the small businesses have web pros as their web managers so those guys call us and they pass it back to small businesses. One of the big initiative, which we have launched, is customer engagement programme. In that we actually going out and visiting customers personally in their premises. And the intent of that is we want to go into the customer's environment and want to understand the problems both they articulate and they not articulate. Because when we want to develop our product we want to understand what are the constrains that SMEs are working in. We take real time feedback and I don't think many companies do these types of programme. Our intent of this programme is to get customer's feedback but also help these customers promote themselves. So we are putting out their testimonials, case study and helping them through different campaigns.





GoDaddy is dedicated to small and medium enterprises (SME) sector in India. Why SMEs?
Nikhil Arora: First, Godaddy was founded on the premise that it will serve the independent and small business because that is probably the largest business segment in the world and perhaps the most under served because most of the products are catered to large enterprise. It is probably the hardest segment to crack because there are lot of in-depth high-tech connection needed with customers. So GoDaddy was founded on that premise that we want to basically help SMEs so that they can easily start, confidentially grow and successfully run their entrepreneur. Secondly if you look at India, there are about 51 million SMEs and less then 20 percent have penetrated the internet. So runway is huge -- the market opportunity and as India gets more and more digitization I thing for GoDaddy that is a great opportunity using the strengths we have and also helping in digitization of India.





How many SMEs in India have their own website? Do you have some facts or sector analysis of SMEs in India? Please share.
Nikhil Arora: From public sources, we know that there are about million websites in India and there are roughly about 6 million domains. Also there are hybrids where people are going on social media despite have website. So there are multiple models are coming. But what we know for sure is the SMEs which have gone online they tend to grow and profitable two times then the person doesn't do. Different surveys has been done that the profitability of a business, who is digital, is twise the businesses those are not digital. And that make sense because you have scale, you have reach and obviously you have in more productive tools.





We had conducted a study on SMEs last year called 'Future of Work' survey, a global study that delves into entrepreneurial intent, attitudes and outlook when considering starting or running a small business. 60 percent of the approximately 1,200 respondents in India, currently working in small or mid-sized organizations; plan to be entrepreneurs over the next 10 years. Interestingly, the proportion of those wanting to start their own business is significantly higher in India when compared to Australia, Brazil, Canada, China, Hong Kong, Turkey, Singapore, the United States and United Kingdom.





A remarkable 85 percent of aspiring and current entrepreneurs in India say that they are undeterred at the prospect of failure and are relentless in the pursuit of entrepreneurial success.





According to that:
- 70% of respondents in India mentioned that they were either employed or working when they decided to start their own business vs. developed economies where respondents chose entrepreneurship by choice or while they were in college and completing their graduate programs
- Experience triumphs education when it comes to gaining the right skills to be an entrepreneur. Close to half of the respondents (45%) say that work experience is most valuable, while only 12% believe education gets them ready to become an entrepreneur
- 79% of the surveyed workforce believe technology has made it easier to become an entrepreneur in

today

's time
- Around 63% of the future entrepreneurs believe in following their parents' footsteps to start their own businesses and admire the hard work put in by their parents
- 62% want their business to internationalize and have global customers





Some SMEs belief that they are doing good with whatsapp and facebook. Why having a website is must for them?
Nikhil Arora: We kind of grounded ourselves on three pillars, Awareness, Accessibility and Affordability. So awareness is all around in our marketing campaigns. Our ads like 'Internet Ko Kaam Pe Lagao' was all based on helping them (SMEs) understand what happen when you go online, what new things can you achieve when you go online. So when you have the awareness, you obviously use other tools too. And whatsapp and all are good tools but to have your own stand alone presence, you have to have your own unique identity. It is like renting in a room or having your own house. So we try to explain it in a very simple way that having your own digital identity is as simple as having your own physical identity. Then once that platform (social media etc) decides to do something different you are like captive of that. Having your own website is having your own control so you can do different things. You can change, adapt as the market changes. And its not as expensive as the perception is. We brake it down.

Today

with one of our product you can start with Rs. 250. So I think making them (SMEs) aware about the benefits and also affordability really help them to understand this.





You said 'Internet Ko Kaam Pe Lagao' but how internet will work unless they get good placing on search engines?
Nikhil Arora: We have different tools and products which are helping our customers in both, how to organically show up better and then pay it. So as part of it, we tells what kind of content you use so you organically show up, which is the cheapest way. And then on paid site we provide kind of tools and making them aware about the paid model. We are trying to educate them around what kind of template should you built to make the chances of getting higher online traffic.





Your hosting platform is fully optimized for high-traffic websites, e-commerce and resource-heavy websites. Please elaborate.
Nikhil Arora: As part of our customer engagement programme, we came up with this product. Many of small business don't have dedicated technology or right IT person so they start up with shared hosting product but as they grow the traffic starts coming in, they place more videos on it, have more pictures on it and more stuff needs more storage then going to private server is a bit expensive and also need technical expertise. So this business hosting product is basically an easy migration from a startup business to grownup business. And what it dose is very simple like through just one click you can migrate all the stuff you have on shared hosting. So it is simple and don't need technical expertise. We have three versions of products. We have products for small, medium and for large businesses as well and same time it is very easy to switch from small to large package. So I think it fits with SME segment very well.





There are few things like SSL certificate, Website Security Essential malware scanning & removal are free for first year. Then after what will be the charges?
Nikhil Arora: Even

today

our SSL products are fairly cost efficient. Security features are must, nowadays numbers of hacking tricks are coming through and one can lose stuff overnight. This is such a small investment that is starts from Rs. 99 and our intent is to bring small business online and then migrate over time to high end products. So that's why our pricing is very much focused on adoption, education and usability.





From domain booking to website builder and now hosting platform, what next?
Nikhil Arora: Yes we have domain, website builder, hosting and then productivity tools like business emails, SSL etc. so as part of our strategic road map we are looking and we are talking to customers to say what are the kinds of job can we solve for them, which are our competency. This is the product road map, which is kind of being devised and refreshed every year. We are going through that process so towards the end of the year we will be able to come up with one or two next products.





Also Mobile is big space, as

today

in India close to a billion people are on mobile, especially in tear 2 and tear 3 towns. It is like mobile first so we will also look at mobile friendly technology. The mobile space is such as we either make our existing products more mobile friendly or have new products before it becomes mobile only. I think now its like 'mobile + online' because mobile its own can not solve every thing and online its own can not solve every thing. So I think the whole mobile online space would definitely kind of portfolio of segment where we look at in future.





What will be your message to SMEs?
Nikhil Arora: There is always a fear of change. When you are not online the technology is seems to be very complicated, second SMEs think that how its going to happened. So first of all, embrace technology and start small. No need to kind of go too big and too complicated. SMEs have to embrace technology and start small. Becoming online is always like start with online identity. As you evolved then reach out to players like us because we have big care centers and have big education awareness focus. And I think with government's 'Digital India' push there is even more stuff happening. Also talk to peer and look at the case studies of your peer who have embrace technology and what's happened to them.





So embrace technology, start small, look at to your peer and partners with players like us because we are here to really be in the journey. Our job is to fall in love with our customers' problems.
Please comment on this story:
Subject :
Message:

(Maximum 1500 characters) Characters left 1500
Your name:
Customs Exchange Rates
Currency
Import
Export
US Dollar

66.20

64.50
UK Pound

87.50

84.65
Euro

78.25

75.65
Japanese Yen
58.85
56.85
As on 13 Aug, 2022
Daily Poll
COVID-19 has directly affected your business
| | |
| --- | --- |
| Commented Stories | |