---

SME sector's credit needs well-served by new age lenders: Rubique CEO

---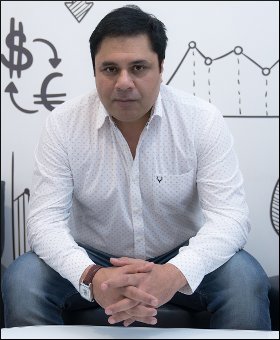 | | |
| --- | --- |
| Top Stories | |
Rituparna Kakati | 27 Jul, 2017


While Indian small and medium enterprise (SME) sector is struggling to get loan from traditional lenders including banks, the new age lenders like fintech firm and Non Banking Financial Companies (NBFCs) are doing a great job in serving the sector in this regard, said Manav Jeet, MD & CEO, Rubique, in an exclusive interview with SME Times.



Excerpts of the interview ...



Please tell us about the business model of Rubique
Manav Jeet: Rubique is an online marketplace for financial products offering a wide range of loan products and end-to-end loan fulfillment to individuals and MSMEs. Its tech-led lending solution is driven by a unique matchmaking algorithm and direct integration with financial institutions' lending systems that is focused on disbursement rather than mere lead generation. This enables the customer to get the best deal in the quickest possible time while lowering the cost of customer acquisition for the financial institution.

How it helps SMEs compare and get loans?
Manav Jeet: Rubique has created the TAB solution offering a wide SME product portfolio. The products on this solution cover low to high risk capital requirement through 5 broad-level product categories of 2 secured – LAP, MEL, 3 unsecured – Micro Business Loan (>5 lac), Unsecured Business Loan, Commercial Vehicle Finance. The platform also incorporates the Rubique Advantage feature which brings advance technology propositions like eligibility check through matchmaking algorithm, quick decisioning on the application, real time credit bureau check & real-time status tracking by integrating with financial institutions' systems. Additionally, the solution also includes advanced technology features like IRIS scan for Aadhar authentication, & generation of credit assessment memo (CAM) along with deviations enabling the credit underwriter to take quick decisioning & reduce the processing time further.

Why SMEs should approach Rubique, instead of directly approaching the lending institutions?
Manav Jeet: SME finance is very subjective as there is difference between what is considered as SME for each financial institution based on its risk appetite. Therefore, the discovery stage to find right financial institutions is a cumbersome task for customer. Due to complexity in policy structures, customer is unaware of the exact documentation required due to which there is too much to & fro for the documentation. Due to cliché terminologies used by financial institutions, there is often miscomprehension of product requirement. Hence SMEs needs to be guided on the capital requirement & evaluate it on based on the need. Absence of such services give rise to exponential rejection rates. We are working towards such solution which helps to assess need based capital requirement through technology platform & guides him with correct fit of financial institution

What are the added advantages you offer?
Manav Jeet: As mentioned earlier, the Rubique advantage features of e-KYC, matchmaking, real time CAM generation etc. are reduces the documentation processing time significantly. As the application is processed through technology solution, the entire process is seamless.

Rubique has also extended its product portfolio by offering hassle-free general, life and health insurance solutions to the existing customer base.

What is your view on the ongoing scenario of bank lending to SMEs?
Manav Jeet: Most of the times, SMEs struggle to get finance from financial institutions due to their lack of experience, absence of collaterals and infrastructure, and stringent credit policies. There are new age lenders/NBFCs which are venturing into this space who offer quick & small ticket size loans. These lenders are using alternative data scoring methods to assess the creditworthiness of SMEs. These lenders claim to disburse loan as quick as within 24 hours. This segment has huge potential & definitely going through interesting phase with entry of these new incumbents like new age lenders & fintech companies. By inculcating technology in the SME market section, fintech firms are streamlining the lending process, lowering the cost of booking loans and increasing transparency & important of all reducing the rejection rates. It is bringing about a transformation in the traditional loan processing practices Technology is simplifying the entire business financing process by bridging the gap between customers & financial institutions by providing technology platform to match as per product & capital requirement fit. This enables to reduce the time significantly in initial search process & due to technology assessment, brings in more predictability for the customer

Why and how much important is it for an economy to avail easy and cheap loans to the SME sector?
Manav Jeet: SME sector is backbone of Indian economy. In India, SMEs employ around 40% of India's workforce, which is an estimated 80 million people, who are given an opportunity for livelihood and employment via low-skilled jobs. Around 1.3 million SMEs contribute 45% to India's manufacturing output and 40% of India's total export. In a way, they form the backbone of the Indian economy. At 48 million, India has the second largest number of SMEs in the world. They are exposed to greater opportunities for expansion and diversification across the sectors. Though there is lucrative growth, there is still funding gap which is estimated to be around $380 billion which makes it a potential segment to focus on to ensure easy access to finance.

What are your views on the newly implemented GST and its possible effects on the SME sector?
Manav Jeet: Our country's paradigm shift to the GST regime will bring a huge transformation in the Indian SME industry. The centralized registration enabled by this tax structure will make expansion of small business ventures easy. With no entry tax being charged for goods manufactured or sold in any part of India, the logistics cost for manufacturers of bulk goods will get slashed significantly, thereby improving the logistics and boosting e-commerce across the nation. Overall, this simplified and revolutionary tax structure has tremendous potential to improve the operational efficiencies of SMEs, especially the ones that have a wider reach.

What are your future plans?
Manav Jeet: We strive to digitize entire value chain in the loan ecosystem & ensure maximum technology usage to ensure smooth access to finance for customers. After disbursing over 1250 crores of loans & 35,000+ cards in 27 cities, we are planning expand our geographical reach. We are also planning to add more products in our portfolio like Insurance & mutual funds.

Please comment on this story:
Subject :
Message:

(Maximum 1500 characters) Characters left 1500
Your name:

Loan Matter


Herman | Wed Aug 2 05:26:23 2017


Now a days its very difficulty to get a loan for a person who is having assets and having capacity to do good business. why because they need lot of papers and approvals. God knows about the new systems like GST and all. Lets hope for the best. Herman



SME sector - Opportunities & Way Forward


Mi Mumbaikar - Manish Warlikar | Tue Aug 1 04:11:51 2017


This information is really good for existing & new MSME sector entrants.Rubuique CEO has provided valid inputs & opportunity for SMEs to start / expand their business through these options...


Customs Exchange Rates
Currency
Import
Export
US Dollar

66.20

64.50
UK Pound

87.50

84.65
Euro

78.25

75.65
Japanese Yen
58.85
56.85
As on 18 Jul, 2018
Daily Poll
Is counterfeiting a major threat to SMEs?
| | |
| --- | --- |
| Commented Stories | |