---

Note ban is a Modi-made disaster for India: Congress leader Kharge

---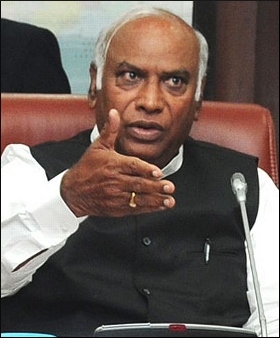 | | |
| --- | --- |
| Top Stories | |
Fakir Balaji | 02 Jan, 2017


Congress leader Mallikarjuna Kharge has termed demonetisation as a "Modi-made disaster" for the country, which reels under its impact even 50 days after it was announced on November 8.

"Demonetisation is a Narendra Modi-made disaster, as evident from its fallout on the people, their livelihood and the economy as a whole. The Prime Minister should accept that the unilateral step was a huge mistake and apologise to the people for disrupting their life and occupation," Kharge, who is the party's leader in the Lok Sabha, told reporter in an interview in Bengaluru.

Questioning the motive behind suddenly demonetising Rs 500 and Rs 1,000 notes without preparation or alternative arrangements to prevent a crisis, Kharge said the government had no mandate to make the people, especially the poor, marginalised and farmers, suffer for its failure to curb black money, eliminate fake currency and terror funding through its official and legal machinery.

"Why are ordinary people made to pay a price for the sins of the corrupt, tax evaders, black marketers and creators of ill-gotten wealth through unaccounted cash and illegal means? In what way are law-abiding citizens responsible for the failure of the government agencies in detecting or curbing the menace," Kharge asked.

Clarifying that the Congress was not against any measure to check black money, detect fake currency and stop terror funding, the seasoned Karnataka lawmaker termed the note ban a flop show as the perpetrators of the parallel economy continued to thrive across the country.

"The fact that the Income-Tax Department and other enforcement agencies have been finding and seizing huge amounts of old and new notes, unaccounted cash, gold, jewellery and undisclosed income worth crores of rupees prove that the note ban has neither served its purpose nor met its objectives," Kharge asserted.

The former Union Labour and Railway Minister, who represents the Gulbarga parliamentary constituency in the state's northern region, also wondered how the Reserve Bank of India (RBI), the Finance Ministry and state-run banks allowed the government to scrap 85 percent of the currency overnight without doing homework or keeping enough cash in other denominations to replace them in time.

"If Rs 12-13 lakh crore of the banned notes have been deposited or exchanged in banks for the new currency over the last 45 days, as admitted by the RBI and the Finance Ministry, where is the black money?" Kharge asked.

Accusing the Modi government of harassing and punishing the people for no fault of theirs, Kharge said due to insufficient cash in banks and with employers, lakhs of workers in the informal/unorganised sector and farming communities were not paid wages in full this month.

"The cash crunch has severely affected the poor and the migrant labour most, as they have been forced to return to their native places or villages in the absence of work and daily wages. The situation is grim in towns and rural areas, where income-generating activities have come to a standstill," Kharge lamented.

Observing that demonetisation had no bearing on the rich, affluent and upwardly mobile who are resourceful, well-connected and can live using debit/credit cards and digital payments for any transaction, the opposition leader said they constituted only 10 percent of India's 1.25 billion population, while the remaining 90 percent were cash-dependent for a living.

"Surveys have shown that one percent of the population has 60 percent of the wealth, with about 50-60 families holding 30 percent of it. In contrast, the remaining 99 percent of the people struggle to live on the remaining 40 percent of wealth," Kharge averred.

Noting that mobile/internet service providers and digital players would be the real beneficiaries of the cash scarcity and the government's drive for electronic payments, Kharge said every transaction through cell or smart phones and other mobile devices would earn them crores of rupees as transaction fees, however nominal it may be.

"With transaction volumes in millions per day, you can estimate how telecom operators, banks, financial intermediaries and other stakeholders in the chain will reap a windfall from cashless or less cash economy," added Kharge.

Kharge was in the city to unveil a four-day photo exhibition on how the cash crunch made Indians paupers by Bengaluru-based ace lensman K. Venkatesh at the Karnataka Chitrakala Parishad in Bengaluru. (Fakir Balaji can be contacted at fakir.b@ians.in)
Please comment on this story:
Subject :
Message:

(Maximum 1500 characters) Characters left 1500
Your name:

Demonitization


Rizwan | Wed Jan 11 06:42:03 2017


Its a flop show, neither it has helped in short term nor its going to serve the purpose of government in coming months. Black money is a continuous process it will keep generating with the passage of time. Need of the hour is to come out with some concrete steps as far as taxation is concerned and tough Laws need to be made and implemented to check corrupt.



Note ban Modi disaster for country


Dr. Dinesh | Wed Jan 4 03:08:47 2017


Sound is true, Failure is witnessed, We all peoples suffered without any of our dues or without any guility whole country suffered loss. There is no out come even petrol diesel price hiked. moked all country is living in trouma..


Customs Exchange Rates
Currency
Import
Export
US Dollar

68.65

67.00
UK Pound

86.50

83.75
Euro

72.45

70.00
Japanese Yen
58.75
56.85
As on 21 Jan, 2017
Daily Poll
Do you see a corporate tax cut in coming Budget?
| | |
| --- | --- |
| Commented Stories | |