---

Govt needs to create more awareness about Digital Payments: Founder, M2P Solutions

---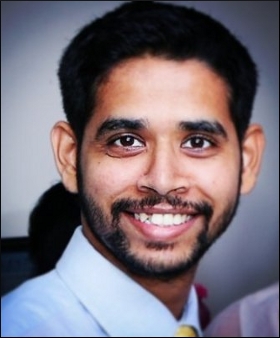 | | |
| --- | --- |
| Top Stories | |
Saurabh Gupta | 21 Dec, 2017


The biggest challenge with Digital Payments in general and new tech products in particular is customer adoption takes time. And awareness creation at a scale can only be achieved by Government. Secondly, Government is the largest receiver (taxes) and giver of Money (grants, subsidies) all of them will have to move digital and will need to be incentivised, said Madhusudanan R, Founder, M2P Solutions Pvt. Ltd. in an interview.


Excerpts of the interview...

Please tell our readers about M2P Solutions Pvt. Ltd..
Madhusudanan R: M2P Solutions is a 3-year-old Payments technology company based in Chennai, Started in 2014, by 3 professionals with wide ranging experience in Payments, Mobility and telecommunication networks. At M2P we are attempting to leverage our deep-rooted understanding of the Payments landscape to build a tech stack that is not just Next Gen from payments perspective but focuses on becoming a bridge that will help consumers transition from cards payments to mobile. We are addressing B2B2C payments and have built a NEO banking Platform that businesses can adopt and roll out their own payment products. The business is divided between Prepaid Program Management and building out a Digital Acceptance ecosystem. (specifically UPI and BharatQR)

Why YAP? What is your USP?
Madhusudanan R: Our Payments Platform Yap is at the intersection of Commerce, Payments and Inclusion. YAP powers all the Retail payments in the country and is at the forefront of driving adoption of new and efficient payment methods that includes Prepaid cards, Digital wallets, BharatQR, Toll Payments, UPI, with a specific focus on Program Management to help businesses adopt digital payments in an efficient manner. We are the only company offering all Retail Payment products over a bundle of Rest API's

Do you have options like multi-currency processing, translate different languages, host secure pages and flexible 3D secure etc? Please share details.
Madhusudanan R: We power Prepaid cards and wallets, over a million cards have been issued on our Platform across Visa, Mastercard and Rupay Programs. The 3D secure pages have been developed indigenously built ground up by our engineering team. Our platform supports multicurrency.

What kind of startups do you work with?
Madhusudanan R: With little or no competition offering the breadth of products we offer in the boxed solution approach, Many Startup's rely on our platform not just for the technology but also our deep understanding of the domain. We have Startups across verticals running off our platform

Payments (SafexPay, PayVega, Slonkit)
Corporate / Expense management (Paysack, Cinqo, Techmojo),
Alternate lending (Stashfin, Olly Credit)
Retail / Financial Inclusion (BharatPay, Payzello),
Merchant Payments (Benow, Trupay, Slonkit)
What are major issues in your segment?
Madhusudanan R: The biggest challenge with Digital Payments in general and new tech products in particular is customer adoption takes time, most of the times we are dealing with habit forming or changing products that is difficult to drive at scale to get meaningful traction. This coupled with the fact that the sheer number of choices in front of the consumer in India is really a challenge we are trying to surmount in different ways.

How you see the issue of fraud protection and risk management?
Madhusudanan R: Payment systems are all about trust and integrity, we have the highest standards of Risk management, the first person to come on board to the company is Raveendrun, a seasoned expert in Operations Risk management and has over 2 decades of managing Payments system risk across ICICI Bank and Visa, as this is a journey and never a destination, we review risk coverage and controls. Suffice to say, we are always keeping our eyes and ears open to risks faced by other payment companies across the globe to make sure any unknown vulnerabilities do not creep in.

What government can do to overcome those challenges?
Madhusudanan R: Digital Payments have witnessed massive fillip from the Government over the past few years. While a lot has been done, we will still need to get customers to adopt and use them persistently, so awareness creation at a scale can only be achieved by Government. Secondly, Government is the largest receiver (taxes) and giver of Money (grants, subsidies) all of them will have to move digital and will need to be incentivised.

There are number of payment service providers across the globe and also in India. Even Indian government have its own platform - PayGov etc. How you see your prospects in Indian market?
Madhusudanan R: We have carved out a niche in the B2B Payment solutioning side, we have been growing 3-4X year on year, the breadth of products we offer and the ever expanding platform play is something we have been able to build over a period of time. We have had some first mover advantage and we will keep diligently executing on the our Go To Market.

What are new payment methods coming now a days?
Madhusudanan R: There are a plethora of options, UPI and Toll payments are the new solutions that we have been working on and we do hope to develop products around these India specific payment methods.

What are your future plans?
Madhusudanan R: We intend to build vertical specific payment products leveraging Cards / UPI and NETC toll payments and we do hope to expand to other markets across Middle East, Africa and South East Asia.
Please comment on this story:
Subject :
Message:

(Maximum 1500 characters) Characters left 1500
Your name:
Customs Exchange Rates
Currency
Import
Export
US Dollar

66.20

64.50
UK Pound

87.50

84.65
Euro

78.25

75.65
Japanese Yen
58.85
56.85
As on 23 Oct, 2018
Daily Poll
Is counterfeiting a major threat to SMEs?
| | |
| --- | --- |
| Commented Stories | |