---

Small loans initially help MSMEs build credit history: Aye Finance CEO

---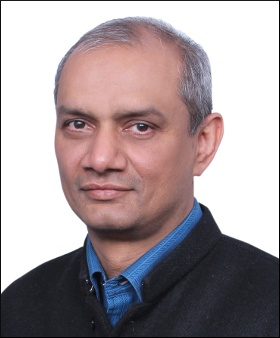 | | |
| --- | --- |
| Top Stories | |
Rituparna Kakati | 21 Aug, 2017


Micro, small and medium enterprises (MSMEs) should initiate borrowing relationships with organized finance companies or banks even if the loan amounts initially are small, so that they can build credit history, which will subsequently help them get loans of bigger amounts later, said Sanjay Sharma, MD and CEO, Aye Finance, in an exclusive interview with SME Times.

They should also maintain regular books of business accounts so that the lenders can have visibility of their business scale, Sharma added.



Excerpts of the interview...



Please tell our readers about Aye Finance. What is the idea behind starting this venture?
Sanjay Sharma: Aye Finance is a new age finance company providing business loans to the small and micro enterprises across India.

There are over 57 million micro and small enterprises in India that are unable to prosper due to a funding gap of over Rs 5 trillion ( as estimated by Mudra Bank). Vikram and I , both the founders of Aye Finance, are career bankers and we started Aye Finance in 2014 with the aim to transform the micro and small enterprise financing in India by innovating on the methods that enable effective credit underwriting of this segment.

We started work on this idea in the year 2013 and conducted detailed field studies at six industry clusters in India- personally meeting the proprietors of over 300 micro enterprises. This understanding was then translated to the design of an innovative method for underwriting and design of a business loan that would be of value to the micro enterprises.

On April 2014, the company gave its first business loan to a micro enterprise at its Karampura branch in West Delhi. Since then the company has expanded to 72 branches across India and have disbursed loans to over 20,000 micro enterprises.

Aye Finance claims that its business loans are empowering the economic transformation of micro enterprises in India. What is Aye Finance's vision and mission?
Sanjay Sharma: Micro and Small enterprises are the bedrock of industrial output and employment in India. India has over 80 million people employed by small and micro enterprises that deliver over 30% of the Country's Industrial output by value. Despite being a critical sector in the economic growth of the country, Micro Enterprises biggest pain area continues to be lack of adequate and timely finance to fund their requirements. Micro Enterprises are ignored by Banks and Finance Companies in India because traditional credit information on them is thin and cost of servicing these small ticket loans is high.

Aye Finance is a commercial institution built around the mission to solve these challenges of funding MSMEs and enabling their inclusion into the mainstream of the economy by making a ground level connect with this thriving sector and offering customized and innovative financial products.

Aye is enabling the financial inclusion of these micro enterprises having devised technically enabled processes to builds credit insights through a variety of available business and behavioral data. This effective credit appraisal coupled with the use of modern workflow automation, and a small but engaged workforce is helping Aye bridge the gap between the MSMEs and organized lending.

Over the last few years, credit growth has failed to encourage the MSME sector. Do you see improvement in near future?
Sanjay Sharma: I am quite optimistic about the credit growth in the MSME sector. Not only are private NBFCs like Aye Finance growing their reach rapidly, but there is also a strong push from the government to encourage this segment through 'Make in India' and Mudra Bank initiatives. It is well known that the NBFC lending is growing faster than the lending by Banks in India and the growth in loans to MSME sector is one of its components.

In India the MSMEs account for only 8% of the GDP as compared to 25-35% in most developed countries. Indian MSMEs have have a lot of headroom to catch up to this international trend and there is no doubt in my mind that the MSME sector will advance robustly supported by expanding MSME lending.

What are the fundamental problems preventing Indian MSMEs from getting adequate and affordable loans from banks?
Sanjay Sharma: The MSME segment is unable to obtain adequate and affordable loans from banks due to some large practical obstacles.

Firstly MSMEs do not maintain good formal records of their business sales , expenses and profits. In the absence of this banks cannot apply their standard methods of loan appraisal.

Secondly The loan sizes are small and hence banks find it difficult to manage and service these loans profitably. The other larger loan products are always more profitable for banks.

Thirdly the MSMEs often do not have prior loan repayment track record, as no bank or NBFC has lent to them. This is another reason for Banks turning the MSME companies away.

There is also a perception among banks that the micro and small companies, are susceptible to more risk and that this risk cannot be diversified away.

How should a small business prepare to be credit worthy in the eyes of banks and other lending firms like yours?
Sanjay Sharma: This is a very constructive question. MSME's can help minimize this problem of creditworthiness by creating a positive credit track record. For this they should initiate borrowing relationships with organized finance companies or Banks even if the loan initially is small. As their credit history builds, they will find it easier to get loans of quantum suited to their business volumes.

They can also start keeping regular books of business accounts so that the lenders can have visibility of their business scale.

Please tell us about the product range of Aye Finance.
Sanjay Sharma: Our products are designed keeping the unique needs of the micro enterprise segment we lend to. Our loans can cover a variety of business needs - we offer working capital loans, loans for purchase of machinery and even loans for fixed capital requirements or for expanding the business. We also help our customers to consolidate their debts and thereby reduce their interest burden.

There is a big "Make in India" logo on your website? What is your views on this flagship programme of the government, its current status and prospects?

The Make in India has caught the imagination of the nation and empowered us to dream of becoming an industrialized nation. This drive can develop a business eco system that helps MSMEs delivers the right product, the right quality, the right solution and the right service at a competitive price, both for the domestic and as well as global markets.

This is a transformational initiative and hence it faces a huge challenge in its implementation. These are initial days and our hope is that the MSMEs will rise up to the task and the governmental machinery will transform itself gradually into an enabler of industrial activity.

What are the main challenges, besides lack of timely and affordable credit, do you think Indian MSMEs are facing currently?
Sanjay Sharma: Although lack of funding is widely stated by MSME owners as their most significant obstacle, there are also other challenges. The MSMEs often have limited knowledge of markets and hence are suboptimal in developing their businesses. There is also a limited amount of managerial capabilities due to which they cannot delegate the management tasks to other employees. There is also a limited knowledge of the best technology to adopt in their operations. So they struggle with outdated technology, do not have access to sophisticated marketing and distribution strategies and are unable to hold on to skilled labor.

Though the government provides preferential support to the sector, most of business are not aware of these policies or are unable to cross the barrier posed by the paper work and red tape.

Finally, please tell us about Aye Finance's future plans and goals.
Sanjay Sharma: Aye was started with a vision to become a leading finance company in India lending to micro and small enterprises. We are building an institution that would be innovative and customer oriented and win the admiration of not just customers but also its employees and investors. These are lofty goals and the team is not afraid to chart a path where none exists.

We have made a wonderful start. In the last 3 years we have provided loans to over 25,000 customers with a credit quality of our loan book that is better than many large scale lending books of banks . In the next 5 years we hope to scale this up to over 300,000 customer with a Loan book of over INR50 billion. We want to maintain a high level of credit quality of our book with use of data insights to optimally mitigate operating and credit risks. This would make us one of the leading finance companies in the micro enterprise lending space.

To achieve our vision to be an admired organization, we also are working to maintain and grow an engaged team of employees that shares in our wins. As for the investor value, that would get taken care of if we do a good job or running the enterprise.
Please comment on this story:
Subject :
Message:

(Maximum 1500 characters) Characters left 1500
Your name:
Customs Exchange Rates
Currency
Import
Export
US Dollar

66.20

64.50
UK Pound

87.50

84.65
Euro

78.25

75.65
Japanese Yen
58.85
56.85
As on 18 Jun, 2018
Daily Poll
Is counterfeiting a major threat to SMEs?
| | |
| --- | --- |
| Commented Stories | |