---

Low price, easy process key advantages of Vamaship Logistics: Bhavik Chinai

---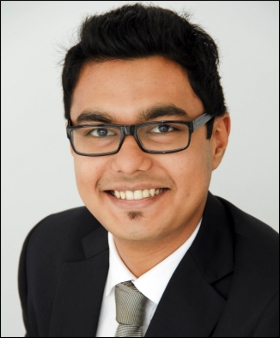 | | |
| --- | --- |
| Top Stories | |
Saurabh Gupta | 09 Aug, 2017


Bhavik Chinai, Founder & CEO of Vamaship - a startup in the business of logistics, said that his group helps in bringing the cost lower and simplifies the overall process to Small and Medium Enterprises (SMEs).

"Here, at Vamaship, we helps in bringing the right price at a lower cost to the SMEs. And same time we try to simplify the entire process by bringing it down to just three click, making it as simple as booking a flight ticket. Thus, there are two huge advantages, one on the price and other on the process," Chinai told SME Times in an exclusive interview.

Mumbai based Vamaship is India's first integrated online logistics platform.


Excerpts of the interview...


Vamaship was awarded with the most promising startup by the Indian Merchants Chamber recently. Please tell your startup story.


Bhavik Chinai:

Yes and we were honored to win the prestigious award from the Indian Merchants Chamber in April, 2017 from the hands of Dr. Lalit Kanodia - Vice President IMC, Dr. Ganesh Natarajan- Chairman, IMC Digital Technology Committee, Padmabhushan Dr. F.C Kohli, Former TCS CEO, Dr. Arvind Pradhan -Director General, IMC.

It instigated while I was travelling across India and other countries like London, Singapore and Hong Kong to set up branches for our family business & with every visit while doing the surveys, I realized that logistics industry has been unorganized since decades and there's a major gap between shippers and logistics companies where shippers don't have visibility on a good price for shipping and good logistics companies aren't able to reach out to thousands of companies due to limited sales resources. This gap had to be eliminated and we're using technology to create a win-win for all stakeholders, creating a new sales channel for logistics companies and bringing economical prices and automated shipping processes for the shippers and that is how we created Vamaship – a marketplace. Vamaship's technology automates logistics processes of documentation and ensures seamless tracking.

What is the present size and structure of your group?


Bhavik Chinai:

Currently, we have employee strength of 25 and we have more than 850 customers including Reliance, Ashapura group, Caratlane, Coca-Cola, Caratlane and Bluestone to name a few.

How an integrated online logistics platform can influence or benefit the Small and Medium Enterprises (SMEs)?


Bhavik Chinai:

So there are two things which add a lot of value through Vamaship to an SME – one, is on the price discovery. Today, for logistics everyone pays a different price for shipping the same number of containers shipments and it doesn't only depend on value but, it depends on a lot of other factors because a business paying more for same shipment that they should have paid less is unacceptable. So, Vamaship helps in bringing the right price at a lower cost to the SMEs.

Two, all your processes the logistics manager engages in are on emails, phone calls. SMS and fax or on SMS and takes 2 days at times only to book a shipment and dozens of emails to manage shipping documents, with no analytics or tracking. Whereas here, at Vamaship, we try to simplify the entire process by bringing it down to just three click, making it as simple as booking a flight ticket.

Thus, there are two huge advantages, one on the price and other on the process.

Please share your experience and difficulties in dealing with SMEs.


Bhavik Chinai:

SMEs are slow adapter of technology and that's the core challenge. We are a disrupter and as a company we help them to streamline their data for any booking and managing of shipments. Furthermore, there are difficulties in convincing them to experience it the first time.

How you help SMEs grow?


Bhavik Chinai:

One, we help them increase their bottom line through reducing their shipping cost directly;
Two, once they start automating their processes, they don't have to invest in more people in the logistics department as the same team can continue to operate the current volume or even 25 times the volume.

While online logistics prove to be a convenience and efficient service, it poses potential risk to information security. Do you agree that online logistics is facing more threat than before? Your views.


Bhavik Chinai:

No, not at all. Any software on a cloud has a potential security threat, and that's inherited for any technology business, whether it's social platforms or logistics. So, anything digital has a certain percentage of potential hacking threat attached to it. Initially itself, Vamaship has invested in its security immensely and we have a state of the art secure software.

In the export-import trade, logistics service providers have been grappling with multiple coordination points like customs, shipping lines, CFSs, ICDs, port terminals, stamp duty payments and dealing with multiple documentation involved at these locations. Your take on this. How efficient are you in managing those things?


Bhavik Chinai:

Primarily, the business of a freight forwarder is to execute all these activities and take over this from shippers. Unfortunately, freight forwarders pass on many responsibilities to the exporters and importers.

Vamaship has invested in automating the documentation process. This enables stakeholders to view all relevant details of the shipment, and allow them to communicate through the Vamaship ecosystem. Hence, it has become a one-stop solution for customers. This has proven to be a simple and an efficient system however one cannot avoid the government or a CFS, ICD, port or a terminal. We help in transforming the way shipping is experienced by the exporters and importers.

How do you manage the challenge of delay in payment, which might often delay cargo clearance process?


Bhavik Chinai:

We do not have any payment related delivery efficiency impact. Outstanding debt doesn't impact execution of a shipment. Coming to the payment risk, yes there is a payment risk and that risk exists with any business which offers credit.

We are working with an innovative method of assigning a credit score to every customer which allows us to minimize our exposure to bad debts. Though we are minimizing risk, there's no solution to eliminating that yet.

Media had recently reported that logistics sector would gain the most from the goods and services tax (GST) as costs would fall by almost 20 percent. What is your say on this?


Bhavik Chinai:

The impact of close to 20 percent saving will come gradually and might be experienced in 2018-19 or maybe 2019-2020. In 2017-2018, the immediate impact on logistics is positive because companies are changing the way they manage their supply chains. The efficiency will come from supply chain changes where enterprises start consolidating warehouses and implementing just-in-time inventory management across the nation. For logistics companies, there are advantages related to minimising compliance at state borders and due to those savings, there will be a saving of cost but not 20 percent starting year one itself.

How you see the future impact of GST on your sector?


Bhavik Chinai:

Very positive. For us it's extraordinary as the organized industry is increasing in size and by dealing with a one stop marketplace like Vamaship, customers are saving cost and effort.

Please comment on this story:
Subject :
Message:

(Maximum 1500 characters) Characters left 1500
Your name:
Customs Exchange Rates
Currency
Import
Export
US Dollar

66.20

64.50
UK Pound

87.50

84.65
Euro

78.25

75.65
Japanese Yen
58.85
56.85
As on 13 Aug, 2022
Daily Poll
PM Modi's recent US visit to redefine India-US bilateral relations
| | |
| --- | --- |
| Commented Stories | |