---

SME travel firms can coexist with MNC peers: Dhiraj Kumar

---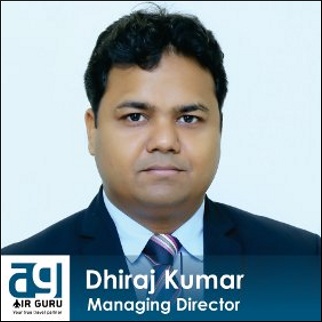 | | |
| --- | --- |
| Top Stories | |
Rituparna Kakati | 12 Apr, 2017


Small and medium scale travel companies are more trustworthy to the local customers than MNCs and this is how they are keeping themselves insulated from competition from large players, said Dhiraj Kumar, Founder & MD, Air Guru Travel Solutions, in an interview with SME Times.

Excerpts from the interview...

Why did you enter into travel business? What is Air Guru Travel core products at present? Please elaborate your offerings.


Dhiraj Kumar

: I entered into travel business with a vision to make everyone travel and see how beautiful this world is. I wanted to make travel an easy thing for all. A complete solution under one roof is the idea.

As a travel entrepreneur, I would say that entire globe is my core product but as an innovative idea, I try to highlight new products every season for an example last year 2016 summers we highlighted More European destinations, Like Paris, Ams etc, This year summers 2017 we are highlighting and promoting African destination like Kenya, Tanzania and South Africa. We want to propose every time a new product and travel idea to the users…

Basically I don't want to sell a product rather I want to sell the brand and new ideas.

What is the kind of competition you are facing in travel industry? Can you also highlight the travel industry dynamics?


Dhiraj Kumar

: Well, honestly I don't face the competition because when we say competition we talk about price war, Trust me I see my business beyond price war because of my ideas and style of business, I clearly convey my customers that I may not be the cheapest but I can be the best in the products and the Brand Air Guru I am offering, A complete value for money.

Is Air Guru Travel planning anything new?


Dhiraj Kumar

:Yes, we are going to launch a fresh approached website for the users looking for new destinations and travel products on their fingertips.

Which are the hot international and domestic destinations for holidays in 2017?


Dhiraj Kumar

: Yes, This summers the hot international destinations are Bali, Vietnam, Cambodia, Kenya, Tanzania and South Africa.
Domestic :- It is North east, Himachal, Ladhak, Orissa & Uttaranchal.

Do you think Indians have changed the way they travel and now more and more people are planning long vacations?


Dhiraj Kumar

: Yes, The trend has really been changed now due to the online access of lot's of information about travel and destinations.

How does SME travel companies compete with MNCs in the travel industry. How do you see the growth pattern?


Dhiraj Kumar

: They both have their own domain and client base, again I don't see the competition between these two, MNCs have totally different client base and SME travel companies are more trustworthy to the local customers than MNC s that I have personally experienced.

Travel websites is generating one-third of India's total travel share, as more customers are turning to the travel websites to book their travel holidays and trips. How has the online business in the travel sector has grown in the last 10 years and also tell how you are preparing Air Guru Travel to capture online business at the higher rate?


Dhiraj Kumar

: This is really important and relevant question to me. Online business has grown a lot and I respect to that, But you see one thing is absolutely missing with any of the online companies are The loyalty of the customers, Online business are totally centric to price war and a customer who is buying online travel with any of the portals because of the price only, When the same customer trying to book again their travel they will again look for cheapest company and move one company to other, No customer retention That is the catch….

Air Guru is also going online but with plan to retain the customers for life; we will make loyal customers because we will not only be focusing on price but also on service and quality.

How Air Guru Travel is different from other travel companies in the market? How do you customize International holidays for special occasions like honeymoon, anniversary, adventure, etc?


Dhiraj Kumar

: We are different because we are innovative and we focus to know what the exact requirements of my customers are and create solutions for them.

We are expert in customization, every occasion or theme have special requirement, Honeymoon and anniversary packages are crafted keeping the need of the theme, Honeymooners will be given free flower decoration in the room, their candle light dinners are arranged accordingly. Similar ways we do other themes.

What's your most valuable lessons from the business and life? What's your future plans?


Dhiraj Kumar

: Peace in mind and dynamism in action is what I have learned , If our intention is right and we give enough attention to the right intention the manifestation happens automatically.

We are working to go online with an intention to make loyal customers by giving them the desired travel solutions for them, I feel that people are waiting for such solutions eagerly and I am saying to all of them that we are coming soon….

Who are your clients? Can you please share your client's views about your company?


Dhiraj Kumar

: My client's views are my real asset and earning of my business… I have earned our customers for life by giving them the faith in our brand and service to have been catering to them,

We have all range of customer from corporate houses, Clubs, Direct customers, Government offices and industries.
Please comment on this story:
Subject :
Message:

(Maximum 1500 characters) Characters left 1500
Your name:




Naman | Wed Apr 12 20:23:19 2017


Great insight


Customs Exchange Rates
Currency
Import
Export
US Dollar

66.20

64.50
UK Pound

87.50

84.65
Euro

78.25

75.65
Japanese Yen
58.85
56.85
As on 26 May, 2018
Daily Poll
Is counterfeiting a major threat to SMEs?
| | |
| --- | --- |
| Commented Stories | |