---

SMEs can save time and cost by using integrated logistics platform: Bhavik Chinai

---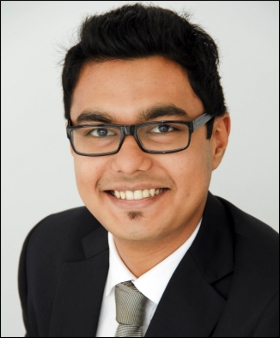 | | |
| --- | --- |
| Top Stories | |
Saurabh Gupta | 22 Aug, 2016


An integrated logistics platform enabling economical shipping prices for small and medium enterprises (SMEs) despite their low volume, said Bhavik Chinai, Founder & CEO, Vamaship.

In an exclusive interview to SME Times, he said, "SMEs pay much more to ship the same commodity through the same vessel (sometimes double) in comparison to a larger shipper and by working with a marketplace, SMEs gain tremendously."


Excerpts from the interview...


'Vamaship' - world's first integrated online logistics platform shipping via Air, Ocean and Surface. Please tell more about your group.
Bhavik Chinai: Vamaship is an integrated logistics platform, the first of its kind facilitating shipping via air, ocean and surface. As a platform, we're bridging the gap between shippers and logistics companies, while bringing transparency in shipping prices. Through technology, we're automating shipping processes and helping save time and cost.

Launched in October 2015, we're now facilitating shipping to over 10,000 pin codes in India and to over 200 countries globally. We have over 500 customers and 100 partners from across India with a team spread across Mumbai, Delhi and Bangalore.

What makes 'Vamaship' world's first integrated online logistics platform?
Bhavik Chinai: There are many start-ups in the logistics space globally trying to change a specific segment of shipping. We know of start-ups in solely shipping, solely air freight, e-commerce logistics and trucking. There is no integrated logistics platform, and Vamaship is the first in the world. By facilitating e-commerce shipping, air and ocean freight and FTL and PTL, Vamaship is the only ecosystem needed by companies to ship any commodity, from any origin to any destination.

What makes 'Vamaship' apart from others / what is your USP?
Bhavik Chinai: Vamaship has an incredibly robust technology which is helping create a beautiful shipping experience, each time. The technology automates a large number of offline processes, leading to efficiency which is passed on to customers. The team is from different sectors beyond logistics and with serial entrepreneurs and industry leaders guiding them.

What specific solutions you have for the small and medium enterprise (SME) sector?
Bhavik Chinai: As a platform, Vamaship is enabling economical shipping prices for SMEs despite their low volume. SMEs pay much more to ship the same commodity through the same vessel (sometimes double) in comparison to a larger shipper and by working with a marketplace, SMEs gain tremendously. The automation and transparency are additional benefits for SMEs.
We work with growing businesses in identifying their pain areas and ensuring they have a seamless shipping experience. We've gone beyond shipping to help customers with free packaging consultancy and recommendations for improving another customer's warehouse racks, enabling a 25% increase in efficiency.

Vamaship was launched in October 2015. Being a start-up, what were the challenges you had gone through?
Bhavik Chinai: The core challenge we faced is adoption of technology by traditional players. Despite partners having access to excellent software which can stream real-time data, it's adopted only by a fraction of industry due to foreseen implementation challenges and slow return of investment. As a marketplace, Vamaship success depends on adoption of technology by partners which is taking time. This has been a major challenge.

And how did you counter those challenges?
Bhavik Chinai: The advantage of using technology is believed in once it's experienced. We've gone all out making customers and partners try Vamaship and once they do, they have a new expectation of shipping experience which is only possible through us. We've created a simple user interface for all audiences to adopt and understand the platform.

Also, with the next generation joining business, they believe in the importance of tech and are change makers. In their vision, a platform like Vamaship aligns with long term business objectives and is hence adopted faster.

Which issues are still challenging for you?
Bhavik Chinai: On ground infrastructure in India is yet a challenge and one which will continue for a few years. Due to the condition of Indian roads and non-functioning airports, the connectivity within India takes longer than expected. With every state acting like an independent state till GST gets successfully implemented, borders account for over 20% of total time spent in a journey, which adds to cost.

The physical examination of a large percent of Indian exports and imports by the Indian customs leads to major delays and leakages in the process. Adoption of better processes to make tech identify variances and exceptions would help cut shipping time, leading to better trade and growth of revenue for the logistics sector.

Would you like to say something to the government to facilitate this sector?
Bhavik Chinai: Our entire industry eagerly awaits GST. Effective implementation of GST alone would transform every industry in India, including logistics. Another improvement we look forward to is additional information shared by the customs department through CBEC. There's a major gap being explored due to lack of information which if partially reduced will help improve trade immensely. A large number of entrepreneurs would start businesses in global trade with ready information about import duty, notifications and export incentives and other relevant data through CBEC online.

What are your future plans?
Bhavik Chinai: We believe we'll be in every continent, controlling a fair share of each vertical in logistics by 2021. We're expanding our presence in India from 3 cities to over 20 cities, focussing on bringing 10,000 paying businesses on board and hiring excellent talent to help scale quickly.

We also plan to raise a larger second round next year, for which we will be announcing our plans by end of 2016.
Please comment on this story:
Subject :
Message:

(Maximum 1500 characters) Characters left 1500
Your name:
Customs Exchange Rates
Currency
Import
Export
US Dollar

66.20

64.50
UK Pound

87.50

84.65
Euro

78.25

75.65
Japanese Yen
58.85
56.85
As on 26 Sep, 2020
Daily Poll
COVID-19 has directly affected your business
| | |
| --- | --- |
| Commented Stories | |