---

Invest in South Africa, double your money: Minister

---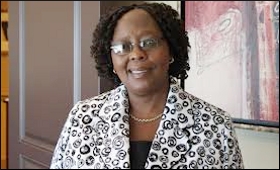 | | |
| --- | --- |
| Top Stories | |
Biswajit Choudhury | 25 Nov, 2013


"Those who invest in South Africa never go wrong, they double their investments. I give people the example of the Tatas," South African Deputy Minister of Trade and Industry, Elizabeth Thabethe said in an interview recently.

"Tatas are everywhere in South Africa. They're doing so well, opening new outlets and growing their footprint," said Thabethe, who is in New Delhi for the India International Trade Fair (IITF) 2013.

Little wonder then that South Africa is the focus country for the second successive year at the ongoing IITF.

"The Indian companies doing business in South Africa testify how easy it is to set up and then do business. We provide a variety of incentives to companies," Thabethe added.

But then, it's not a one-way street.

"India is a good market for our crafts because we have a lot in common, our tribals, huge social variety, and arts and crafts tradition," the visiting minister said.

She said South Africa is encouraging more investments from India as well as South African investments into India so as to learn from each other's best practices.

"Our embassies are doing their best to encourage investments in South Africa, also so that there is benefaction and value addition. With our raw material resources it makes more sense to do value addition in South Africa and then export," Thabethe pointed out.

"If you just take the raw materials, it creates jobs in their country, not in South Africa."

Speaking of bilateral relations, Thabethe said the foundations were laid by India's historic support for the anti-apartheid struggle in her country and the way his South African sojourn had shaped Mahatma Gandhi, the tallest leader of Indian nationalism.

"We're just not countries that happen to be together, there is a foundation. India steadfastly supported our struggle against apartheid. The Mahatma's political career started in South Africa. In all this there is the foundation of a deep and abiding relationship," Thabethe said.

"Beginning with such a base, our relations have developed newer forms and linkages like IBSA (India-Brazil-South Africa) and BRICS (Brazil, Russia, India, China and South Africa)" she said.

"We're honoured to be the focus country for two successive IITFs. This emanates from a good relationship," Thabethe noted.

Thirty-five South African craft micro-firms have set up stalls this year, their participation being supported by the country's Department of Trade and Industry (DTI).

This encore, with many participants returning to the fair, follows their good showing with unexpectedly high volumes of sales recorded within the first week of IITF 2012.

"Arts and crafts have proven internationally as something to be promoted, there is worldwide support for it. Besides, it also supports the rural economy; so we encourage that," Thabethe said.

The DTI provides the financial and logistical support to the participation of these small entrepreneurs in trade shows abroad. Firms from each of South Africa's nine provinces are represented here at IITF 2013.

According to the United Nations Conference on Trade and Development (UNCTAD) report, Africa defied global economic trends for 2012 to record a five percent increase in foreign direct investment (FDI) inflows even as global FDI fell by 18 percent.

In terms of FDI source countries, South Africa, China and India are, in that order, the largest emerging economy investors in Africa, after Malaysia.

Bilateral trade in 2012-13 was to the tune of nearly USD 14 billion while the trade target has been set at USD 15 billion by 2014.
Please comment on this story:
Subject :
Message:

(Maximum 1500 characters) Characters left 1500
Your name:
Customs Exchange Rates
Currency
Import
Export
US Dollar

66.20

64.50
UK Pound

87.50

84.65
Euro

78.25

75.65
Japanese Yen
58.85
56.85
As on 13 Aug, 2022
Daily Poll
COVID-19 has directly affected your business
| | |
| --- | --- |
| Commented Stories | |