---

Facing intense competition from smaller brands: Ishween Anand

---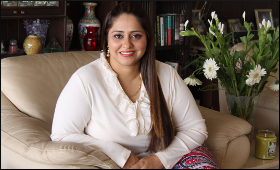 | | |
| --- | --- |
| Top Stories | |
Namrata Kath Hazarika | 22 Oct, 2012


In an exclusive interview with SME Times, Ishween Anand, Owner and Founder, Nyassa -- a premium manufacturer of natural and luxurious bath and body products, said they are facing tremendous competitions from smaller brands in India, which is a quite challenging for their business currently.



Excerpts of the interview...



Being an entrepreneur seems to be tough and challenging. Please tell us about your journey all through these years? What are the keys to entrepreneurial success, according to you?
Ishween Anand: Entrepreneurship for me has been an exhilarating experience. My background has always been in financial services and starting Nyassa was starting from ground zero as I have had no formal manufacturing or science background or any business experience. So the entire business was started on a gut feel and a lot of passion. My experience prior to Nyassa has been in the financial services industry. I started this business in December 2006. I had just returned from the US with a bunch of formulations in my hand. So right from hiring the first chemist, finding space, sourcing several ingredients, identifying vendors, and everything that it takes to run a manufacturing and retail format was a challenge.

The key to entrepreneurial success is to be a very passionate and extremely focused about what you want to do. Today you have networks and forums that help entrepreneurs with idea validations and help chart the course for the venture. So the support system is there, only passion and will is required.

What made you choose and do business in the luxury line of bath and body products? What is your opinion about the future prospects of this sector in India?
Ishween Anand: I am a Bath & Body product junkie. While I was living in the United States, I got introduced to this world of handmade and fragrant products which went on to become an obsession. This industry is huge in the US. Most women would go out shopping for shoes & bags but I would go out to stock up exotic soaps and scrubs slowly, I started spending, more time on www.soapmaking.com instead of www.wallstreetjournal.com that's when I realized there's something wrong in here. I took two weeks off from work and learnt the process of soap making. It's not rocket science but very much like a kitchen operation just like baking a nice cake. You use butter, natural oils, sugar, salts etc to make soap. My husband and I moved to India in 2006. I was to work with a company in global finance division but as fate would have it, the job never materialized. So here I was in India with no work. That's when I thought I could give my passion of bath and body products a start with making a few products such as soap and lotions initially.

I am definitely in the business as I think the prospects of this sector in India are great! We started this concept at the right time, however in the past 4-5years there have been several players that have entered this space which tends to happen when any new trend catches on. However, a high quality product, innovation and excellent service standards along with a great branding strategy will differentiate the men from the boys.

How do you market and promote your products among customers? As a small business, what kind of challenges are you facing in the Indian market?
Ishween Anand: In the first three years of my business we participated in possibly every high end consumer show in Mumbai. Then we traveled to other cities like Hyderabad, Chennai, Kolkatta, Pune. In the past one year we have done various marketing activities through various mediums to bring about brand awareness. Activities include tie ups with expat clubs and restaurants, mall activations, sampling activity, public relation, online activations, social media, corporate events, exhibition & SMS campaign. We are active on the online platform and our products are found on popular websites like Flipkart, Pepperfry, Purple, Urban touch and many more.

Some of the biggest challenges for small businesses that want to start in retail are high costs of real estate to open stores within malls or high street. Another challenge is getting well qualified staff within the retail segment and then retaining them.

What is the specialty about your products? Do you follow a niche marketing strategy, which is usually considered an essential element in SME marketing?
Ishween Anand: "Nyassa" is a premium manufacturer of natural and luxurious bath and body products. We have a wide range of products across nine categories and handmade using the finest ingredients available. However, what really sets Nyassa apart is the aromatic and exotic fragrances that are infused in all the product lines. And all these fragrance blends are made in-house.We have been supplying our products to renowned corporates as well as hotels and spas all over India such as the The Taj-Colaba, Reliance Group, and Marriott Group of Hotels MCA Club in BKC. Nyassa is a completely customer-centric organization. What this means is that we work very closely with all our corporate clients when it comes to packaging, fragrances, colors and budgets. We sell our products through a retail and institutional format. Retail Locations: Stores in Mumbai, Pune, Hyderabad and Bangalore

Are you facing competition from the big players? What is your advice to start-ups and SMEs in this respect?
Ishween Anand: The Big players are there since long, and they are more towards ayurvedic products. Nyassa products are fragrant products with natural ingredients which are very essential for your skin. The more competition is with smaller brand because every second day there is new brand which comes up. Slow and steady is the only advice for SME's.

Do you export? Which are the promising overseas markets for this kind of products?
Ishween Anand: Besides expanding to more Indian cities, I am eager to tap the overseas market and we have started exporting to Singapore & Malaysia. Middle East and the US are countries that are promising for these kind of products.

Why did you stop providing franchising? What are the challenges and opportunities you faced in this area? Do you have plans to go for it again?
Ishween Anand: We had one franchise a year back which we terminated mutually and now we have our own store in few cities. We didn't want to start another franchise because we were not ready. To open a franchise your backend & operation system needs be very strong so that it works easily. Franchise Model is very quick way to grow. You get the ability to target different cities where you can't reach. You also lose control over the process as there is experience for a customer who comes to the store. This will lack in the franchising and won't give justice to the customer.

What are your plans for business expansion? Festive season is round the corner. How much business are you expecting?
Ishween Anand: Nyassa is a major player in the bath & body segment, we have 5 stores & couple of kiosk in Mumbai, Hyderabad, Pune, & Bangalore. Also we are present in shops format at Shoppers stop, Westside, suriti & the club. Today Nyassa has 35 employees in the retail and manufacturing divisions. Besides expanding to more Indian cities, we are eager to tap the overseas market and we have also started exporting in Singapore & Malaysia. We are soon planning to open another store at vivacity Thane. We expecting good business this year as Nyassa products are very good option for gifting. We have got beautiful nyassa hampers & nyassa boxes this year for gifting, one can really gift their loved ones an innovative and unique products.

(Namrata Kath Hazarika can be contacted at namratakh@tradeindia.com)

Please comment on this story:
Subject :
Message:

(Maximum 1500 characters) Characters left 1500
Your name:

Facing competition


Judy | Wed Oct 24 07:35:14 2012


Very interesting as i am running a small business myself . I believe be it where ever you are small business suffers the same fate.



Regarding Business


Milton | Wed Oct 24 05:57:41 2012


Dear Madam you are most welcome to business with us. We have huge products to sell in your territory and earn more money by sell. Milton Email:sobur09@yahoo.com Mobile: 880 1711 833 780


Customs Exchange Rates
Currency
Import
Export
US Dollar

66.20

64.50
UK Pound

81.55

78.85
Euro

71.30

68.85
Japanese Yen
58.55
56.65
As on 27 Mar, 2017
Daily Poll
Do you think proposed US visa rules will hurt Indian IT sector?
| | |
| --- | --- |
| Commented Stories | |