---

'Advanced telephony can boost SME competitiveness, productivity'

---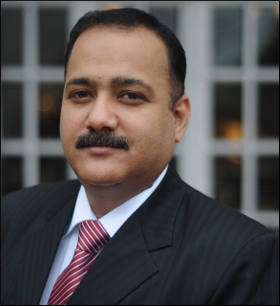 | | |
| --- | --- |
| Top Stories | |
Saurabh Gupta | 19 Jun, 2012


Small and Medium Enterprises (SMEs) can save their costs and time, and boost their competitiveness and productivity by using advanced telephony solutions, said Ravinder Raina, Country Head - Private Network Solutions, NEC India, in an exclusive interview to SME Times.


Excerpts of the interview...


Please brief our reader more about your group?
Ravinder Raina: As far as telephony business is concerned, NEC is into all the segments. We have products and solutions for SMEs or large enterprises, and we also attend a range of verticals -- whether it is hospitality, healthcare, education or government. So, pertaining to those verticals we provide the solutions as well. We, as a horizontal and vertical point of view, are well-focussed into communication technology having all the product portfolios and the solutions. We are into the big Availability and Clustering Software (ACS), we are into IP technology, or Unified Communications (UC). We cater the both depending on the market situations. According to ITC analysts reports, we are maintaining the position of no. 2 and no. 3 in the world. But for the Asia-Pacific region, we have been maintaining the no. 1 position continuously for the last four years. And last week NEC received the 2012 Frost & Sullivan Asia Pacific ICT Award -- Enterprise Telephony Vendor of the Year. NEC has been ranked as the no. 1 telephony solution provider in the SME domain for Q3 2011 by a Frost & Sullivan report. We are continuing to grow and we are growing . . . so same applies with our India business as well.

NEC is planning to increase its channel ecosystem in the telephony space. What are your future plans for SMEs in India?
Ravinder Raina: We all know that a lot of investments are going into the SME segment, even from the government side too. The government is giving many benefits to SMEs to expand their business. SMEs are very broadly thinking about implementing new technologies, which are going to save their costs while increasing productivity and efficiency, where our Unified Communication or IT business comes into place. What we are doing is -- knowing their budget and their inner strengths into this perpendicular. We work very closely with them.

A small enterprise seems very cost-constraint for technology up-gradation. How cost-effective is your technology or product?
Ravinder Raina: We are well-positioned in the SME segment as far as costing is concerned, and as far as the products are concerned. Recently we have launched the SL1000. This product was basically positioned into the SME segment. The product was packaged as a bundle of some unified solutions and some IP features as well, and offered at a very attractive cost. This product was launched almost eight to nine months ago and is now very successful in the marketplace. Our customers are very happy with the product, and we think this year also this will give us tremendous growth.

What is the USP (Unique Selling Point) of your products?
Ravinder Raina: USP of our products is effective cost and advanced product features . . . none of our competitors could do that as of now.

In the age of cloud computing, how secure are your products? Any new thing for SMEs you would like to share with us?
Ravinder Raina: As far as security is concerned, all those things have been taken care of by us.

We will announce cloud solutions for SMEs very soon. We will be offering applications and solutions as per their needs. We are offering them the right solution at the right cost.

Why SMEs require an advanced telephone system? Your views.
Ravinder Raina: See the thing is . . . today telephony is not merely for incoming and outgoing calls. IT is expanding and even IP is going to be cost-effective for SMEs and large enterprises as well because they need these UC applications in order to increase efficiency and save time. Entrepreneurs are looking into video conferences and video calls, they are looking into messaging, they are looking into the collaboration. Why IP is looked by them . . . it is to reduce cost. Everybody is talking about costs and so do the SMEs. Earlier, SMEs have system abbreviation because IT was not into place. Now they have learned that IT is required and once the IT is in place then why not use that applications in telephony, which can save costs and precious time. Definitely they are looking at the cost-effective solutions and UC is meant for saving costs.

How you see SME market in this segment?
Ravinder Raina: Currently, SMEs contribute 60 percent to NEC's revenue and the rest comes from large enterprises. NEC aims to achieve 35 percent market share in Indian SME segment in FY 2012-13. Currently, NEC has 450-500 dealers, 10 SIers (System Integrators) and 4 National partners. We plan to launch UC cloud solutions targeting SMEs in coming time. With a view to drive better quality of service, NEC has set up a specialized 'NECare' division with 65 service centers across the country. At NECare Centre, we take pride in providing complete customer support. We not just provide after-sales support for selected NEC products, we are also a one-stop center offering a comprehensive portfolio of services.

NEC has streamlined its overall post-sales services and introduced value-added services (like Happy Calling) to monitor the satisfaction level of large customer accounts. We also make sure to have customer feedback for their products and services, and for that they have a form to fill on the website in the Happy to Hear from You section.
Please comment on this story:
Subject :
Message:

(Maximum 1500 characters) Characters left 1500
Your name:

Can you(NEC) help us


DELLUS JAMES | Fri Jun 22 07:12:34 2012


We have much potential to do the auto/electrical parts manufacturing. But we failed in marketing. Can you(NEC) help us in this aspect. Waiting for your response. Dellus James. 09312839806


| | |
| --- | --- |
| Commented Stories | |
Customs Exchange Rates
Currency
Import
Export
US Dollar

55.30

54.35
UK Pound

84.50

82.50
Euro

71.80

70.00
Japanese Yen
54.40
53.00
As on 20 May, 2013
Daily Poll
Do you think banks will lower lending rates after recent RBI rate cut?