---

SMEs need to focus on an end market: Gopi K. Bulusu

---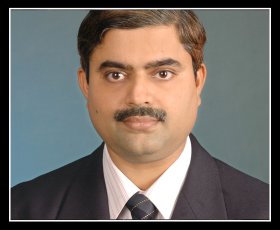 | | |
| --- | --- |
| Top Stories | |
Saurabh Gupta | 03 Jun, 2009


SMEs need to focus on an end market and gain market knowledge, says Gopi Kumar Bulusu, CEO, Sankhya Technologies Private Limited, in an exclusive interview to SME Times.


Excerpts of the interview...



Please tell our readers something about your organization - Sankhya Technologies Private Limited?
Gopi K. Bulusu: Sankhya is a software product company. We are focused on developing software platforms and offering platform driven solutions to industries. Key platforms and solutions include SANKHYA V-One for business process automation for the SMEs, Teraptor for embedded system design automation and Varadhi a middleware solution for distributed computing.

Prior to April 1996, you were a senior software engineer. So what encouraged you to become a employer from a employee?
Gopi K. Bulusu: I was primarily driven by the freedom to pursue new ideas.

When you started Sankhya Technologies in 1996, how small was it then and how big is it now?
Gopi K. Bulusu: Sankhya was a garage startup in Chennai - we were forced to move out after we realized the office would get flooded as it was below the road level.

Today we are still a small company. In terms of office space - we will soon be moving into a 20,000 sq.ft office building in Rishikonda, Vizag overlooking the bay. What we have built - especially in the last 4-5 years is a set of software platforms that are comparable to and in some ways better than the best in the world. Our addressable market is large. We have a long way to go !

You are operating business in complex industries ranging from manufacturing and semiconductor to consumer electronics and automotive. What was the idea behind this diversification in business?
Gopi K. Bulusu: Sankhya's primary expertise and products are in system software. In addition we followed a platform driven approach to product development.

These naturally tend to have applications across multiple markets.

During your 11 years of business experience, what do you think is the biggest challenge being a SME in India?
Gopi K. Bulusu: I think senior management is forced to waste time on non-value add activities. These fall into 2 main categories - a) Complying with confusing and time consuming rules that add up to a huge compliance overhead and b) Creating a predictable environment (like uninterrupted power) necessary to conduct normal business activities.

How you see the semiconductor market in India and abroad too?
Gopi K. Bulusu: The entire industry (semiconductor and embedded design, electronic equipment manufacturing and semiconductor manufacturing) generated revenues of Rs. 63,099 crores ($14.25 billion) in 2005, and is expected to generate Rs. 327,317.76 crores ($73.92 billion) by 2010. By 2015, the industry revenues are expected to increase to Rs. 896,979.96 crores ($202.57 billion).

And how do you see the role of small manufacturers in this area?
Gopi K. Bulusu: Big! Just think about it, most new LCD TVs have an array of connections. When you buy a TV, you don't get all those cables. Almost any SME can manufacture cables. PCB-Design and manufacturing is an area where SMEs can thrive. Think about the number of electronic gadgets, even a small part like an individual key in a key board can be a large opportunity for SMEs.

How you see the entire contribution of this industry in terms of GDP and job creation?
Gopi K. Bulusu: On the industry potential to create jobs, the study said that the entire industry has been able to generate 0.52 million jobs in 2005. (This includes the semiconductor and electronic equipment manufacturing, and semiconductor and embedded design industries.). The entire industry is expected to generate employment for 1.85 million employees by 2010, and 3.58 million employees by 2015. The semiconductor and embedded design industry had an employee count of around 70,000 in 2005, and is expected to employ 780,000 by 2015.

There is a large potential for semiconductor market in India, naturally manufactures in India will have an advantage in catering to the local market and then use that experience to target the worldwide markets.

I can't think of any other industry that can compete with semiconductors in the amount of economic value addition. In India, it is industries like semiconductors and software that can create pathways for the crores of people of this country to move up to a better quality of life.

On the policy front, the Indian government is developing India as an IT hardware hub, following the country's success in custom software and IT services. It is actively encouraging foreign investment to build India's IT hardware industry. What is your take on this?
Gopi K. Bulusu: I think what is required is the evolution of an entire eco-system driven by the markets. In countries like Japan and Taiwan, government played a key role in the creation of such eco-systems in the semiconductor space. Electronic hardware, embedded systems and consumer/ business devices are part of a complex eco-system. What we need in India is an innovative approach, going beyond what those countries have already done.

I think the goal should be to create 10-15 million jobs in the tech-industry with a contribution of more than 20% of GDP. Achieving something like that will need a clear vision, connecting many dots and of course investments in the right areas. I am sure there are eminent persons like our ex-president of India Dr. Abdul Kalam who will be able to guide the government(s) on such issues.

Your message to the small manufactures of the industry.
Gopi K. Bulusu: My message is clear - focus on an end market - audio, video, mobile, home appliances, ergonomic key boards, telecom, RFID (the list is long). Gain market knowledge and the gaps are there for every one to see. Be innovative and quality conscious, partner with a good university research team if needed, protect your IP, target your chosen market, build a brand and grow. Good luck!
Please comment on this story:
Subject :
Message:

(Maximum 1500 characters) Characters left 1500
Your name:
| | |
| --- | --- |
| Commented Stories | |
Customs Exchange Rates
Currency
Import
Export
US Dollar

66.20

64.50
UK Pound

87.50

84.65
Euro

78.25

75.65
Japanese Yen
58.85
56.85
As on 20 Apr, 2019
Daily Poll
Is counterfeiting a major threat to SMEs?