---

Fiscal concerns

---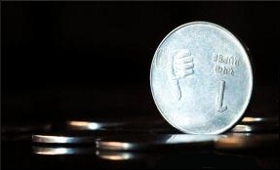 | | |
| --- | --- |
| Top Stories | |
Bikky Khosla | 02 Jan, 2018


India's fiscal deficit at the end of November, 2017 breached the total Budget estimate, touching 112 percent of the full year's target. While the total deficit was estimated at Rs 5,46,532 crore, at the end of November it now stood at 6,12,105 crore. Amounting to 86,784 crore, deficit for the month of November was Rs 60,401 more compared to the previous month. So, what do these figures indicate? Of course, they sound alarming but a lot will depend on how the government addresses the situation in the coming days.

If we delve deeper into the latest figures, they show that the government's total expenditure reached Rs 14,78,815 crore in November, nearly 68.9 percent of the Budget estimate. It is also encouraging to see that capital expenditure during the first eight months was at 59.5 percent of the total estimate. But the problem is with the revenue side, with receipt till the month of November standing at Rs 8,04,861 crore, which is only 53.1 percent of the total estimate. It will be interesting to see how much this revenue gap could be bridged by the government by the fiscal-end.

Meanwhile, the Finance Ministry, which has so far maintained that it will stick to its fiscal commitments, recently said it would borrow an additional Rs 50,000 crore in the current financial year. Economy watchers have taken this move as a signal that the government is now probably not against breaching the target slightly. Also, with the additional borrowing it seems the Centre would continue its spending, which is imperative for economic recovery. It is also to be noted that the Finance Minister recently indicated that the focus of next year's Union budget would be infrastructure and the rural sector.

A balance has to be struck, however. India's fiscal deficit is already among the highest in the G-20 countries. A big fiscal deviation would further deteriorate this situation, making the country unattractive to foreign investors. Also, in such a situation, rating downgrades cannot be ruled out. A high fiscal deficit can also push up demand artificially, leading to higher inflation. It will also reduce the space for the RBI to cut interest rates, affecting private investment, which is currently too weak to inspire optimism.

I invite your opinions.
Please comment on this story:
Subject :
Message:

(Maximum 1500 characters) Characters left 1500
Your name:

FISCAL CONCERNS


SJS RAVI | Mon Jan 22 13:56:28 2018


The Govt. is fooled and bamboozled by fudged up data being put up by different agencies at their own command. The economy has tanked. GST falling and failing. Ad hoc Band Aid solutions for all problems. Where is the far vision policy in all this? The remaining work of finishing us will be done by oil prices rising in the next 6 months. Finally the Fiscal Prudence will have to be thrown out of the window, at least in the short term, to revive the failing economy and recover somehow the lost jobs. The money that the govt has frittered away when the crude prices were at 30 - 40 - 50 dollars to a barrel has vanished in thin air and cannot be coughed up now to bail out the economy.



FiscalDeficit Concern


Shivadatt Patel | Tue Jan 2 16:16:10 2018


This is a direct result due impact of hasty unwise step for demonetisaion on SMEs and Rural economy as well due to hasty and errorful introduction of GST made in entire economy by over enthusiastic rulers. The defict will grow more due to negative impact inflicted on export heavily on one side and costly imports on other side due to rising cost of oil. India's rating will be badly impacted by all these developments. Indian economy will go backward by atleast 10 years if not more by foolish economic policies.


Customs Exchange Rates
Currency
Import
Export
US Dollar

66.20

64.50
UK Pound

87.50

84.65
Euro

78.25

75.65
Japanese Yen
58.85
56.85
As on 23 Oct, 2018
Daily Poll
Is counterfeiting a major threat to SMEs?
| | |
| --- | --- |
| Commented Stories | |