---

Reform drive

---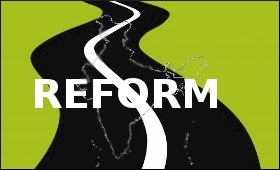 | | |
| --- | --- |
| Top Stories | |
Bikky Khosla | 09 May, 2017


While the world economy has continued to face uncertainty, India is fast emerging as a global growth engine. Experts almost unanimously agree on this view, but — there is a 'but' attached. Continuing with structural reforms is a must to stay in this 'sweet spot'. Fortunately, reforms have continued — at a good pace — and last week, some major ones were added to this list. First, the Union Cabinet issued an ordinance to amend the Banking Regulation Act. Second, it approved a policy that mandates use of domestic steel for public-sector infrastructure projects. In another significant development, the real estate regulatory Act has come into force starting

May 1

.





With NPAs of public sector banks rising to Rs 6.07 lakh crore by December-end, this challenge has repeatedly been underlined as the biggest downside risk to high growth, and now empowering the RBI to go after defaulters — a move which came on the heels of enactment of Bankruptcy Code and amendments to the SARFAESI and Debt Recovery Tribunal acts — is expected to take the battle against bad loans to a new level. Credit is the lifeblood of an economy, but with huge piling-up of bad loans in the banking sector, credit off-take by all the key segments, including industry, agriculture, services and housing has long been showing lukewarm growth. This situation must change if high growth is to be achieved.





The last week also saw Cabinet approval to the National Steel Policy, 2017, under which all government tenders will give preference to domestically manufactured steel products, and domestic steel makers who will add a minimum of 15 percent value to imported raw materials or intermediate products will be eligible to claim the benefits of the domestic procurement provision. While these measures are expected to rein in imports and help domestic consumption, concerns are raised that the new policy may catapult steel prices further in the Indian market, leading to higher input costs for the industry, and particularly the MSME sector. The Centre shouldn't overlook these concerns.





Meanwhile, beginning this month the Real Estate (Regulation and Development) Act, 2016 has come into force in its entirety. There has been a long-standing call for a regulation like this and now its implementation can certainly be termed as a milestone reform. RERA will not only ensure protection of home-buyers' interests but also help attract more investments due to better regulation and transparency. It is, however, unfortunate that most of the states and UTs have not so far notified rules. Some of those that met the deadline have diluted some key provisions. In fact, the housing and urban development ministry itself has tweaked the norms for Delhi, allegedly to the advantage of developers.





I invite your opinions.
Please comment on this story:
Subject :
Message:

(Maximum 1500 characters) Characters left 1500
Your name:

Reform drive


Suresk K | Thu May 11 09:58:45 2017


Impetus shall be given to manufacture of special alloy steels and noble ferro alloys



Defaulters must be tought lesson


S,S.Pandey | Wed May 10 06:08:19 2017


Over all in economy fund flow plays a significant role.In our country fund flow is drastically effected by the loan defaulters.Govt should take stern action irrespective of status with those people who are not paying the debt.



Reform drive


S Chakraborty | Wed May 10 04:19:39 2017


Stern actions should be taken against the bank defaulters and any how the money should be realized. With the introduction of new steel policy it should be noticed that steel prices should not increase which will have bad impact on national economy. Real Estate (Regulation and Development) Act, 2016 has come into force in its entirety. This is really a good step and it should be ensured that every state and UT should implement this.


Customs Exchange Rates
Currency
Import
Export
US Dollar

65.30

63.60
UK Pound

85.05

82.20
Euro

73.10

70.60
Japanese Yen
59.05
57.05
As on 29 May, 2017
Daily Poll
Should Govt tax farm income above certain level?
| | |
| --- | --- |
| Commented Stories | |