---

BJP win: Reforms to get a boost

---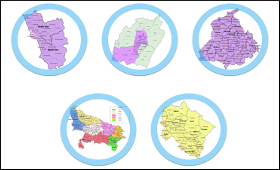 | | |
| --- | --- |
| Top Stories | |
Bikky Khosla | 14 Mar, 2017


It is another thumping victory for Brand Modi. While in UP and Uttarakhand, the BJP secured landslide wins, bagging three-fourth majority, the party is likely to form its government also in Goa and Manipur, by cobbling up coalitions with regional players. The assembly elections in the five states were seen as a test for Modi's demonetisation move and the spectacular results show that demonetisation has largely been accepted by voters. This win, besides positioning the BJP as the leading political party in the country, has also brightened its prospects for 2019 general elections.





The government should take the victory as an opportunity to unveil its reform agenda. Demonetisation was a big political risk Narendra Modi took and the state election results show that the people are ready to welcome reforms even if they have to face some hardship for doing that. I think it is now the government's turn to meet the expectations of the people who are looking with a new hope for an all-round economic development of the country. After the latest results, more than 60% of the country's population now lives in states either ruled by the BJP alone or in partnership and this should be taken as an opportunity by the Centre to push growth and good governance in the states.





The win is also expected to boost the BJP's numbers in the Rajya Sabha, where the party has long been struggling for want of numbers. It at present has 56 seats in the House, as opposed to 59 seats held by the Congress, and with elections due this year and next year, it can be expected that the dynamics will change soon in favour of the party. In the past we have seen how difficult it can be for the government to push reforms without having a majority in both Houses, and now with the stunning win, I hope this situation will change soon and the economy will get rid of politics of disruption.





If India needs to grow faster, structural reforms are a must, and with this win I hope both willingness and ability of the government to push reforms will get a significant boost and its remaining two years will see some bold reform initiatives, including those on politically sensitive land and labour reforms. Besides, there is also an urgent need for education and health reforms, administrative and legal reforms. Job creation is another challenge that must be tackled if the Modi government wants to transform India's economy in the coming years.





I invite your opinions.
Please comment on this story:
Subject :
Message:

(Maximum 1500 characters) Characters left 1500
Your name:

Necessity of Tax Reforms


Rajendra Mimani | Tue Mar 21 01:16:56 2017


While there is no doubt about our PM's honesty of purpose but if country has to grow, number of IT payers must increase substantially & horizontally. It is pathetic to see out of 125 Crs. population, only 24 lacs are tax payers above 10 lacs and honest taxpayers. Upper Medium & Medium class businessmen are being constantly pressed, threatened & chased to pay more & more. Surprisingly, letters are coming from IT deptt., in the guise of appreciation, expecting/demanding 30% more taxes in current year. Our political system is such that for Vote Bank, 60% to 65% are being targeted with lollypops & all kind of goodies by all the political parties at the cost of those honest taxpayers only. Now, as it has worked very well for BJP & PM as stated, it is high time for the Govt. to reduce Taxes substantially as carrot to cough up tax and simultaneously use iron stick for increasing tax base by 15 to 20 times to cover social security, education, best infrastructure for all which Govt. must plan & declare right now and intent must be visible from now on as with this kind of majority, Govt. can very well afford taking risks & calling shots on regular basis. I am pretty certain that rationale & reasonable taxation will be complement Mr. Modi's Bold & Beautiful demonetisation step. Mr Modi has proved his metal to his admirers & critics equally. Our population is our strength, needs to be used in productive manner in every possible way, countrymen will surely understand & support Mr. Modi.



A commitment


K B das | Fri Mar 17 11:54:11 2017


I feel that the commitment from a politician should be to its last leg to carry it through. It should be carried forward to its purposeful conclusion. We have suffered only because of this. No half measures please.



Needs concentration and firm decision for the agriculture development


Ramesh D. Gore | Thu Mar 16 10:23:19 2017


This is an very good opportunity to BJP. I would like to suggest the government should concentrate to Agricultural support basically Irrigation and the middle class for the Tax benefit. It will impact the great support for future to BJP.



Refoms at SME funding must be dynamic


Bhagawath Prasad | Thu Mar 16 09:40:18 2017


Winning UP elections is a great achievement for our prime minister sir , UP winning sounds greater responsibility for Modi sir, middle class is looking for decent salaries , affordable housing , youth is waiting for big jump in jobs , last 3 years job creation has been at slow-pace and appears to be zero addition, for job creations , enterprises need to perform well, software and telecom have accommodated enough for last 20 years,youth is waiting at bay asking government " what next " for us,SMEs are silent job creators,however,financial support for SME has been extremely weak,old methods of funding by financial institutions will not work any more,dynamics have changed,SME should be able to grab the opportunity at click of his thought for which financial support is must , even today banks ask for long lengthy questions that will have no traditional answers,hence rejections are very high,SME funding reforms is must for job creation,somehow,government and banks are haggling around large NPAs,Cautious banker is unwilling to support SME , government owned institutions like SIDBI is short staffed,result of that funding application acceptance will take 3 months and another 3 months for approval /rejection,at this pace how should we create jobs,hence reforms at SME funding must be dynamic and faster,Government must take over sick and unutilized industrial lands immediately and distribute to those waiting for affordable land at lease, just lease,no sale of land in future.



CEO's note.


Harishkumar Trivedi. | Wed Mar 15 18:19:18 2017


I totally agree with your valuable last paragraph .




Election Results and Reforms


K.Das | Wed Mar 15 07:58:38 2017


The CEO's note puts the results in proper perspective. I would like the emphasize his point that people are ready to take hardships if govt. is ready to take tough decisions for economic growth. Now the ball is in govt's court and it should fast track the GST implementation and further economic reforms to align globally and to boost manufacturing and services sectors. The first and foremost would be to ease funding of the manufacturing sector to consolidate the 'make in India' policy. The interest rates for industries should be near to that of international rate if not of the same. Then only, viability is possible and more and more entrepreneurs would blossom. Govt. should not hide behind the NPAs of the past to shirk the future development.



BJP win : Reforms to get a boost


Somansu Sekhar Das | Wed Mar 15 05:22:10 2017


I do not know your academic and political background. But your article does not look like the Pandits' one. Bharat (India) has been carrying 100 years burden. Modi has already managed to motivate the country men towards good governance within two and half years. Sangha Paribar has been committed to the well being of the Country. I do believe that Modiji along with the Sangha Paribar will definitely bring about something glorious. Our only work is not to create noise, if we cannot contribute anything positive.



BJP dominance at last!


Suresh Srinivasan | Wed Mar 15 05:20:49 2017


Its heartening to note that the common man has not fallen into the Hindutva RSS trap, that the opposition parties were projecting the BJP to be,and,therefore, as anti - National! Their bluff has been called, even by the minority communities.What a mandate from the heartland...thumping majority and virtually crushing the opposition, to dust.Now that its well established that the BJP has got a thumbs up from the common man, I am sure Team 'Na Mo' will get into overdrive mode and scale newer heights, to take our country, where it belongs. Jai Hind!



Zero corruption


Chandrakant Sutar | Wed Mar 15 03:45:08 2017


This is a very good opportunity to make India zero corruption country by implementing some brutal rules, laws from top to bottom in all central & state government organizations as well as in private practices.






Prem goyal | Wed Mar 15 03:25:16 2017


We agree with you our economy shall get boost.



Modi Brand


Harish | Tue Mar 14 23:57:05 2017


Hi Modi Brand is worth its image. At least now people have woken up and teaching a lesson to corrupt people . I personally strongly support the CEO comments . It is the call to be taken by people of this country to support him as long as he can serve for the betterment of country. If so there is no doubt that Modi will turn out to be a modern Mahatma for India.


Customs Exchange Rates
Currency
Import
Export
US Dollar

66.20

64.50
UK Pound

87.50

84.65
Euro

78.25

75.65
Japanese Yen
58.85
56.85
As on 27 Apr, 2022
Daily Poll
COVID-19 has directly affected your business
| | |
| --- | --- |
| Commented Stories | |